Roblox is a fun game that can be played on both PCs and mobile devices such as iOS, Android, PlayStation 4, and Mac OS X. On this website, you may play a variety of games. You'll find everything you're searching for in terms of fun and excitement right here.
Roblox is a popular online game that is enjoyed by people of all ages. If you're looking for a certain sort of game, we're confident you'll find it on Roblox.
It's a dream come true to be a member of Roblox's enormous design community. Robux enables you to obtain a wide range of items for free or at a reduced cost. The number of alternative outcomes appears to expand after a few games.
It's no wonder that Roblox offers so many different game genres. On Roblox, users may also play a variety of games including action,  simulations, horror, adventures, racing, shooting games.
On the Roblox network, you may probably find almost any game you wish to play. Roblox games are almost too numerous to list, especially given how frequently new ones are launched.
With over half of all users under the age of 16, Roblox is the most popular gaming and playing platform among teens in the United States.
With Roblox toys becoming more popular than ever, you may be wondering, "Which ones should I give as gifts?" Well, this very useful and entertaining list is here to assist you in selecting the ideal present for your Roblox enthusiast. Here is our list of Top 12 Best Roblox Toys to buy.
---
Top 12 Best Roblox Toys to Buy
Roblox's parent business, the ROBLOX Corporation, is obviously aware of the game's growing popularity, as they've shifted their attention to making fantastic Roblox toys.
So, if you're searching for a fun method to pull your kids away from their devices, here are the top 12 best Roblox toys for sale right now, spanning from the first wave to the most recent Series 8.
---
12. Roblox: Apocalypse Rising 2 Six-Figure Pack
Ratings – 4.5/5
Check Price – (Amazon)
The world may have come to an end, but the fight has only just begun. If these six survivors from Dualpoint Interactive's Apocalypse Rising 2 are going to survive the hordes of zombies, they'll have to share weapons, supplies, wheels… and danger. They could just make it through another night if you can keep them focused and use their skills properly.
---
11.
Roblox: Operation TNT Playset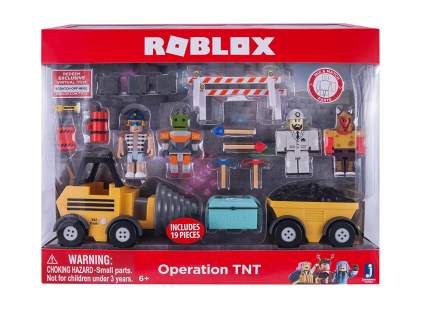 Ratings – 5/5
Check Price – (Amazon)
The Operation TNT playset, which contains some fantastic construction-themed toys, will bring the BOOM.
This explosive set includes four characters, a mine cart, mining equipment, and a powerful drill, among other things. Figures, vehicles, and accessories from popular Roblox games such as Berezaa's Miner's Haven, Widgeon's Mining INC, Cindering's Sharp Shooter Mines, and others are included in the collection.
---
10.
Roblox :Days of Knight Mix & Match Set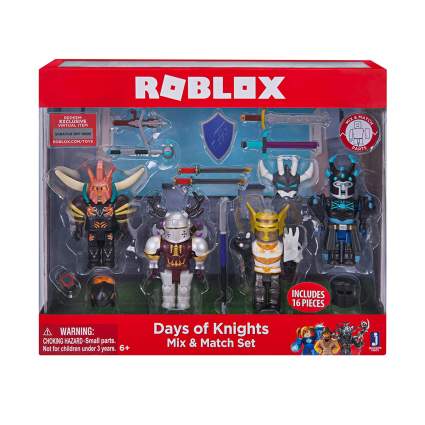 Ratings – 4.5/5
Check Price – (Amazon)
The Days of Knights Mix & Match set is a knight-themed Roblox playset that has 16 total parts, including four knights, weapons, and shields. You've been invited to battle for thy kingdom of Robloxia's pride and riches! Prepare to enter a magical realm and put your bravery to the test against other paladins.
Create your own knight with your favourite weapons and armour, then defeat your adversaries. For unlimited fun, mix and combine items from your whole Roblox toy collection!
---
9.
Roblox:
Work at a Pizza Place Game Pack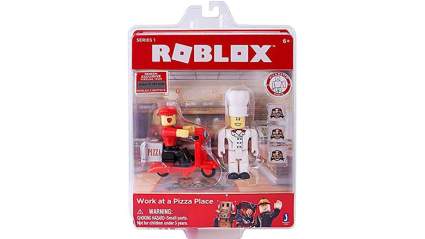 Ratings – 4.5/5
Check Price – (Amazon)
Kids and pizza go together like peanut butter and jelly, so it's no wonder that the Roblox company produced this Work at a Pizza Place Playset for its first line of toys. A pizza delivery guy on a scooter, complete with pizza in tow, is included in the set. It also has extra pizza boxes and a chef, who we presume cooked the pizza.
It also includes a virtual item code that may be used in the game. This set also looks to be the only one with a car, but perhaps more new Roblox toys will be released soon.
---
8. Champions of Roblox Playset Series 1
Ratings – 4.5/5
Check Price – (Amazon)
When new toy collections are released, the easiest way to get them is to buy them as a playset. With that in mind, take a look at the new Champions of Roblox Playset Series 1, which contains six amazing toys patterned by Roblox characters.
Korblox Mage, Korblox Deathspeaker, Korblox General, The Overseer, Redcliff Elite Commander, and the Alar Knight of Splintered Skies are included in this set. Each action figure includes replaceable components, so you may give the General the Mage's staff or the Overseer the Deathspeaker's legs, among other things.
There will be 40 series 1 figurines to collect, with additional playsets to follow.
---
7. Roblox: Jailbreak Swat Unit Vehicle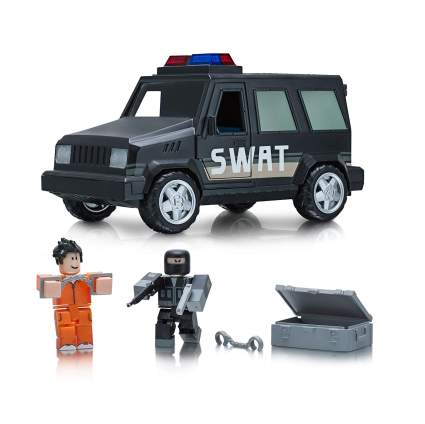 Ratings – 5/5
Check Price – (Amazon)
This amazing armoured SWAT Unit vehicle, which comes with a SWAT van, two figures, and various accessories, is another great Jailbreak-themed toy.
As one of the most elite tactical troops from Jailbreak, from the Roblox game Badimo, patrol the streets! In an armoured SWAT van, cruise the streets and apprehend fugitives before they cause havoc in the city. Prepare for a variety of emergency scenarios, ranging from bank robberies to jewellery store robberies, and assist in restoring peace and order to the city!
It comes with two figurines and a car. A checklist for collectors was supplied. Scratch and redeem the Roblox website's special virtual item code featured on the front of the package!
---
6. Roblox: Heroes of Robloxia Playset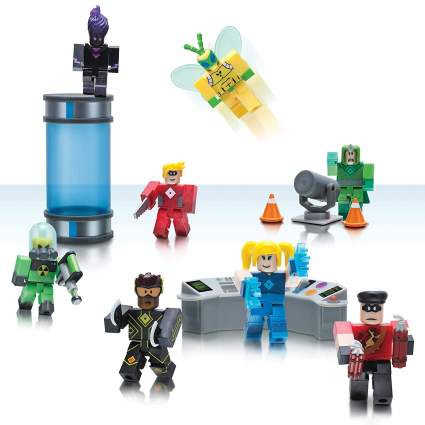 Ratings – 5/5
Check Price – (Amazon)
The streets are rife with crime, and an all-powerful hidden weapon threatens to destroy all we know and love. In InsanelyLuke's breakthrough game, suit up and fight off against Roblox's biggest villains! It's up to you to stop Darkmatter and his wicked henchmen, Cicada, Dynamo, and Atomic Waste, from destroying the world before it's too late! With this playset, you'll be able to fly into action and rescue the day!
Tessla, Captain Roblox, Overdrive, Kinetic, Cicada, Darkmatter, Dynamo, and Atomic Waste are among the characters included.
---
5. Roblox: High School Playset Series 1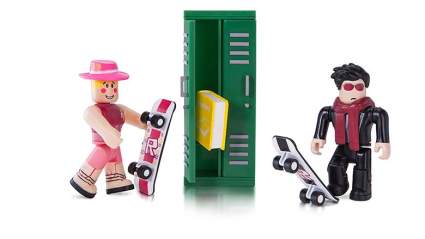 Ratings –  4.5/5
Check Price – (Amazon)
The school year has begun! Two characters, lockers, skateboards, and replaceable headgear are included in this setup. Cool high school girl is admired for her stylish outfits and upbeat demeanour. At ROBLOX high school, the cool high school gal is the life of the party.
She's eager to start her first day of class with her textbooks in hand! On the surface, this cool high school man appears austere, but don't be fooled by his dark and enigmatic exterior.
---
4. Roblox: Zombie Attack Playset
Ratings –  5/5
Check Price – (Amazon)
Anyone who knows me knows I'm obsessed with zombies, and this Zombie Attack Playset has characters from some of the most popular Roblox games, like Reason 2 Die, Apocalypse Rising, Zombie Rush, and The Neighborhood of Robloxia. Each set includes a wide range of figurines and accessories, such as zombies, a warning sign, a tower, and more. It's the ideal set for players that enjoy zombies.
---
3. Roblox: Mystery Figures (Series 8)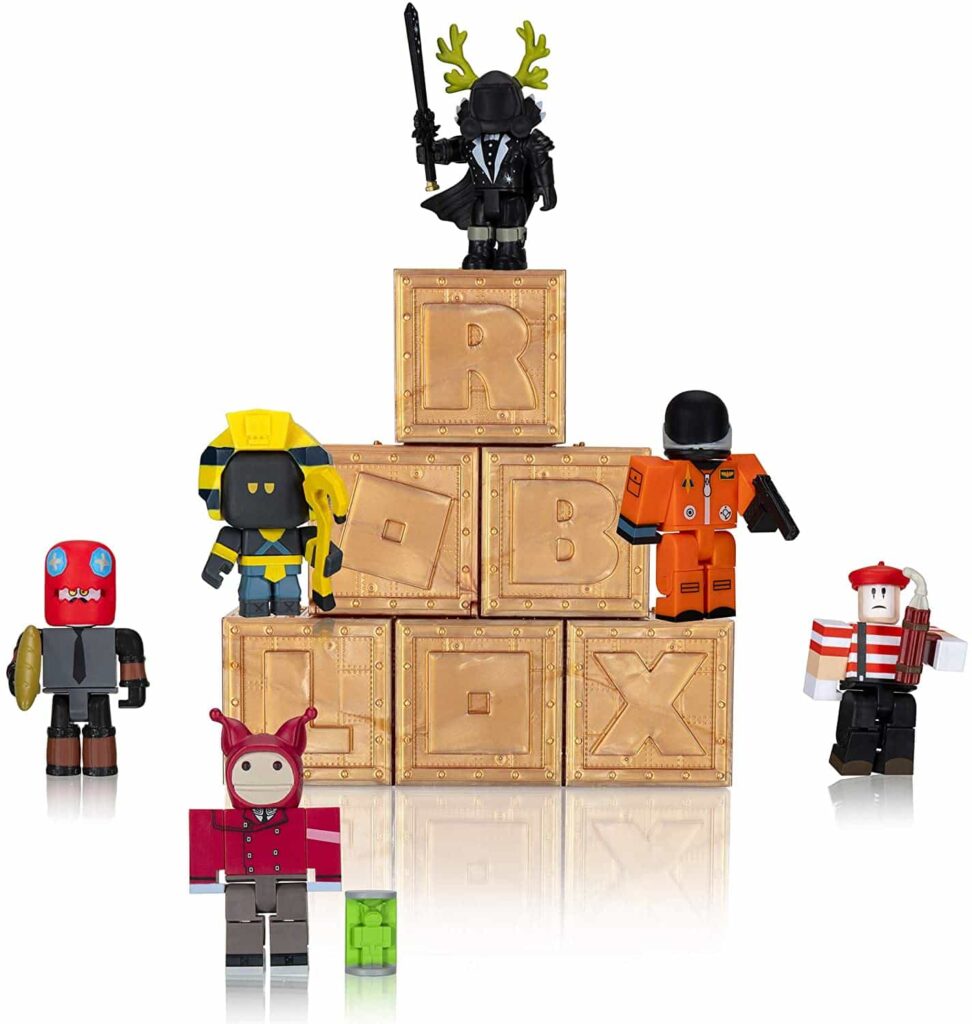 Ratings – 4.5/5
Check Price – (Amazon)
Series 8 is the most recent wave of Mystery Figures, and it comes in a 6-figure set with six special virtual Roblox goods. The rarities of the characters in the mystery pack vary, and each pack provides you with the possibility to locate one of those uncommon figures. Collect all 24 of Series 8's new character figurines.
Assemble the perfect Roblox toy collection with these popular Roblox characters. Series 8 has 24 new figurines, each of which includes a code for an exclusive virtual item that can be redeemed on Roblox. Collect all of them!
---
2. Roblox: Jailbreak Great Escape Playset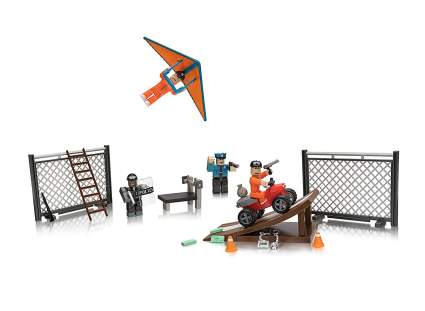 Ratings – 5/5
Check Price –  (Amazon)
With Jailbreak, Badimo reinvented the open-world action game genre in 2017. You may now reenact your most dramatic breakout sequences from this incredible adventure. Make a daring escape plot with your other convicts, or apprehend the criminals before they cause havoc in the city.
With this one-of-a-kind playset featuring four popular Roblox characters and a slew of accessories, you can relive your favourite Roblox experiences or create your own. Build your own Roblox character by mixing and matching components. Accessorize your figurines with the supplied extras. Each bundle includes a redeemable ticket for a unique Roblox virtual item.
---
1. Roblox: Action Collection Meme Pack Playset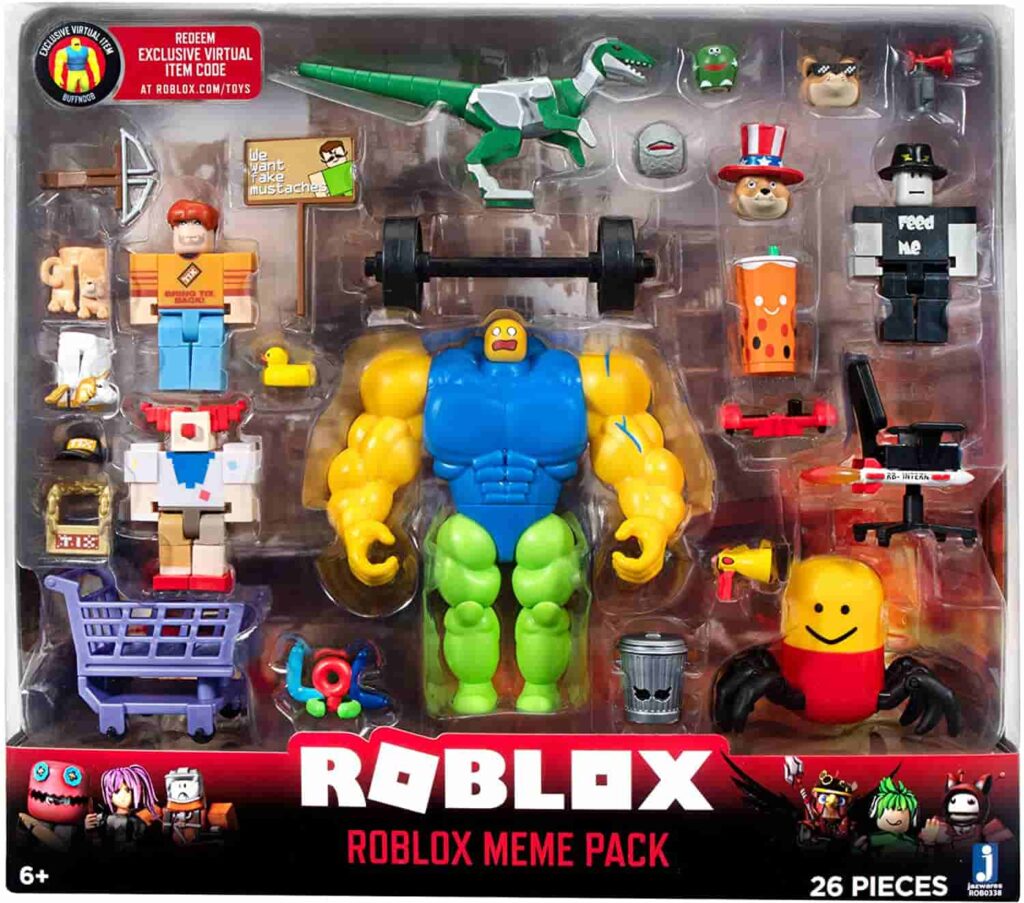 Ratings – 5/5
Check Price – (Amazon)
Can you sense the cosmic energy that these top-tier memes emit? We utilised forbidden magic to bring these famous Roblox allusions to life so you may spread the meme-apocalypse wherever you go. Whether it's Meganoob, Despacito Spider (from the famous game Robloxian Highschool), the Clown from Spectrabox's Fantastic Frontier, the Velociraptor from Nitenity Studios' The Labyrinth, or anything else.
This Roblox Meme Pack contains components from numerous Roblox experiences and the memes that emerged, allowing you to mix and combine parts to build your own ridiculous-looking Roblox persona. After that, you can accessorise that character. It is the best in our list of Top 12 Best Roblox Toys to buy.
That's all for today's article on the Top 12 Best Roblox Toys to buy. Do check out all the sections and know what you should know about which toys to gift this season. Till then, stay safe and follow us for more upcoming gaming coverage.
Follow us on Twitter & like our Facebook page for more post-updates
---
Check out more Roblox Games –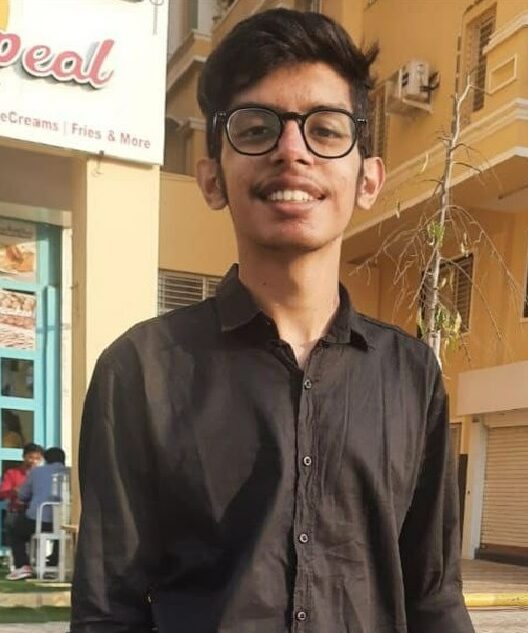 Jatin is an aspiring dentist with a keen interest in video games who likes to spend his time playing an array of different games. Other than that, he is a die-hard basketball fan who often embraces R&B music.