Everyone is familiar with Roblox and why it has become so famous across the globe. According to estimates in the media, Roblox has over 15 million games, with a handful of them having already been viewed by 1 billion individuals.
Not only are games for kids better than they've ever been, but so are the tools used to make them. Roblox is the best example of this: it's a massively multiplayer online game creation platform with millions of games to play since making something enjoyable is so easy.
With a large library of kid-friendly games, Roblox is arguably the most popular free multi-player gaming platform for kids.
Individuals of all ages love Roblox Games because the platform allows for the development, sharing, and creation of games.
Thousands of action, simulation, horror, Adventure, racing, shooting, Kid-friendly, and social hangout games have already been created and shared by Roblox users.
Since we are all about promoting cyber-security, in this article, we will be talking about certain steps required to safeguard your accounts and retrieve passwords.
What is Roblox password finder?
Roblox enables players to communicate with one another, talk, and play online games with one another. Gamers have the option of creating their original games or playing those made by other players. If you ask me, forgetting your ROBLOX password is a big setback. Because of the following reasons:
All of your current progress in games you developed or games produced by other players will be lost.
You'll lose the games you've made as well as the user-friends you've made.
You will be deprived of your hard-won Robux.
Robux is the sole money available on ROBLOX for purchasing goods and conducting microtransactions.
There is a method known as "ROBLOX Password Guessing" or the "Roblox Password Finder" which players might have heard about via friends or the internet. It is often used by ROBLOX users who need to find out their Roblox Passwords. Hackers also utilize it to get the Passwords in Roblox of susceptible users.
According to reports, the Roblox password finder allows users to input an account name to discover the password, which may be very useful for forgetful gamers.
It may seem like fun to have access to any Roblox user's password, but it could actually be a total security nightmare. Imagine losing your account and not even being able to recover it because someone else utilized a Roblox password finder.
Maybe they'll use the linked credit card to make a purchase. Doesn't seem like much fun now, does it?
It is not safe to use a Roblox password finder. Any service that promises to know Roblox account passwords is deceptive and untrustworthy.
Instead of providing the required password, they will exploit any personal and/or profile information given against the user.
BruteForce is a very prominent password cracking technique used by several tech experts in which they try all potential password variations at the same time until they figure out the original password.
Some crackers may employ a Dictionary attack to break the Roblox password, in which the cracker attempts to crack the password using a list of frequent terms that Roblox users use as passwords.
---
How to use Roblox Password Finder?
There are numerous websites that sell passwords and ROBLOX accounts. The majority of them make it available for free, while some charge a fee.
Whatever option you pick, it's still a game of chance since these credentials are available to every ROBLOX member who wants them. As a result, many sophisticated password guessing techniques have been developed.
There are several websites that can predict passwords. The majority of these websites are completely free to use.
However, there is very little possibility that these tools will really be of use to you. Thousands of people are attempting to hack Roblox accounts using the same technique. However, only a select handful will be successful in finding out your Passwords in Roblox.
If a tool requires payment, you should avoid visiting it. Make sure you're utilizing a completely free website. On the underground market, you may be able to find a sophisticated password guessing tool to help you find your password in Roblox.
However, you must exercise caution while utilizing these tools since many of them include viruses. There are a few additional ways to get access to a Roblox account. We'll talk about those techniques in the following section.
---
Does Roblox password finder work? 
There's a tiny chance that all these services would truly be useful to you. Hundreds of individuals would use the same method to try to hijack Roblox accounts. Only a small percentage of those who apply will be fortunate.
You should resist using a tool that demands money. Make sure you're using a website that is totally free. You might be able to locate a powerful password guessing tool on the black market.
However, there is no particular pattern or success rate by which we can predict if our password finder is going to work to help us find out our passwords or not. It is highly dependent on luck.
---
Can you retrieve Roblox password?
We all understand how painful it is to remember all of our social media and email passwords. If you forget your Roblox account password, you may reset it using your email address. If you have forgotten your password and you previously entered an email address when signing up for the account, and you still have access to that email account, then Roblox can help you recover access to your account.
---
How to find your Roblox password
In case you have forgotten your password and you want to see your password, then follow the given steps:
STEP 1: Log in to your Roblox account.

STEP 2: Find settings icon at top right, and then hit Log-out.
STEP 3: Now, head over to the log-in page.

STEP 4: On Login page you will see your password in the form of dots.

STEP 5: Select password by dragging across it completely.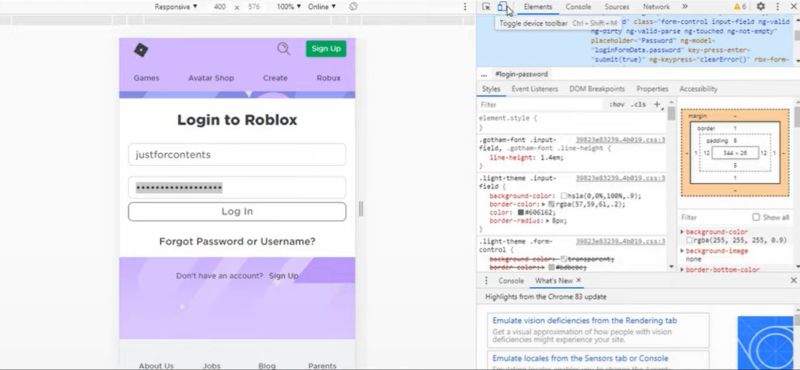 Step 6: Once the whole password has been selected, right-click on it.

Step 7: Click on Inspect from the drop-down menu.

Step 8: Now, find the highlighted region on the new window that pops up.

Step 9: Once you find that, replace all "Password" with "Username".
Once you have done that you will see that Roblox no longer hides your passwords in the form of special characters or symbols.
This way you can find out your own Roblox password in case you forget it. However, be sure to take necessary precautions always to create a strong password and protect your account.
---
How to reset password in Roblox?
To begin, you'll need to demand a password reset. You'll be OK if your Roblox account is linked to a confirmed email address. But if you don't, things become a little more complicated – we'll get to that in a minute. Follow the steps, put in your email address, and you'll have an email with a link to restore your password sent to your inbox.
If you don't have a confirmed associated email for your Roblox account, you'll need to contact [email protected] with your problem. Inform them that you are unable to log in and that you believe something has gone wrong with your account.
Do you believe it was hacked, or have you just forgotten your password? It's possible that you're entering your password properly but it's been altered by a hacker, so double-check by contacting [email protected] They should be able to assist you if you give enough proof to show that you are the actual owner of the account.
If you do get your account returned and discover that it was compromised, make absolutely sure that you have Roblox's Two-Step Verification switched on.
Whenever you log in, you'll get a second login token sent to your mailbox, allowing you to verify that you're the one attempting to enter your account.
If a hacker were to get access to your account, the hacker would have to guess the six-digit number to obtain access. Because the token expires after two hours and is entirely random, it makes it much more difficult for someone to hack into your account.
Follow us on Twitter & like our Facebook page for more post-updates.
---
Check out more Roblox Games –
Abhigyan identifies himself as a tech geek, gaming cognoscenti, and also a connoisseur of music. Unidentified and mysterious phenomena never fail to gather his undivided attention. When not reading about bizarre and perplexing entities across the Universe, he can often be found cheering for his favorite teams in Football.