Call of Duty Black Ops Cold War is the latest Activision's First-Person Shooting game. Players can play the campaign mode, multiplayer and of course, zombies' mode. What would Black Ops be without the introduction of Zombies in each title?
The Black Ops titles have always been excellent at cultural comparisons, linking pop culture to its bombastic action in highly entertaining ways, but aside from some grainy news clips of Reagan speeches and an admittedly fantastic scene set in an amusement arcade, there's little nostalgic revelry in the period
Black Ops Cold War is set during the mid-1980s of the Cold War. The story is inspired by actual events and the campaign features locations such as East Berlin, Vietnam, Turkey, and the Soviet KGB headquarters.
Its campaign mission follows CIA officer Russell Adler as he seeks after Perseus, a supposed Soviet spy, whose expressed objective is to undercut the United States and tilt the overall influence toward the Soviet Union. Multiplayer has new game modes, more extensive customization, and totally new map dynamics and elements
Black Ops Cold War Nuketown 84 Map Release Date
The Nuketown is an extremely popular map among the COD fraternity. So much that it has appeared in all versions of the Black Ops, even in COD Mobile. Players were really heartbroken not to find it in the Black Ops Cold War at first. However, Activision does pay heed to the feedback of the players.
Black Ops Cold War chooses to continue with Modern Warfare's live-service model with free DLC. Owing to its high demand and popularity, the Nuketown '84 map will be released to the players for free.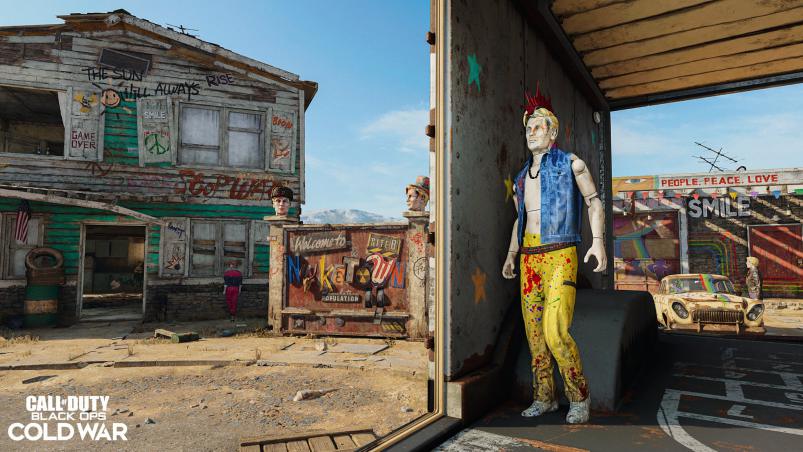 The Nuketown '84 Map release date is November 24, 2020. Nuketown '84 will be carrying the fresh new feel of the 80s, from rampant graffiti to models posing as extras in the mall scenes of Stranger Things.
You will all know the diagram: two houses on either side of the map with some higher vantage points to scout enemies, two risky backyards and some cars in the centre. But the subtle changes in the design of these elements is what is going to surprise you.
To make things more interesting and entertaining, Activision has announced a new DLC pack for Call of Duty Black Ops Cold War. This DLC is based around the all-new Nuketown '84 map.
The Nuketown Weapon Bundle is now available and all you have to do is apply for it before the 3rd of December. This DLC pack contains 10 items, including a weapon template, a weapon charm, an emblem and a calling card.
The complete contents of the new Nuketown DLC Weapon pack are as seen below.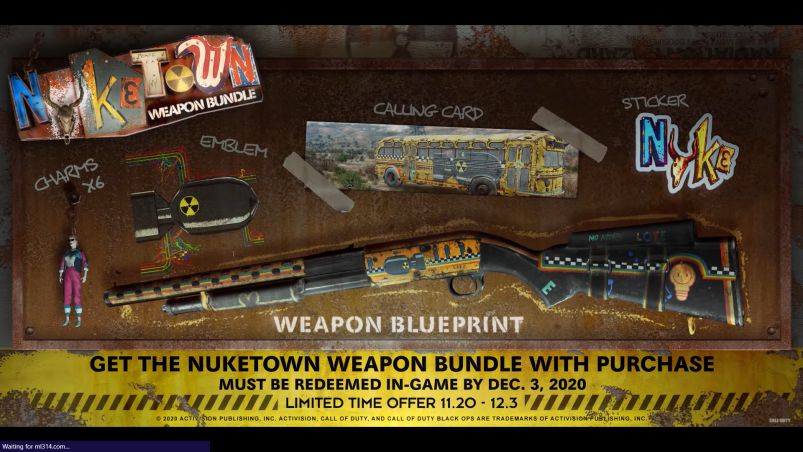 "Last Stop" Epic Shotgun Blueprint
Weapon Charms
"Test Subjects" Sticker
"Nuketown Legend" Emblem
"Omnibus" Calling Card
We can hardly keep calm knowing that one of the fan-favourite maps is going to be part of the action. The Nuketown was a much-awaited map. I guess our wishes were answered and we got a re-designed version of the Nuketown.
Gear up for one of the best maps the game has ever seen. The Nuketown '84 is really going to appeal to the COD fraternity. Till then Stay Frosty!
Subscribe to our Youtube Channel. Follow us on Twitter & join our Telegram channel for more post-updates.
Abhigyan identifies himself as a tech geek, gaming cognoscenti, and also a connoisseur of music. Unidentified and mysterious phenomena never fail to gather his undivided attention. When not reading about bizarre and perplexing entities across the Universe, he can often be found cheering for his favorite teams in Football.