Final Fantasy VIII has always been the favorite of most Final Fantasy fans out there. The game has been running for quite some time now, 20 years to be precise. However, its narrative of time-traveling witches, lovestruck teenagers, cannonball dogs, and crazy hovering military schools still is, one of the best things to happen out of this never-ending plotline.
We're going to look at Square Enix's Final Fantasy VIII remaster now. Remastered editions have often become something of a fraught proposal. Would that be a new game entirely? Is it just a platform to start making it more efficient to play certain games on advanced systems?  Is it a method to witness ancient magic afresh? How much has to change for that to happen?
Well, today we will be talking about the most efficient graphics settings for the Remastered version to ensure smoother and seamless gameplay.
Best graphics settings for final fantasy 8 remastered PC
There's a substantial amount of work that's gone into enhancing the artwork–particularly model quality. On PC, you get a bit of flexibility, with full support for unreasonable resolutions. Users get the option of selecting from FXAA and 3 distinct SMAA presets too, but the disparities are subtle.
While a straightforward resolution enhancement might not seem great, it makes a world of difference when comparing the remaster to the original PS1 game. The Final Fantasy 8 remaster's optimized resolution and texture filtration make the world map look quite a bit nicer. In reality, it looks so clean and bare and mistaken.
The higher resolution images show the poor-quality assets for much of what they are and the result is a horrible, blurry mess of flat-sided polygons. It looks truly awful. The original PS1 world map has a junky, pixelated charm and this is completely lost in the remaster.
That being said we will talk about the minimum system requirements as well as the best graphics settings for Final Fantasy VIII Remastered.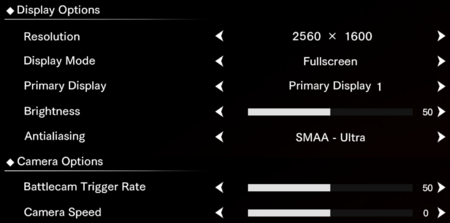 Graphics Settings for PC:
Resolution – 2560 x 1600
Display mode – Fullscreen
Antialiasing – SMAA – Ultra
Hardware Specifications:
Minimum:
Processor: AMD A-Series 2.2GHz / Intel Core i3 2.2GHz
Memory: 2 GB RAM
Graphics: AMD Radeon R7 240 / Nvidia GeForce GT 730
Recommended:
Processor: AMD A8-Series 3.1GHz / Intel Core i5 2.8GHz
Memory: 8 GB RAM
Graphics: AMD Radeon RX 470 / Nvidia GeForce GTX 960
The FF8 Remastered version is not that much of a graphics-demanding game. We were getting a solid 120 FPS at high settings. So, if you have any GPU better than the GT 730 series or its AMD counterpart, you can crank up the settings to a high and max resolution to get a seamless and clear gameplay experience.
---
Subscribe to our Youtube Channel. Follow us on Twitter & like our Facebook page for more post-updates
Abhigyan identifies himself as a tech geek, gaming cognoscenti, and also a connoisseur of music. Unidentified and mysterious phenomena never fail to gather his undivided attention. When not reading about bizarre and perplexing entities across the Universe, he can often be found cheering for his favorite teams in Football.