Alright, ladies and gentlemen, the Seasonal count has been refreshed. Season 1 New Order of Call to Duty Mobile is up and running. Players are swarming in to try out the brand-new season from all across the globe. From the looks of it, it seems that this season won't disappoint!
COD Mobile has become one of the fastest-growing games on the mobile platform ever since its release back in October 2019. The console-like graphics, fast-paced gameplay have appealed to players all across the globe.
Apart from the gameplay experience COD Mobile also provides a ton of off-tangent, enjoyable material to the players. We will be talking about one such feature in this article.
The Hollywood Music in Media Awards (HMMA) is an award organization honoring original music (Song and Score) in all forms of visual media including film, TV, video games, trailers, commercial advertisements, documentaries, music videos, and special programs.
Basically, they give out awards to some of the most distinguished and recognizable works of music in the relevant industries. Likewise, they also give out an award for the Mobile Game Category.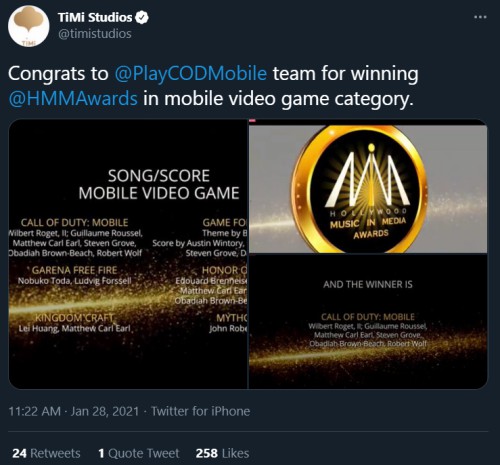 To all the COD fans out there, we would like you to rejoice as the Hollywood Music in Media Award for the Mobile Game Category has been bagged by Call of Duty: Mobile.
To be specific, the award was for the absolutely brilliant Season 6 Theme music. The Season 6 Once upon a time in Rust theme got a Western and country genre in music. The theme music was loved by almost Everyone. So, it is not a surprise that it bagged the HMMA for the Mobile Game Category.
This is a great achievement for a mobile game. To excel in the field of music is a commendable feat. We hope Activision and TiMi Studios keep surprising us with such masterpieces.
---
Subscribe to our Youtube Channel. Follow us on Twitter & join our Telegram channel for more post-updates.