Roblox is a free-to-play online game platform and game creation system which allows people to program games as well as play games created by many others. Founded by David Baszucki and Erik Cassel, in 2004 and released in 2006, Roblox Corporation introduced a platform that hosts user-created games of multiple genres.
Well, this particular game is bringing some news for all the players across the world. The game had been facing some serious backlash because of one particular feature which has been creating some issues. Let's talk about it more in detail.
---
Also Read: How to get Free Pet in Adopt Me
---
Is Roblox Adopt Me Shutting Down?
The Adopt Me feature was introduced to the game in October 2020. The initial purpose of the game was a role-play within which players decided to pretend to be either parents adopting a child, or children getting adopted.
But as the game was evolved further, its attention turned to being about adopting and caring for a variety of different virtual pets, who can be traded with other players.
The new Adopt me Update included a lot of new content like the fossil egg, 12 pets who had unique tricks of their own, and much more.
Well, this update really appealed to the players across the world. So much so, that the game had a humongous influx of players after that. This huge crowd of players storming in gave rise to experience issues in Roblox.
Some users were not able to connect and Adopt Me! was blamed as being the reason the Roblox platform servers went down. After this, the game started facing a serious backlash. So, within hours Twitter was flooded with tweets coming in from all over.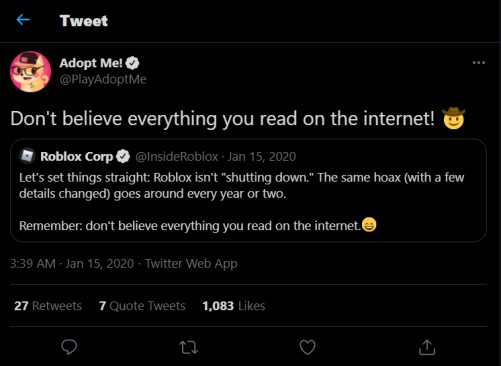 However, Roblox Devs sure did respond to those accusations and claims by advising people not to believe everything they saw on the internet. Also, the team released a tweet wherein they said they were doing everything possible to tackle the situation at hand and come up with a permanent fix.
Players were more than welcome to check the status of the repairs via this link – https://roblox.status.io.
We know this has become a huge fiasco. However, we believe we can only be patient and wait if we want answers. Moreover, we are speculating the Dedicated Team of Developers at Roblox will come up with a solution to prevent the shutting down of Adopt Me.
Until then let's keep faith in them.
---
Subscribe to our Youtube Channel. Follow us on Twitter & join our Telegram channel for more post-updates.
Abhigyan identifies himself as a tech geek, gaming cognoscenti, and also a connoisseur of music. Unidentified and mysterious phenomena never fail to gather his undivided attention. When not reading about bizarre and perplexing entities across the Universe, he can often be found cheering for his favorite teams in Football.