Even though graphic demanding smartphone games have largely replaced pen and paper games as a means of passing time, it is still useful to have a couple of paper games in your mental back pocket.
These "analog" games come in useful when your phone doesn't support the AAA titles or those intense games simply don't excite you, or you want to keep a child entertained without the violence and other things which come associated with modern games.
Their stealthiness makes them ideal for work or boring classes where you'll be bored to death but won't be able to run a full-fledged Battle Royale or any other game on your device. As long as you're not playing a full-fledged Battle Royale or any other game, their stealthiness makes them excellent for the workplace or tedious courses where you'll be bored to death.
PaperGames are indeed an excellent source of unexpected fun since you generally have most of the necessary equipment on hand. Use casual games which simply call for a pencil and paper to keep youngsters entertained (or a couple of colored pens).
These games will put kids to the test while also keeping them entertained for a long time. A traditional way to spend time with your family is to engage in conversation, laugh, and play simple games with only a pen and paper.
Single-player versions of several of these Paper games are possible. However, the vast majority of these games will include a minimum of two participants.
There are a few of these paper games that may be enjoyed by a small group or even a single player. Keeping that very thought in mind, PaperGames.io was started. This website offers the joy and thrill of nostalgic Paper games from a forgotten era in this digitized world.
PaperGames.io has games that are both simple and hard for small kids and adults. Their assortment includes some old favorites as well as those you've probably never heard of.
---
PaperGames.io is an excellent approach to organizing a remote gaming session of quick and simple games.
You may play traditional games like Connect 4, Gomoku, and Tic-tac-toe at PaperGames.io, a new twist on the io genre (Noughts and Crosses).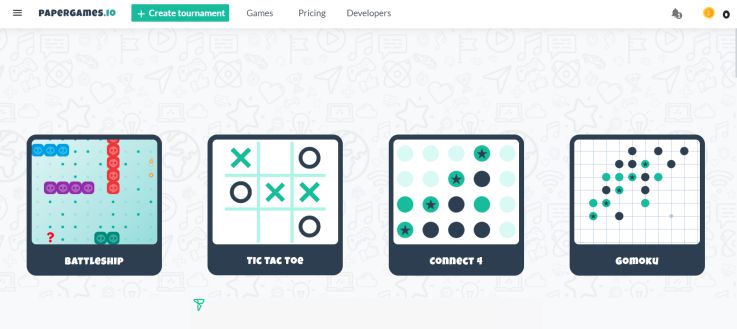 Enter the online platform, select your user id, and pick a game to play – be quite certain to try out each one and demonstrate your abilities off against other online players!
The principles of each game are timeless classics, and you'll love competing against other players from all around the globe in these games. You may buy various avatars for your player and access new emoticons and noises for use in-game as you play games and collect points.
PaperGames.io is the perfect choice to lighten your day if you've been searching for interaction in a society of remote learning and job. You can immediately jump in and play these games: After generating a quick name, simply choose the game you wish to play then hit "Find Opponent."
You can also challenge a teammate (by giving him the room number) or host a competition using a private link.
---
What are io games?
One of the most common types of io game is a multiplayer, browser-based game with few mechanics and minimal visuals that is free to play. As broad as these phrases are, they might nevertheless be useful checklists for video game analysis, helping to bring the game's realism into focus.
There are various multi-player games, but none of them is free to play. No web is required for the majority of the free games out there. Browser-based games abound, but most do not have any kind of multiplayer component.
As opposed to today's more prevalent 3-D graphics, early io games like First-Person Shooters favored 2-D minimalistic visuals. 
However, in today's photorealistic console gaming environment, the pixel-bit animation found in the majority of online games would be deemed excessive. Everything varies based on your perspective.
---
PaperGames.io History & Roadmap
David Galvis, a Swiss software developer, founded the website PaperGames.io.
A 37-year-old engineer with a love for website development and business launched this project in 2015 as part of testing new technology. It was a success!
In 2016, when the project's testing has deemed a success and his co-workers embraced it, his quest really took off. He established PaperGames.io three months later and hasn't looked back since.
The cherry on the top would definitely be the Tournaments system which was added in 2019.
Players may now arrange matches and invite their friends in a methodical way using the new tournament feature he brought to the game.
However, the arrival of the pandemic changed the course of his endeavor since everyone was trapped at home and seeking other ways to pass the time as they waited for the virus to spread.
Not only did it bring families and friends closer, but it was also quite enjoyable when individuals took the classic route of playing paper games while simultaneously making use of the game's simplicity of use and multiplayer capabilities.
---
Games offered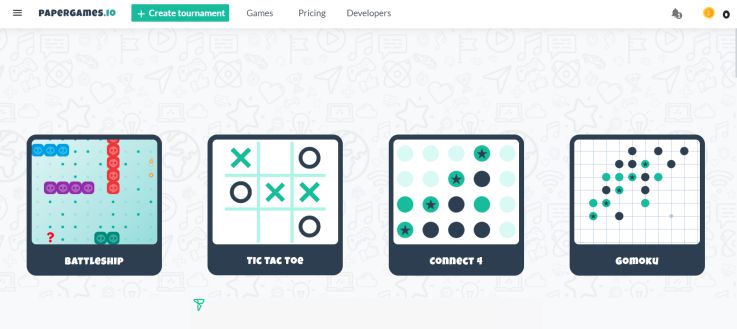 PaperGames.io offers four very famous yet competitive games which include tic tac toe, Gomoku, battleship, and connect 4.
Players periodically arrange pieces on a vertical board with 7 columns wide and 6 rows high in the tic-tac-toe-like game Connect-Four.
This game is played with colored pieces (usually black and red, but it may be yellow and red as well), and the goal is to get four pieces in a row in any direction first.
For this reason, all pieces placed in one column will fall to the next lower vacant row. Once a column has 6 pieces in it, the column is filled, and no further pieces may be added.
Each player starts with the same number of pieces, and the game is won by the first person to get a line of four linked pieces. The game is declared a draw if neither player has placed four pieces in a row after all 42 men have been used.
It's more difficult than tic-tac-toe yet comparable to the Japanese board game Gomoku.
When playing, players alternate putting black and white pieces on the board in order to form a continuous chain of five pieces in whichever direction they want to travel.
Gomoku is traditionally played on a 15×15 grid of lines, however, it is also played on a 19×19 grid of lines on a Go board.
The rules of Tic tac toe have always been the same and will continue to do so. However, the difference which PaperGames.io brings to the table is that this game provides a lot of incentives.
In the traditional naval battle game of Battleship, players compete, strategize, and get excited all at once. In a head-to-head encounter, you must track down and destroy each ship in the enemy's fleet.
A stealth and suspense-filled game, wherein no ship is safe. While destroying your opponent's fleet, be sure to keep your own fleet safe. You're in a fight that you must prevail in!
---
The Personal Perspective
My favorite game out of the 4 has to Battleship. In this segment, I will share my personal experience of the game Battleship on PaperGames.io.
The game's conceptual framework is based on seafaring battlefields, with a commanding officer making the decision where as well as how to launch missiles.
A 10×10 grid is used by two players to engage in online Battleships.
The winner of the game is the one who has destroyed all of their opponent's ships. The initial placement of ships is based on chance. Each player then tries to destroy the fleet of their rival. The computer quickly informs you whether you struck or missed.
After a shot hits an opponent's ship, the player has the option to reload. The grid and coordinate system ideas are used throughout the game.
In order to fully enjoy the game experience, players must also be familiar with the 2D spatial layout.
The game's fog of war mode, in which a player's knowledge is constrained by their actions in the game, adds intrigue to Battleships.
The graphic design makes extensive use of design elements including Color Contrast, Grid, and Proximity.
Solid colors make it easy to differentiate the battleships due to the dramatic contrast.
On a gridded canvas with suitably aligned items, the game takes place. The captain's job is basically to destroy a ship, and the fire and skull animations emphasize this.
An animated circular splashing animation portraying a missile impacting the water appears when hidden weapons are revealed as a red question mark, symbolizing excitement and disclosure.
The visual animations, coupled with the joy of the OG board game are what makes PaperGames.io worthwhile.
---
Tournament Feature – A class apart!
The games offered by the online gaming platform, PaperGames.io may seem to be very easy and not competitive enough according to some. However, that is exactly where PaperGames.io is different.
PaperGames.io strives to keep the competitiveness between players as lively as possible irrespective of what the games are.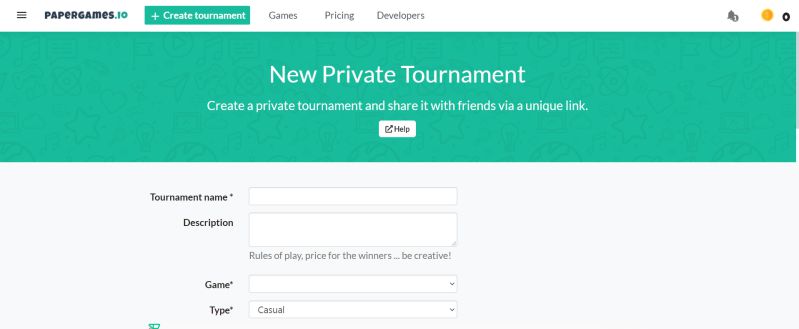 To keep the game competitive, paperGames.io incentivizes the players with several rewards upon winning any of the tournaments of these classic games.
Apart from hitting us with a wave of nostalgia, the games offered by PaperGames.io also serve as a fun way to engage employees or even students.
Yes! You heard that right. PaperGames.io allows you to create tournaments of 4 all-time classic games in the history of mankind.
These tournaments coupled with the reach offered by the platform, serve as really enticing team-building exercises. Apart from that, the tournaments could also be pivotal and assist in fundraising for several activities.
The Gruppo plan of PaperGames.io is a paid monthly subscription that offers private games, chat features,s, and awards without the irritating ads.
The amalgamation of all these games and services provided by PaperGames.io simply makes this platform a class apart from other such platforms out there.
Abhigyan identifies himself as a tech geek, gaming cognoscenti, and also a connoisseur of music. Unidentified and mysterious phenomena never fail to gather his undivided attention. When not reading about bizarre and perplexing entities across the Universe, he can often be found cheering for his favorite teams in Football.