Regarding Microsoft's recently released Xbox Series X consoles, they are quite potent and can drive games at higher framerates and display resolutions.
Unfortunately, neither the Xbox consoles nor the gaming devices themselves are completely problem-free.
On rare occasions, you may find that your Xbox Series X headset is malfunctioning for no apparent reason.
Now, if you're experiencing the same thing, check out the reasons and the fixes in this article to help resolve the issue.
---
Why is Xbox Series X headset not working?
Short Answer: Xbox Series X headset is not working either because there is an issue with the wireless headset's adapter, your headset may be faulty or damaged, the privacy settings haven't been configured properly or if the headset has not been charged enough. You may also face this issue if there is a problem with the controller or if there is some issue with the console itself.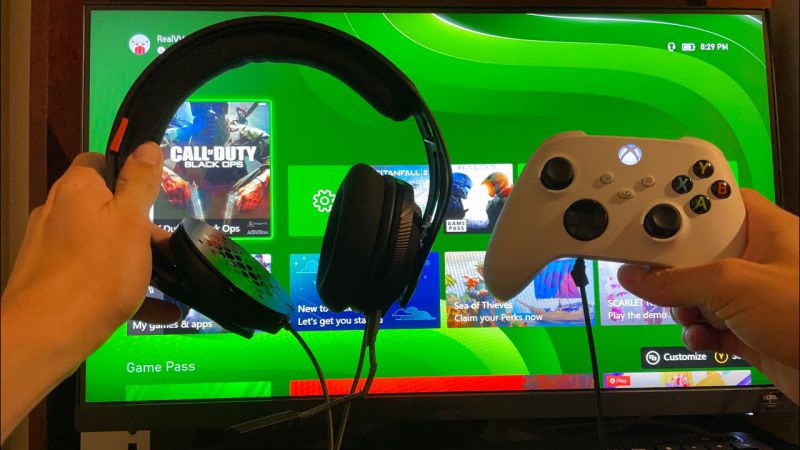 If your headset isn't working, one possible cause is a broken or frayed cord.
It goes without saying that your headset will not function correctly if it has not been charged to the appropriate level.
Even if you're using a wireless headset, you could experience significant issues due to poorly setup settings or a bug in the system.
Your Xbox controller could also be malfunctioning. To avoid this problem, make sure the controller's firmware is up-to-date.
It's also possible that a console bug or cache problem is to blame for this issue. Console resets are useful for troubleshooting purposes in this scenario.
---
Fix: Xbox Series X headset not working
Method 1: Examine the cord or cable for damages.
Check the chord or cable of the headset to see if it is broken in any way, as this can sometimes be the source of several problems.
If you discover that the wire is broken or damaged in any other way, you should attempt to repair the broken wire or damaged cable.
If you see that the wires on the headset are fraying or broken in any way, this will prohibit the headset from functioning properly.
You can either replace the headset, fix the cables yourself if you have the appropriate tools, or seek the assistance of a trained professional.
---
Method 2: Make sure the headset is charged.
If you are using a wireless headset, check to see that it has sufficient battery life and that it is turned on.
It won't be able to function properly with your Xbox Series X if the battery is dead or if it won't accept a charge.
---
Method 3: Check to ensure if the mic is working.
If you can hear the incoming game and chat sounds clearly, but no one can hear what you have to say, the problem is likely with your headset's microphone.
In order to fix the problem, please do the following:
Step 1: Press and hold the power button to switch off the console
To completely power off the console, press and hold the Power button for several seconds.
Do not rapidly push this button, as doing so will send the console into Sleep mode.
The game system must be totally turned off for this procedure to work.
Step 2: Turn the console the back on
You can turn the console back on by pressing the power button after it has completely shut off. There should be a chime and a flashing logo for Xbox.
In case the console "Instant Boots" into the Dashboard upon powering on, the hard reset was not completed successfully.
Essentially, you'll have to start from the beginning of the procedure again.
Once you've confirmed a successful hard reset of the console, it's time to double check that your headset is connected to the right profile when it boots up and give the mic another go.
---
Method 4: Check if the headset is on mute.
The Xbox Series X is compatible with a wide variety of headsets, the vast majority of which include a mute button on the headset or in the wire.
To check if your friends can hear you, try muting and unmuting the microphone.
It's possible the switch is broken; if so, toggling it back and forth could help you restore sound.
---
Method 5: Verify if the headset is connected to the controller properly.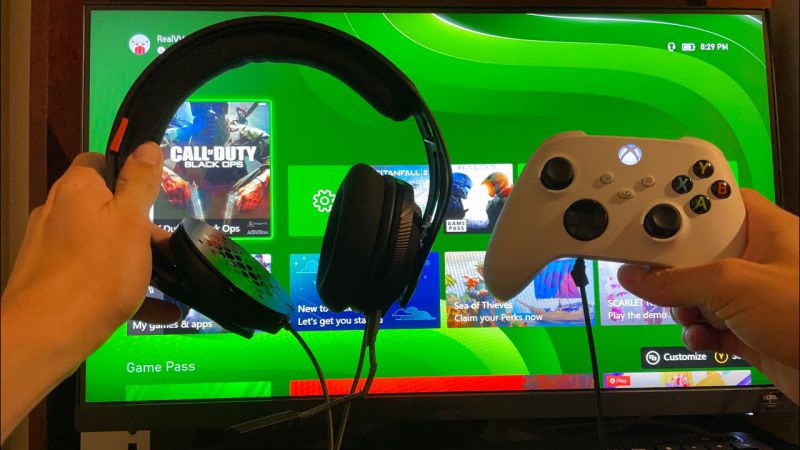 If your headset is wired, then try unplugging it from the controller and then checking the wire and the socket for damage.
In the event that there is damage to the socket, the Xbox Series X headset will not work.
You may have to replace your Xbox controller in such a case or ask for professional help.
---
Method 6: Upgrade your controller firmware.
A wired headset may fail to function properly if the firmware is corrupted or out of date.
In order to update your controller firmware, follow the steps below:
Step 1: Open the guide by pressing the Xbox button.

Step 2: Go to Profile & system and select Settings.

Step 3: Go to Devices & connections and then select Accessories.

Step 4: Choose the controller that doesn't work.

Step 5: Click on the three-dot menu and check for firmware update.
---
Method 7: Power cycle your Xbox console.
Try power cycling your Xbox console to clear glitch or cache issue.
Step 1: Power off the console.

Step 2: Unplug the console.
Ensure that the power cable is disconnected from both the console and the power supply.
Step 3: Wait for 10 minutes after unplugging.

Step 4: Reconnect all the wires and turn on the console again.
Once you've finished, the headset should function perfectly.
---
Method 8: Confirm the problem with a different controller or a different device.
If you are using a wired headset, you may want to experiment by connecting it into a separate controller.
Try connecting it to a pc, laptop, or any other gadget that has a headset connector if you do not have access to a second controller.
If you are able to use the headset with your own computer, this indicates that the headset is not functional with the Xbox Series X.
---
Method 9: Fix your privacy settings.
When using the Xbox One S's privacy settings, voice chat may not be available.
You may easily resolve this issue on your own if you are not a child and are not using a child account by following the steps given below:
Step 1: Go to Profile & system and select Settings.

Step 2: Click on Account and then select Privacy & online safety.

Step 3: Click on Xbox Network Safety.

Step 4: Click on View details and customize.

Step 5: Click on Communications & multiplayer.

Step 6: Select who you want to be able to communicate with.
---
Method 10: Consider substituting the batteries.
If you are using a wired headset, having weak batteries might cause the headset to function badly or perhaps stop working entirely.
If the problem persists, try replacing the batteries with a new pair and see if it helps.
---
Method 11: Make sure that your headset is clean.
If you are using a wired headset, be sure to unhook the cable from the controller and carefully clean the socket.
Alternatively, you may blow out the wind to eliminate any debris or dust particle that may be trapped within.
---
Method 12: Swap in a different headset and see if the issue persists.
If you have access to another headset, whether it be connected or wireless, you should try using it instead to see if it solves the problem.
If it does, it's possible that the original headset was damaged.
Inquire with the manufacturer to see whether you are still covered by the warranty.
---
Method 13: Change the volume settings on the headset.
If you are unable to pick up any sounds, the volume of the audio could be set too low.
You may adjust the audio level by using a control on your headset or by using the settings on your Xbox Series X console.
---
Method 14: Connect the wireless dongle to a separate device.
When you are using a headset that comes with a wireless dongle, you should attempt to connect it into a pc or any other gadget that it was built to operate with.
If it can be used with the other gadget, then it was most likely not developed for Xbox Series X.
---
Method 15: Get in touch with the customer support.
If you've exhausted all other options and your headset still won't function, it might be broken.
To get more help or to find out if repairs are possible, it is advisable you try getting in touch with the manufacturer of the headset device.
And if your headset is still within the warranty period then you can place a request for a replacement.
---
Follow us on Twitter & like our Facebook page for more post-updates
---
Abhigyan identifies himself as a tech geek, gaming cognoscenti, and also a connoisseur of music. Unidentified and mysterious phenomena never fail to gather his undivided attention. When not reading about bizarre and perplexing entities across the Universe, he can often be found cheering for his favorite teams in Football.