Last updated on January 2nd, 2023 at 05:52 pm
Roblox Corporation developed a game creation engine and an internet gaming environment called Roblox. It allows players to create their own titles and also enjoy those created by others. The COVID-19 pandemic has accelerated Roblox's rapid growth, which started in the second half of the 2010s.
The company's patented engine, Roblox Studio, enables individuals to create their original videogames, which can then be experienced by other players. An object-oriented programming architecture and a version of the computer language Lua are used to change the game's atmosphere.
Players may create downloadable content with one-time purchases known as "game passes," as well as microtransactions known as "developer goods" or "products," which can be bought many times.
Robux is a Roblox in-game currency that allows users to purchase their favorite products as well as paid games and content. In this article, we will be telling you how to give and donate Robux to other people via the Roblox platforms.
Also, since we are talking about Robux, do check out our article on How to Get Free Robux (without verification or survey). So, let's get started.
How to give people Robux on Roblox
Roblox allows you to create videogames of any size and design. Individuals produce anything from simple games like bike racing, automobile racing, and tic tac toe to more sophisticated games like simulators, 3D visual games, and so on.
Although there are a variety of methods to make money on Roblox, one of them would be through accepting contributions in the form of Robux.
In the Roblox world, Robux (previously R$) is the only money that functions. There seemed to be formerly another currency called Tix, but it was subsequently abolished, making Robux the global currency of Roblox.
All goods in the character store, even user-created items, may only be purchased and sold via Robux.
Users could assist a buddy who isn't nearly as wealthy as you if they've been gaming on Roblox faithfully and have accumulated a modest amount.
You may purchase various passes, get exclusive access to games, and even give Robux to family and friends. Other individuals may use this money they get as a contribution to purchase various goods on the website or even to advertise on the platform.
Users who pay to join the Club of Builders may also create goods, such as T-shirts and other materials. Robux is a game's virtual money that may be utilized to purchase necessary materials for the game's development.
Yes, you can definitely give other people Robux on Roblox. Even though there is no direct method of transferring Robux, on Roblox, our team has come up with some ways in which you can send Robux to help someone out. You can send or give Robux to other players via trading, donating, or creating game passes.
How to Purchase Robux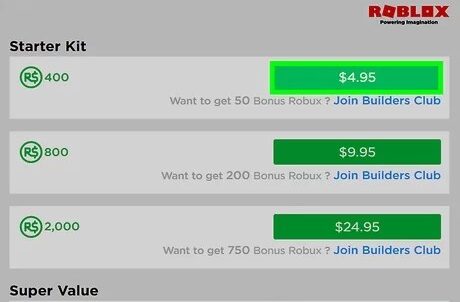 Step 1: Go to the Roblox Central Bank and buy some Robux.
Step 2: Select "Money" from the option at the top of the window on the Roblox game's website. On the right-hand side, select "Buy Robux."
Step 3: Select the number of Robux you'd like to buy. Robux allows payment via credit cards, PayPal, Roblox gaming cards, and prepaid cards.
Step 4: In the Ticket Exchange, trade tickets for Robux. Choose "Trade Currency" from the "Money" menu.
Step 5: Press "Submit Trade" after entering the number of tickets to swap.
By joining the Roblox Builder's Club, you may earn Robux on a daily basis.
Every day, 15 Robux will be awarded to your account. Join the Turbo Builder's Club for a daily bonus of 35 Robux. Every day, members of the Outrageous Builder's Club get 60 Robux in their accounts.
---
How to give Robux to other players
Roblox only accepts digital currency, therefore there is no direct method to transfer money. Nevertheless, we've witnessed individuals use a variety of methods to make money on Roblox, including selling things like T-shirts (also known as Donation T-shirts) and receiving Donations in Robux.
Only Builders Club members may sell goods; however, users do not need to be a member of Builders Club to buy items or give Robux or Tickets to other users.
---
How to Give other people Robux on Roblox
Step 1: Ensure that the person giving the Robux money has a donation piece of clothes available for purchase.
Step 2: To make and trade clothes, the user must have a Roblox Builder Club account with funds.
Step 3: The user must submit the clothing item to the catalog and specify the price range as soon as it is created.
Step 4: Simply go to your Roblox account and log in.
Step 5: In the blue navigation bar, click the "Catalog" button.
Step 6: In the search box, type the user's name and the specifics of the donated clothing item, then hit the "Search" button.
Step 7: The manufacturer of the specific Roblox clothing item decides on the title's name. In the search results, choose the required item.
Step 8: Once you've found the item you want, go to the right of it and select the "Buy with R $" choice.
This option makes it simple to give and exchange Robux.
Trading System on Roblox
Users who subscribe to the builder's club's pay categories, like classic, outrageous, and turbo clubs, have access to this feature.
Underneath the trading feature in your Roblox builder's club account, you may simply trade or give Robux without any issues.
You may also use this feature to give free resources to pals that lack the required resources. Follow these simple steps to learn how to trade Robux with others.
How to give Robux to people via Robux Trading
Step 1: Go to the receiver's profile.
Step 2: In the top right corner, under the person's name and other information, click the three dots.
Step 3: This choice will provide you with a drop-down selection.
Look for "Trade Items" and click on it.
Step 4: Select the amount of Robux money you wish to exchange in the window that appears.
Step 5: Keep in mind that a transaction fee of 30% of Robux is taken.
After filling out the required information for the desired quantity of Robux money. Submit the form by clicking the submit button.
Step 6: The user will be notified of the successful transaction through a hidden message.
Step 7: You may simply trade Robux by following the procedures outlined above.
How to donate Robux to people who are Non-builder Club members
It is also possible to give Robux to people on Roblox who do not belong to a building club, although this is a more complex procedure.
Here, a third person with a builder club and a group should be enlisted, and he should be asked to add the person to whom the money is given, who is a user without BC.
Create a purchase, purchase a t-shirt or comparable item, and contribute the money to the group. Finally, request that the group administrator send that amount to the individual to whom you want to make a payment or gift.
While this procedure is a little time-consuming and requires the assistance of other users, it is result-oriented and facilitates the offering of contributions to other members.
How to make up a game pass to donate Robux on Roblox
T-shirt purchases aren't the only method to contribute Robux; another option is to create and then sell a gaming pass. However, the procedure is not without its difficulties.
Another way to donate Robux can be to sell a game pass, which can be a bit tricky as you can't keep most of the money from transactions with you. Every easy technique necessitates the purchase of something.
It requires the creation of a game, followed by the sale or purchase of a game pass. According to experts, giving Robux in this manner may be very costly, since Roblox keeps the majority of the transactions for itself.
Conclusion
To be certain and to be on the safe side, one must select whether to give Robux via the sale or purchase of items. Newbies with a little amount of Robux on their account, as well as non-builder club members, may enlist the assistance of a third party; otherwise, there is no simple method to give Robux.
Follow us on Twitter & like our Facebook page for more post-updates.
---
Check out more Roblox Games –
Abhigyan identifies himself as a tech geek, gaming cognoscenti, and also a connoisseur of music. Unidentified and mysterious phenomena never fail to gather his undivided attention. When not reading about bizarre and perplexing entities across the Universe, he can often be found cheering for his favorite teams in Football.