Rebirth Island is almost here! For quite some time, Call of Duty teased Rebirth Island's arrival at Warzone, and its debut actually lies just around the corner.
The Season 1 update for Call of Duty: Black Ops Cold War and Call of Duty: Warzone launches on Wednesday, integrating the games and bringing several talked-about changes to each. One of these improvements is to have Rebirth Island in the Warzone game mode as a playable map.
Warzone: Rebirth Island Features 11 Buy Stations:
Today we will be specifically talking about the BUY Stations in the Warzone: Rebirth Island. Upon interacting with Buy Stations in Call of Duty, it opens up a menu Where you can choose from 9 upgrades and killstreaks.
Prices range from $1500 to $6000 with the lowest upgrade netting you a bundle of armor plates, and the most expensive upgrade granting you a loadout drop marker
Buy Stations are also useful in reviving your teammates who have previously been brought down by enemies. Buy stations are distributed all over Call of Duty: Warzone's tremendous world. And this is actually a positive thing, for these stations are extremely strong goodness repositories.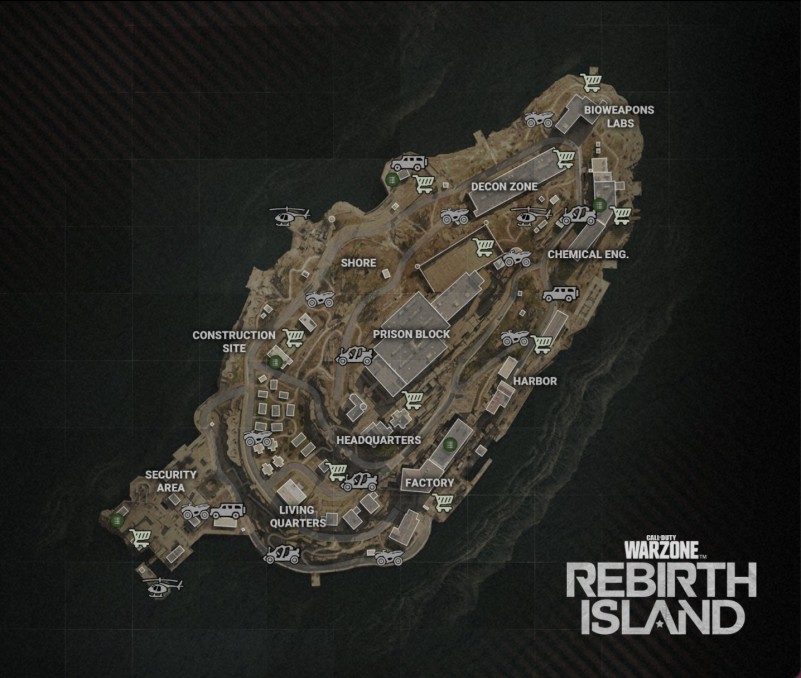 We have confirmed reports that the all-new and much-anticipated Warzone: Rebirth Island will be featuring 11 buy stations which will be spread across the map.
From the looks of it, Warzone: Rebirth Island will be featuring plenty of Buy Stations spread randomly across the new map. Also, the aerial view of the map shows the location of numerous vehicles like Choppers, SUVs, ATVs spread across the map.
To be precise the Rebirth Island will be featuring 3 Chopper Spawn locations. This way players can easily use these vehicles to maneuver across the map and purchase killstreaks, upgrades, armor, and even revive eliminated teammates easily.
With 11 buy stations, it will be raining scorestreaks all over the map. So, we are certain the new Warzone: Rebirth Island is going to be an action-packed map with relentless fights. We can't wait to get started.
---
Subscribe to our Youtube Channel. Follow us on Twitter & join our Telegram channel for more post-updates.
Abhigyan identifies himself as a tech geek, gaming cognoscenti, and also a connoisseur of music. Unidentified and mysterious phenomena never fail to gather his undivided attention. When not reading about bizarre and perplexing entities across the Universe, he can often be found cheering for his favorite teams in Football.