Gaming has never been the same since the release of the massively multiplayer online sandbox game, Minecraft
Games in which players are free to explore and experiment with a variety of options are known as "sandbox" games.
This isn't just a game to keep you entertained or to keep you stimulated.
With just the most basic of building bricks, you can create an unlimited number of worlds in Minecraft.
There's no doubt about it: Minecraft has long been one of the most popular video games on the planet. Since its first release in 2009, the game has seen a steady increase in popularity.
Minecraft is a game about surviving in a hostile world by making use of the tools at your disposal. Players must prepare for the game's predators as well as the surroundings around them.
Players have the option to play in "creative mode," which gives them access to an endless number of worlds and creative materials. The warrior in you will come out to play in Survivor mode, where you will create weapons and armour to defend yourself.
Because it's so easy to pick up and play, Minecraft is ideal for both kids and adults of all ages.
The game may be played on a wide range of platforms, including Mac. There's a game for everyone on our list of 15 amazing games like Minecraft Android and iOS.
---
How to get Minecraft on a MacBook
Whenever it comes to installing Minecraft on a MacBook, most gamers get a little lost. In this section, we'll explain exactly how you can do so.
It's not difficult to get Minecraft installed on a Mac. Minecraft is incredibly accessible because of Mojang's efforts. Just go to the official website and follow these simple instructions.
Sign up for a Mojang account by visiting the site:
Step 2: Go to the official Minecraft website

Step 3: Login to your account
At the top of the page, click "Login." Choose the 'Register Here!' tab to create an account.
Return to the webpage and complete the following steps after you've finished establishing your Mojang account:
Step 4: Go to the Games Section
At the top of the website, click on "Games."
Step 5: Choose the correct edition
To play on a Mac, choose Minecraft (Standard Java Edition).
Step 6: Get your copy of Minecraft
In order to get Minecraft, just click the "Get Minecraft" button.
Step 7: Select 'Computer'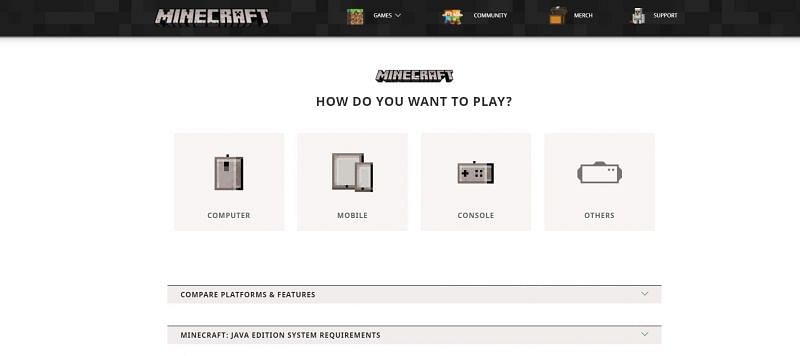 Step 8: Select 'Mac'

Step 9: Download Minecraft
To begin the download, just click the "Buy Now" button and follow the instructions.
Step 10: Launch Minecraft
To begin playing, just open the game and begin!
Minecraft gets regular updates that add to the game's size, so be sure to leave space on your hard drive for these upgrades.
Java Edition varies from Bedrock Edition for consoles and Windows 10 in terms of gameplay.
---
How to Install Minecraft on i-Mac 
Minecraft for Mac and Windows no longer requires the installation of a separate Java runtime environment.
The latest Minecraft installers for Mac and Windows, as well as the portable.exe version for Windows, essentially feature a packaged and optimised copy of the Java.
This not only enables it to be automatically upgraded as part of the launcher, but it also implies that Mac and Windows users who previously had Java set up on their machines solely for the purpose of playing Minecraft can now uninstall it totally and play Minecraft in a far more secure manner than they previously could.
Follow the steps mentioned below to Install Minecraft on i-Mac:
Step 1: Visit Minecraft website

Step 2: Download the file
Select "Download Minecraft.dmg" from the menu.
Step 3: Open the downloaded file
When the Minecraft.dmg disc image has been acquired, open it.
Step 4: Transfer the file
Drop the programme "Minecraft.app" into your Applications directory.
Eject the Minecraft.dmg disc image from your computer.
Launch Minecraft.app from your Applications folder, and when prompted, provide your administrator password.
The Minecraft launcher should start, download the most recent version, and then display the Minecraft login screen.
Log in with your Minecraft credentials (a paid Mojang account is necessary) and you'll be enjoying Minecraft.
This latest iteration DOES NOT require users to independently download Java, as previous versions did.
As a result, if the installer prompts you to install Java, you are running an OLD version of the installer.
Remove any standalone Java variants from your Mac and then complete the procedures above.
---
Uninstalling Java from Mac
Java is, and has traditionally been, the root of several problems. Additionally, security flaws. Numerous security flaws.
There is no need to have it loaded any longer, particularly since that Minecraft comes with its own Java for both OS X and Windows. Thus, this is the day to eliminate it.
If you remove it and discover that one of your programmes is dependent on Java and will no longer function, it's rather simple to reinstall it.
Alternatively, you might discontinue using that programme and seek a more suitable replacement. However, removing Java will not permanently damage your machine.
---
Removing the Java Runtime
This is rather simple. Insert the next two lines into a Terminal window. You'll be asked for your password after logging in.
sudo rm -fr /Library/Internet\ Plug-Ins/JavaAppletPlugin.plugin
sudo rm -fr /Library/PreferencePanes/JavaControlPanel.prefpane
Finished! Quit and reload the System Preferences window to verify that the icon has been removed.
---
Removing the Java JDK
The java development kit is distinct from the runtime, and removing it requires running a separate command and inspecting a different folder to see whether it is even installed (it is generally not). To change to the right folder, start a Terminal window and enter (or paste) the following line.:
cd /Library/Java/JavaVirtualMachines
And afterwards, at the prompt, type "ls" to check whether there is something there. There was in our instance. Thus, you'll enter the following:
And then utilise the TAB key to make the shell complete the file name.
---
Ensure Java is Removed
It's not difficult to put an end to Java for good. In order to be definitely confident that the icon is gone from System Preferences, you may open a terminal and enter "java" in the command line.
You'll see the notice "No Java runtime present, requesting install" if you don't have Java installed.
To confirm that everything is working as expected, a little dialogue box will appear with the OK button highlighted.
---
How To Get Minecraft for Free On Mac
Playing Minecraft for free on Mac is a rare occurrence. Take a glance at the possibilities we have.
If you want to try out Minecraft on your Mac for free, we've provided a few websites for you to click on. There is no legal method to get the whole game.
Method 1: Digital Trends
It is safe and secure to download from Digital Trends, which is the first link we've provided for your convenience.
Method 2: Official Website
If you'd rather, you may download the trial version of Minecraft from the official Minecraft website, where you can also interact with the Minecraft community, see other people's creations, and shop for Minecraft-related items.
Method 3: TLauncher
Minecraft can be downloaded for free on a Mac via a different approach. To do so, follow the procedures outlined below.
Step 1: Open a browser of your choice on your mac device

Step 2: Go to the search bar and enter "tlauncher"
You could also simply click this link. https://tlauncher.org/en/. Once you are done with that, go to the website.
Step 3: Look for the Download TL tab
You will get a pop-up asking for you to choose your preferred platform.
Step 4: Click on Apple for the platform choice.
The download should start immediately
Step 5: Once downloaded, look for the file and open it.
When you open the file, a new folder should get created at the same location as that of the file.
Step 6: Now, open the TLauncher Folder

Step 7: Switch view to lists.

Step 8: Click on the jar file.
Head over to system preferences, and go to security and privacy.
Step 9: Then go to general.

Step 10: Unblock Tblocker and click on Open anyways.
Now, reopen the jar file again and click on More info. Now, download the JAVA files.
Step 11: Download the latest edition
Look for the latest edition of java and download the file. Click on the JDK download and wait for the download to complete.
Step 12: Open the downloaded file once it's done.

Step 13: Now, install the file.
The download process lasts for a couple of minutes and the Tlauncher launches itself automatically. Now, look for your preferred Minecraft version from the list.
Once you are done with that, simply open the file and enjoy Minecraft for free on your Mac Device.
---
How to get Minecraft on MacBook Air
Firstly, players need to create a Mojang account if they wish to play Minecraft on MacBook Air.
Return to the webpage and complete the following steps after you've finished establishing your Mojang account:
Step 1: Go to the games section
Make sure you click on "Games" after you're done browsing.
Step 2: Choose Minecraft for Mac

Step 3: Tap on the 'Get Minecraft' link.

Step 4: Click on 'Computer'

Step 5: Choose 'Mac'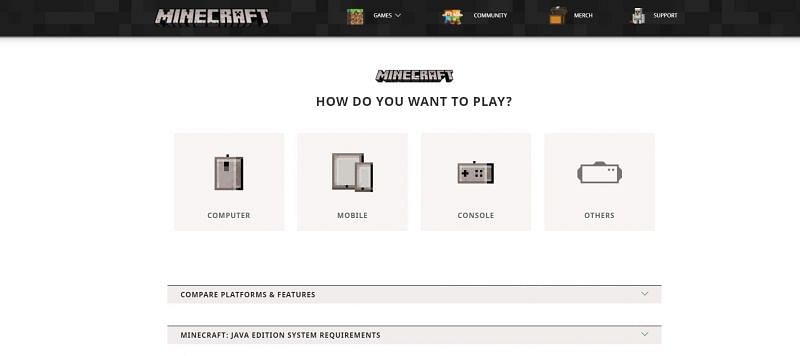 Minecraft will begin downloading to your Mac when you complete the payment.
To begin playing, just open the game and begin
---
How to get Minecraft on MacBook Pro
The process of getting Minecraft on a MacBook Pro is quite similar to that of getting one on a MacBook Air.
Follow the steps given below to get a quick rundown of how to get Minecraft on a MacBook Pro.
Step 1: Head to Minecraft Website
Go over to the formal Minecraft website
Enter your username and password and then click LOG IN.
Step 3: To sign up for free, click on the "Sign up" button.
Go return to the main page of the site when you've completed the registration process.
Step 4: Go to Game Section
At the top of the page, hover your mouse over GAMES.
Select "MINECRAFT" from the drop-down menu.
Step 6: Select "GET MINECRAFT"

Step 7: Choose COMPUTER

Step 8: Click on the MAC icon now.
Downloading Minecraft will begin when you complete your payment. After that, all you have to do is open the game and begin playing
---
How to get Minecraft Bedrock on Mac.
There is now a Mac version of Minecraft Bedrock! The great bulk of Mac users here would not be able to play unless they just purchased a new MacBook with the Apple M1 ARM CPU. 
Minecraft Bedrock Edition isn't currently available on Apple's older M1 (Apple Silicon) MacBook Air because there is no compatibility for operating Windows on such devices.
There is also no appropriate build of Minecraft Windows 10 Edition for ARM-based computers (as the M1 is). However, you may run Java Edition on them.
---
How to download Optifine on MacBook
Step 1: Go to the optifine website
Follow your browser and search engine of choice to optifine.net.
Step 2: Download the file
To begin downloading, click the "Downloads" button after the site has opened.
Step 3: Download the Right mirror
When you tap on the link, the site should provide you with a variety of download options.
Choose the versions that are compatible with both your computer and the game you're playing. Deliver a mirror hit as you pick a version.
Once you go to download the file, you'll be presented with two alternatives.
Step 5: Open the jar file
Access the download folder utilising your Dock and pick the Optifine .jar file.
Take a few moments to open and click on "Install."
You may begin playing Minecraft as soon as the application is installed on your computer.
---
How much is Minecraft on Mac
Minecraft prices are different across different countries and platforms. For those of you who are wondering how much does the Mac version of Minecraft costs, players can buy Minecraft: Java Edition from minecraft.net for $26.95 USD.
---
Follow us on Twitter & like our Facebook page for more post-updates
---
Abhigyan identifies himself as a tech geek, gaming cognoscenti, and also a connoisseur of music. Unidentified and mysterious phenomena never fail to gather his undivided attention. When not reading about bizarre and perplexing entities across the Universe, he can often be found cheering for his favorite teams in Football.