Garena Free Fire has been one of the world's most popular battle royale games. There are various variants in the game, including clash squad, bomb squad, rush hour, and zombie invasion. And we could do all that with our buddies. This is the game's unique selling point.
To consider Garena Free Fire a successful game would be an understatement. According to data from the Google Play Store, the app has been installed approximately 500,000,000 times. Garena Free Fire challenges you versus 49 other players in a survivalist game.  You are tossed into an area and it is your mission to choose a landing location, locate weapons and supplies, and eliminate all other gamers. Sounds easy, doesn't it? We promise you that it is not the case.
Throughout this game, gamers may add companions and descend down onto the island to participate in a fight with them during the duo/squad modes. In this article, we will be talking more about that.
How to play against friends in Free Fire
As a Battle Royale game, it brought about a refreshed meaning to the Battle Royale genre of games. In fact, ever since PUBG Mobile was banned in India, Free Fire managed to fill the void in the heats of the people in terms of providing a good Battle Royale game.
Honestly speaking Free Fire is one of the best Battle Royale games out there on the mobile gaming platform. Before we get to the highlight of today's article it would make sense to tell you how exactly to add friends to your list so you can play with them whenever you like.
To participate alongside buddies in Garena Free Fire, you must first join them on your profile. You have two alternatives for doing so. Select the Invite button on the upper right side of the lobby.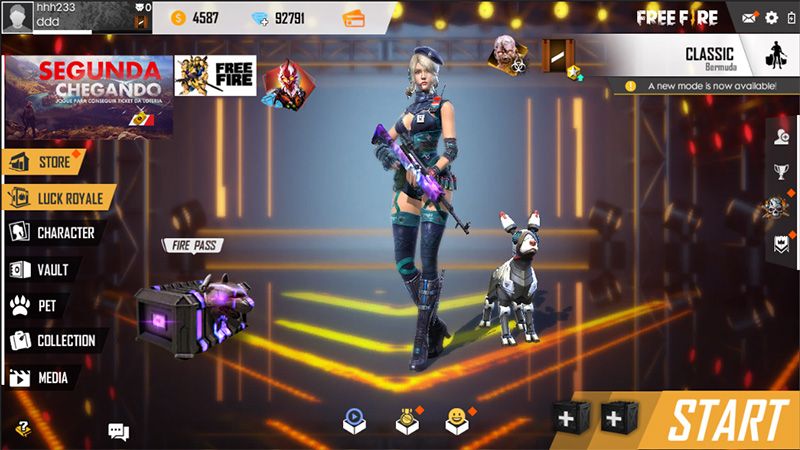 A menu will appear on the right side of the screen. Select Add Friends.
A number of teams appear in the new window. You may add any person as a buddy by tapping on the plus symbol to the right of their name, but if you'd like to select relevant friends, press on the player finder at the foot and enter in his/her name.
To offer somebody an invite, press the + symbol. Once they confirm, they will appear in your contact list, on both the Game Friends tab and on the side menu in the lobby of the main screen.
However, if you wish to play "against" your friend in a real Battle Royale match and not one of the private matches, then you have to do the following.
Firstly, you and your friends need to be connected to the same server. If you aren't follow the steps given below to change to a common server:
Download a VPN of your choice.
Go to settings and clear the app data of Free Fire (Make sure you have bound your current account to Google or Facebook before you do this.)
Use the VPN to change your location to your desired region/server.
Once you are all in a common server, you need to make sure you guys have the same rank. It is crucial as the game pits you against players of appropriate rankings. Once you have done both the things mentioned above, you and your friends need to start the game at the exact same time.
Once you do that, it might work, it might not. If it doesn't work, exit the match and repeat the process, it should work after a couple of tries. So, go ahead and let them know who's the best in the BR Matches!
---
Subscribe to our Youtube Channel. Follow us on Twitter & like our Facebook page for more post-updates
Abhigyan identifies himself as a tech geek, gaming cognoscenti, and also a connoisseur of music. Unidentified and mysterious phenomena never fail to gather his undivided attention. When not reading about bizarre and perplexing entities across the Universe, he can often be found cheering for his favorite teams in Football.