Last updated on August 6th, 2021 at 05:37 pm
Call of Duty Mobile has quickly become one of the most popular first-person shooter games on the smartphone platform. With the Season 4 update, players have been grinding more than ever to unlock all of the perks that come with the new version. The plethora of incentives available in the Seasonal Events and Battle Pass are enticing gamers to play the game more frequently.
Players have gone into hyper-competitive mode as a result of the new items. The new weapons and bonuses have piqued the interest of gamers, who want to get their hands on them as soon as possible. In Season 4, the Battle Pass and Seasonal Events provide free new weapons, skins, and other items. The Sickle is one of them. This season, the Sickle is free to use. It can be found under the Seasonal Events section.
---
MUST-READ: How to earn Melee Master Medal in COD Mobile (BR)
---
How to get Sickle in COD Mobile 
Call of Duty Mobile is renowned for releasing new weapons and perks through the Seasonal area under Events, as well as crates, bundles, and lucky drawings. Previously, the sickle might be found in bundles or crates. However, gaining the sickle was fairly costly because acquiring an Epic melee weapon in the first round of buying a crate is quite unlikely.
So, Season 4 offers a fantastic opportunity to obtain the weapon for free for those who were unable to obtain the sickle in prior seasons.
Every season, the Seasonal Section under Events is essentially renewed. This area offers a variety of prizes such as weapon skins, character skins, perks, charms. This all can be acquired by completing a series of tasks in the correct order.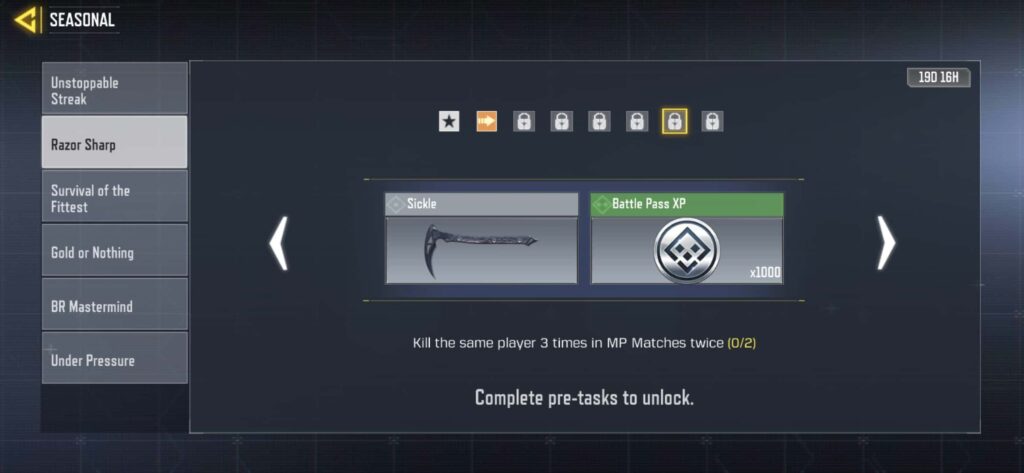 The 'Sickle' may be discovered in the Razor Sharp segment of Seasonal challenges in Season 4. After finishing the sixth mission of Razor Sharp, the sickle is unlocked. It is incredibly simple and takes very little time. The players can get sickle in COD Mobile in 10 minutes if one concentrates on completing all the tasks effectively.
To unlock this, you have to kill the same opponent three times in MP matches twice. To complete this mission, we suggest you hop into a mode that spawns fewer amount of players. Through this, you can kill the same opponent them 3 times. However, the most suitable modes for this will be Free for All and Gunfight. Since the opponents in these modes are not so much, and also they frequently spawn so you will be able to kill them 3 times easily.
Also, keep in mind that you have to do this twice. That means you have to play two matches and accomplish the above-mentioned tasks in both matches. After completing this task twice, you will get the Sickle in your inventory. From the inventory, you can equip the Sickle and enjoy this cool melee weapon whenever you want.
That's it for today's guide on how to get Sickle in Call of Duty Mobile. Grind the newly available items and tell us how fast you unlocked your favorite item in this season. Till next time, stay safe and follow us for more upcoming gaming coverage.
Subscribe to our Youtube Channel. Follow us on Twitter & like our Facebook page for more post-updates
---
---
Check out GUNSMITH LOADOUTS here –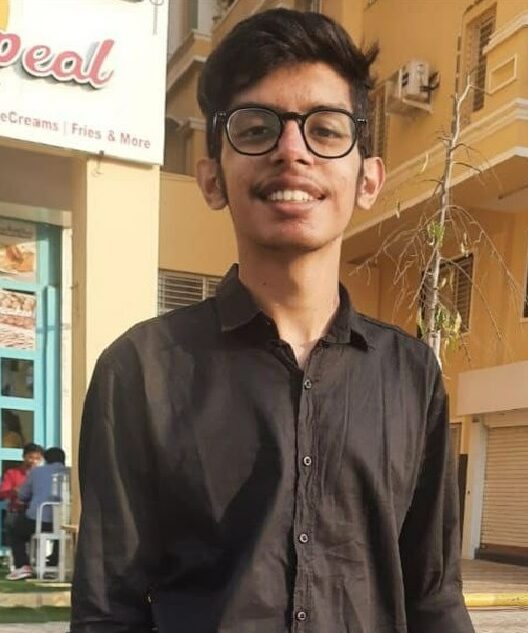 Jatin is an aspiring dentist with a keen interest in video games who likes to spend his time playing an array of different games. Other than that, he is a die-hard basketball fan who often embraces R&B music.