Last updated on February 22nd, 2021 at 10:48 am
Call of Duty Mobile has been rising to the top as one of the most successful mobile games in recent times. The game has been receiving positive feedback from its critics as well as the fans and the game has proved that it is here to stay for a long time.
Season One New Order was launched in late January and since then it has been running successfully as there are fresh updates coming-in frequently. Players across the world are swarming-in to check-out all the new content that the new season has to offer. There have been many additions to the current season till now and there are many more additions to come in the future.
The most loved feature of Call of Duty Mobile is the Gunsmith feature, where players can choose from a vast array of attachments to build a weapon that suits their playing style. This has also led to players being confused about what is the best gunsmith build for a particular weapon.
Do not worry, we are back again with our dedicated team of researchers who themselves tried out a lot of attachments before settling for what we consider to be the best for that particular loadout. Earlier in the series, we have mentioned loadouts like the "No Recoil' KN-44, 'No Recoil' HG-40, 'High Mobility LK24. You can also check out our other loadouts here.
COD Mobile Bobby Locus Gunsmith Loadout:
Bobby Buckets, popularly known as Bobby Plays, is an American YouTuber known for his mobile-gaming content that he uploads and live streams on YouTube. He played and streamed a lot of mobile games before switching to COD Mobile in 2019. Bobby has been uploading videos of his gameplay and his best gunsmith build recommendations for viewers to help them understand which attachment to use and what effect it has on that particular weapon.
Today, we bring to you Bobby Plays Locus Gunsmith Loadout which according to him, is one of the best snipers in the game. His attachments for Locus has made the weapon a High Mobility Build, which means quicker ADS time. The Stopping Power Reload Ammunition is also one of the reasons that this sniper is best in the game.
Bobby Locus Attachments –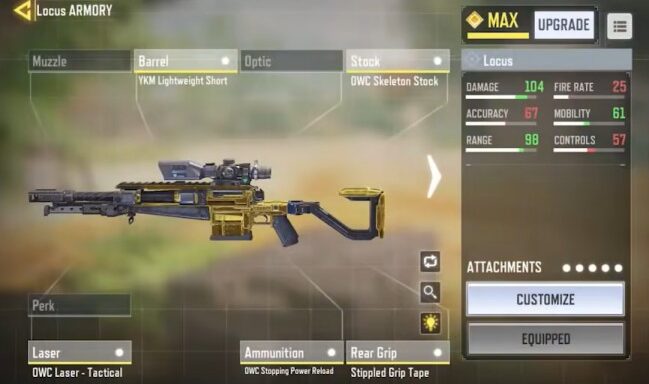 Muzzle – no change
Barrel – YKM Lightweight Short
Optic – no change
Stock – OWC Skeleton Stock
Perk – no change
Laser – OWC Laser – Tactical
Underbarrel – no change
Ammunition – OWC Stopping Power Reload
Rear Grip – Stippled Grip Tape
---
Check out the weapon-stats of the base weapon for comparison –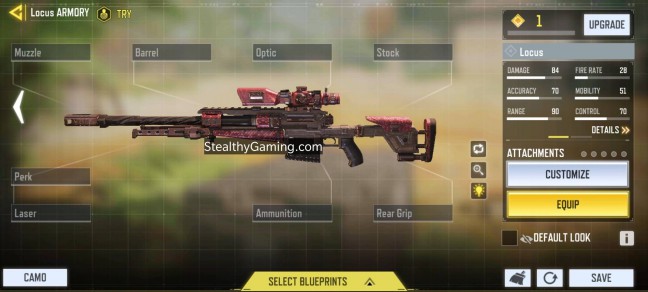 In this loadout, Bobby has focussed on increasing the Damage and Range, and ADS Speed of the weapon but compromising on the vertical recoil and rate of fire although it won't matter much as the damage is too high.
The Locus is an absolute beast and a one-shot-one-kill weapon if you use Bobby's attachments. We surely will try to use these attachments on our weapon build and you should also try them out.  Make sure to check out our other gunsmith loadouts as well.
Subscribe to our Youtube Channel. Follow us on Twitter & join our Telegram channel for more post-updates
---
Check out GUNSMITH LOADOUTS here –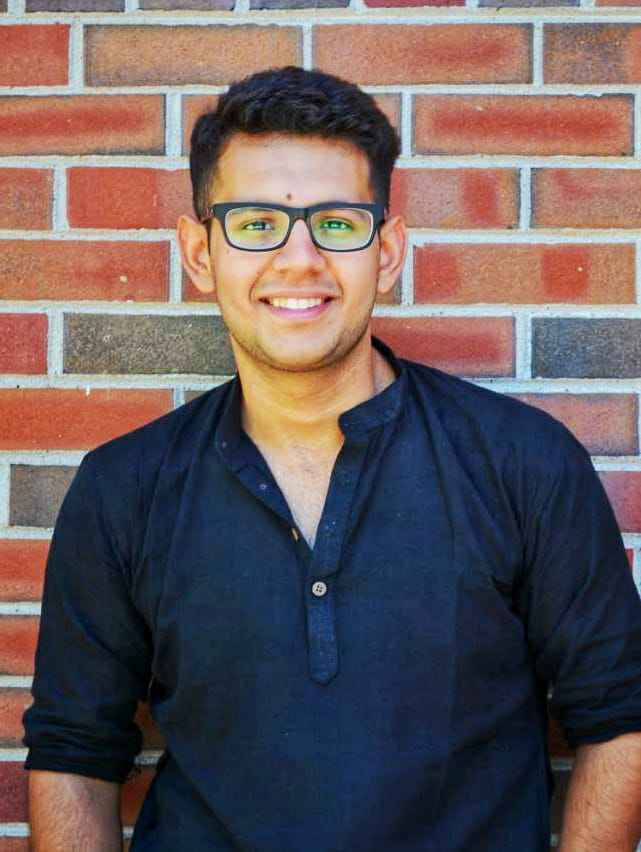 Shardul considers himself as a fitness enthusiast and animal lover, with a passion for gaming and music, especially Metal Rock and Dark Synthwave. He's a crazy football fanatic and FC Barcelona's fan. In his free time, he usually binges on Crime documentaries and Sci-fi movies.