Brawl Stars is one of the top most popular games by Supercell, with other games by them like Clash of Clans, Clash Royale, etc. The game is now gearing for the commencement of the new season, Season 6, which is expected to launch on April 12. The game is still rolling out new content for this season and people all around the world are swarming in to check out and play the game.
Brawl Stars introduced a new game mode in the recent patch updates which released on April 7, called Knockout. It is a very unique game mode and players are loving it as Knockout is proving to be an intense battle mode that will keep you entertained.
Today, in this article, we shall delve further into the new game mode Knockout, and also discuss how to play the new mode.
---
TRENDING: Brawl Stars Season 6 Update (New Brawlers, New Game Mode)
---
How to Play Knockout in Brawl Stars
Knockout is a new game mode introduced in the recent patch updates along with other new introductions. Knockout is a Trophy Event. In this event, there are two teams consisting of three players each. The objective is to eliminate the entire enemy team in a series of best-of-3 matches. Unlike other 3v3 events, once a player is eliminated, they do not respawn and their team has to play without them for the remainder of the round. When one team is completely eliminated, has fewer Brawlers remaining, or has dealt less damage than the other team, they lose that match and the next match in line begins. If a team wins two matches, the team automatically wins the game.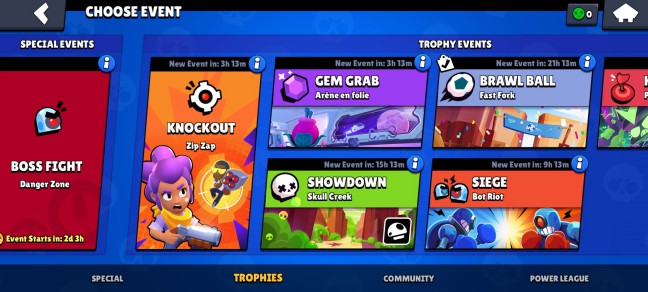 Understanding Knockout is not a tough task, and neither playing it.
You can find the new mode Knockout in the Trophy Event sections and select the mode to enter it.
Since it is a 3v3 event, you need to wait till all the 6 required players' slot is filled to start the match.
After the matchmaking is completed, the match begins.
You start with your teammates on the one end of the map just like in other game modes and fight with the enemy team until one of you is the last one standing in the 3 rounds.
If you win the first two rounds, you win the match and you don't need to fight in the third round.
If you win one in the first round and lose the second or vice-versa, the third round will be the decider round that will determine the winner of the match.
Choose the brawler that suits this mode so that you have the upper hand on the enemy team.
Knockout is a very unique and intense and entertaining addition to the already game modes rich Brawl Stars. Check out the new mode and enjoy battling it out to win matches and earn rewards as this is a Trophy Event.
---
Subscribe to our Youtube Channel. Follow us on Twitter & like our Facebook page for more post-updates