Call of Duty Mobile has become one of the most loved games on the mobile platform. The console-like graphics, relentless gameplay, huge weapons arsenal, and assortment of maps make the game all the more interesting and entertaining to play.
Ever since the ban on PUBG Mobile in India more and more players have taken to playing COD Mobile on their mobile devices. Since people have always loved competing in tournaments in PUBG, COD Mobile also has come up with some tournaments of their own. In today's article, we will be talking about that. So, let's dig right in.
---
Trending: Gold Mace from Modern Warfare might come to COD Mobile
---
How to register for COD Mobile India Cup Tournament
Brace yourselves to witness one of the biggest collaborations of the year. Call of Duty Mobile has decided to partner with the Indian Streaming giant – LOCO to host The COD Mobile India Cup Tournament.
It has been quite some time since LOCO has been teasing the Indian COD fraternity with having an exclusively Indian, Call of Duty Mobile Tournament.
LOCO went further on their teasers to ask Call of Duty Mobile how many retweets would it take for them to partner up with LOCO in hosting India's biggest Call of Duty Tournament.
Call of Duty Mobile replied by saying – "2000 RTs and it's done! 😉👍🏻". So, the entire COD fraternity got to tweeting to shred the challenge and achieve the target of 2000 RTs.
Well, it has now officially been confirmed and agreed to by both LOCO and COD Mobile. Now that we were able to meet the requisite mark, we will indeed be having a tournament in India. The Registrations to the Tournament are to begin from 18th December 2020.
Other details such as the prize pool, mode of the tournament, eligibility are expected to be out soon. With the journey of the game going steadily, it'd be only time to tell if Call of Duty Mobile can establish itself as a major title in the country.
---
UPDATE (December 18)
The Registrations for the LOCO COD Mobile India Cup tournament are live. This is by far the biggest COD Mobile tournament India has ever seen, with a prize pool of ₹ 35,00,000.
The Prize pool is going to be split into 2 parts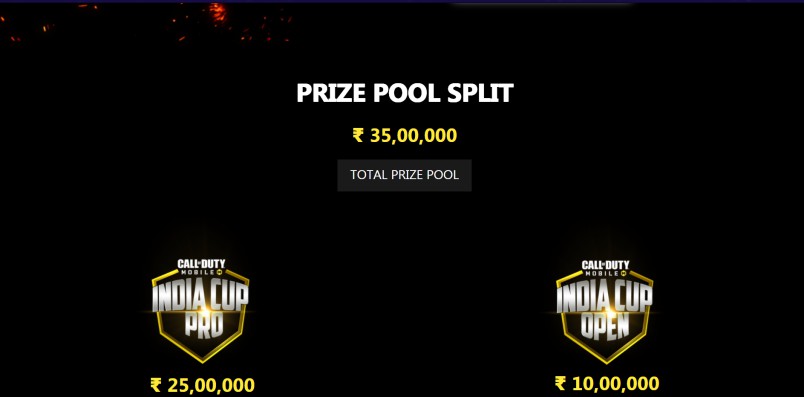 India Cup Pro (₹25,00,000)
India Cup Open(₹10,00,000)
The following are the rewards as per Rankings:
INDIA CUP PRO
1st Place – ₹ 10,00,000
2nd Place – ₹ 5,00,000
3rd Place  – ₹ 3,00,000
4th Place  – ₹2,00,000
5th Place – ₹ 1,00,000
6th Place  – ₹ 1,00,000
7th Place  – ₹ 50,000
8th Place  – ₹ 50,000
MVP  – ₹ 1,00,000
Play of Tournament – ₹ 50,000
Most kills by a player – ₹ 50,000
INDIA CUP OPEN
1st Place – ₹5,00,000
2nd Place – ₹ 2,50,000
3rd Place – ₹ 1,50,000
4th Place – ₹ 1,00,000
---
The SCHEDULE for the tournament have been mentioned below:
Call Of Duty Mobile India Cup Open: 2nd Jan – 24th Jan
1st Round – 2nd Jan – 9th Jan
2nd Round – 11th Jan – 14th Jan
3rd Round – 16th – 17th Jan
4th Round – 18th Jan
5th Round – 21st Jan
6th Round – 22nd Jan
7th Round – 23th Jan
8th Round – 23th Jan
Quarter-Finals – 24th Jan
Semi-Finals – 24th Jan
Finals  -24th Jan
Call Of Duty Mobile India Cup Pro: 2nd Feb – 14th Feb
If you are over 18+ years, you can apply as a team and compete in the open tournament to be played in 5v5 format.
The 16 finalist teams from the open tournament will be joined by 4 invited experienced, professional Call Of Duty Mobile teams. In the pro league, the 20 teams will play against each other to claim the Call Of Duty Mobile India Cup.
Registration expires on the enrollment of the first 2048 teams or on 4 January 2021, whichever is earlier.
So, to register yourself and your squad, follow the given steps to ensure a hassle-free registration:
Click on this link LOCO COD Mobile India Cup Registration
Once the COD Mobile India Cup website opens, go through the page and click on "REGISTER NOW"
Fill in requisite details like Team name, team leader, team logo, etc.
Agree to the terms and conditions laid down by CODM by checking the box
Click on Submit.
Also, we advise all players to go through the official RULE BOOK and get themselves familiar with the rules and regulations of the tournament beforehand.
Players all across India are really excited and hyped about the tournament. So, we'd suggest you get yourself and your squad registered at the earliest to reserve yourself a spot and get a chance to showcase your COD Mobile skills on a national level.
Subscribe to our Youtube Channel. Follow us on Twitter & join our Telegram channel for more post-updates.
---
Abhigyan identifies himself as a tech geek, gaming cognoscenti, and also a connoisseur of music. Unidentified and mysterious phenomena never fail to gather his undivided attention. When not reading about bizarre and perplexing entities across the Universe, he can often be found cheering for his favorite teams in Football.