Last updated on December 30th, 2020 at 12:02 am
Season 12 Going Dark of Call of Duty Mobile has been up and running for quite some time now. Players across the world have really liked Season 12's plethora of content and rewards.
Season 12 of COD Mobile has brought along with it new characters, maps, modes, and much more. We have also seen a brand-new SMG – the AGR 556 in Season 12. Another new weapon is yet to be launched in Season 12.
Call of Duty Mobile has been very consistent with its updates. The addition of new weapons to an already large weapons arsenal coupled with the gunsmith feature can often create a lot of confusion for the players. Surely, having to choose the 5 best attachments from an option of over 50 attachments can sometimes become quite confusing and tedious.
---
Must Read: How to unlock Desert Eagle pistol in Call of Duty Mobile
---
That is where our team of dedicated researchers comes in. We have dedicated quite a lot of time to try out various attachments to come up with some of the most optimized weapon builds. In our recent posts, we have mentioned the best purpose-oriented weapon build like Long-range 'No-recoil' KN-44, High Mobility RUS, 'No-recoil' DR-H, and a lot more. Make sure to check all loadouts here
COD Mobile QQ9 No Recoil Gunsmith Loadout
Before we start with today's topic, like always, our team would like to emphasize the fact that there is no such thing as a "Perfect" Weapon. No weapon can be suitable and efficient for all kinds of players throughout all kinds of maps and modes.
For example, a player who likes to engage in long-range combat would have no use for a close-range weapon and vice versa. So, it is advised not to blindly copy any weapon build but rather draw inspiration from any of the weapon-builds and build around the base. This way they can mold the weapon according to their gaming style.
---
MUST-READ: HOW TO LIVE STREAM COD MOBILE
---
The QQ9 as most of you might know, is a super aggressive SMG. It has got an exceptionally high fire rate. The damage to the fire rate ratio of the QQ9 is also quite impressive. Also, being an SMG, it is highly mobile. This allows a lot of flexibility in close range combats.
The weapon build which we will be discussing today is a No-recoil build for the QQ9. The QQ9 is a powerful SMG with a very high fire rate and mobility. This makes it very unstable and unsuitable for long-range combats.
So, today we have primarily focused on increasing the recoil-stability of the weapon allowing you stable ADS. The increased accuracy and low recoil were achieved at the cost of fire rate and control of the weapon. However, we think it was a justified trade-off.
Best QQ9 Attachments:
LOADOUT 1 –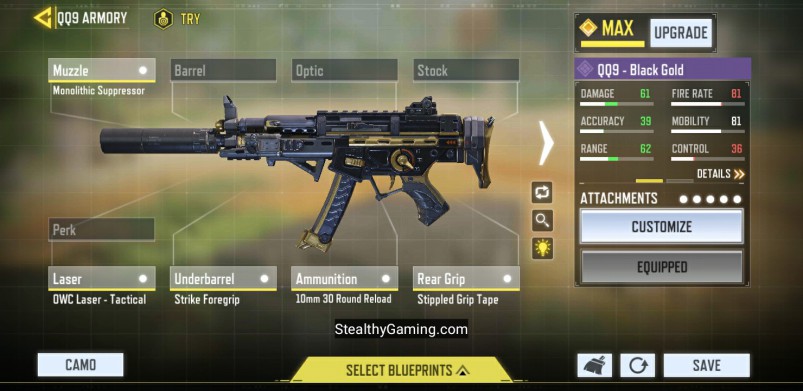 Muzzle – Monolithic Suppressor
Barrel – no change
Optic – no change
Stock – no change
Perk – no change
Laser – OWC laser- Tactical.
Underbarrel – Strike Foregrip
Ammunition – 10mm 30 Round Reload
Rear grip –Stippled Grip Tape
---
(Update – December 29)
LOADOUT 2 – 
We are here again, updating this article with a new loadout just before the new year. This is a little different loadout than the previous one but satisfies the purpose, even with more competency.
The approach for this no-recoil loadout is different. We haven't used the monolithic suppressor and 10mm rounds ammunition with this one. And instead of better damage range, we have focused on increasing the ADS bullet spread accuracy and recoil control.
The reasons are pretty simple. You need to make ensure that your bullets reach your target!
With increased ADS bullet spread accuracy, you will be able to land bullets accurately at a longer range. Whereas, the increased recoil control only supports you to do so.
This is the best QQ9 loadout for controlled recoil according to us. Make sure to check it out!
Muzzle – no change
Barrel – no change
Optic – no change
Stock – No Stock
Perk – no change
Laser – OWC laser- Tactical.
Underbarrel – Ranger Foregrip
Ammunition – 45 Round Extended Mag
Rear grip – Granulated Grip Tape
---
Note: The post will be updated continuously to provide you with the best loadout possible. Stay tuned!
---
Check out the stats for the Base Variant of the weapon for comparison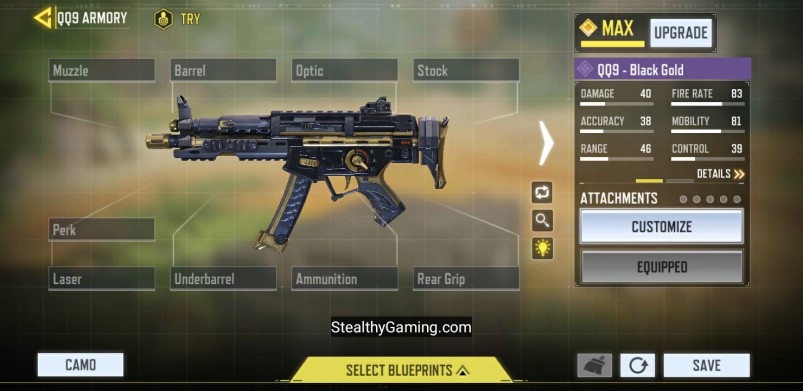 ---
How to use QQ9 No recoil Loadout:
The QQ9 originally is a super aggressive SMG. The loadout discussed above was aimed to enhance its accuracy and increase the overall recoil control of the QQ9. This loadout is highly likely to be chosen by players with an aggressive gaming style.
This QQ9 build is expected to perform well in close combat situations as well as mid-range combats up to some extent. This particular QQ9 build would do well in maps like Nuketown, Rust, Summit, Crash. It is suitable for modes like Domination and Hardpoint where an aggressive playing style is usually helpful.
That's all for today. We invite you to try this enhanced QQ9 No recoil weapon build. It won't disappoint you and even manage to get you a couple of MVPs.
Subscribe to our Youtube Channel. Follow us on Twitter & join our Telegram channel for more post-updates.
---
Abhigyan identifies himself as a tech geek, gaming cognoscenti, and also a connoisseur of music. Unidentified and mysterious phenomena never fail to gather his undivided attention. When not reading about bizarre and perplexing entities across the Universe, he can often be found cheering for his favorite teams in Football.