Everyone is busy building the 'best ever' Gunsmith loadout these days in CODM. Gunsmith, the new customization feature from the Modern Warfare universe, arrived in CODM with the new season update. And it features a whopping (up to) 54 attachments for (some) weapons in the game. A colossal number of attachments makes room for any weapon-build using different attachments, but also generates the possibility of confusion.
Apparently, confusion may arise when you have to select just 5 attachments out of 50+ (for AR). But, a simple approach may help you with the customization. Simply choose whatever you need. If you like to engage in close to short-range fights much, focus on increasing the mobility of the weapon, that is, ADS speed, movement speed. And for long-range, try to increase the damage range, recoil control. Easy right?
---

---
We mentioned in our recent post that a particular weapon build might not be best for every individual. A weapon-build must support your gameplay. That's why copying a Gunsmith build of Pro players or Youtuber might not be a good idea. YouTubers like iFerg have been playing the game for hundreds of hours, maybe more than that, and can effortlessly get a Nuke from any possible weapon-build.
Nutshell, your customization must support your gameplay style!
Well, in our Loadout Guide series, we have been making a weapon build that supports a particular play style. Recently, we posted 'No Recoil' build for KN-44. And today, DR-H will be next on the list. For more amazing Gunsmith weapon loadouts, click HERE.
---
ALSO READ: How to unlock Gold Camo in COD Mobile
---
COD Mobile DR-H Loadout Guide –
Here, we have tried customizing the most potential assault rifle in Call of Duty Mobile, that is, DR-H. This particular Gunsmith Loadout for DR-H focuses on increasing Range, Damage Range, and Lateral & Vertical Recoil control.
DR-H with the attachments, as mentioned below, can be used as a long-range weapon. Additionally, we have used OTM mag attachments to increase the damage. FYI, the OTM Mag only increases damage at higher ranges; bumps 19 points per bullet to 22 points per bullet after 30m range.
Also, these attachments sacrifice mobility (ADS Speed, Running Speed) a bit. Engaging in close range fights won't be the right choice.
---
Best DR-H Attachments –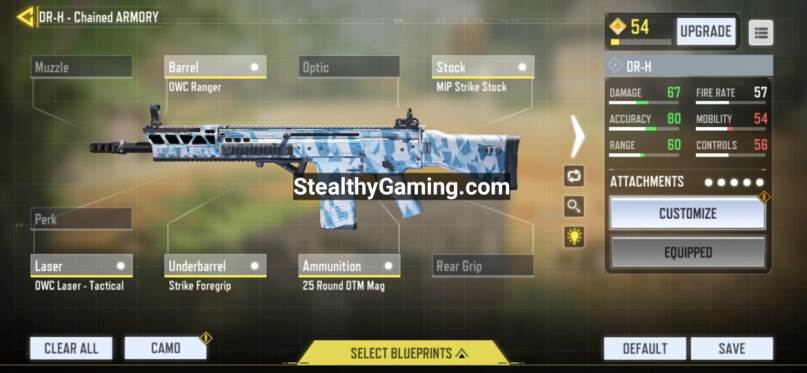 Muzzle – (No Changes)
Barrel – OWC Ranger
Optic – (No Changes)
Stock – MIP Strike Stock
Rear Grip – (No Changes)
Ammunition – 25 Round OTM Mag
Underbarrel – Strike Foregrip
Laser – OWC Laser – Tactical
Perk – (No Changes)
---
(Update – December 4) – The developers introduced a new attachment for DRH today. The new Ammunition attachment rolled out in the game along with the new Draw. Like, Akimbo for Mythic Fennec and Large Caliber Ammo for special HVK draw, the attachment arrives free with the new DRH legendary variant.
Well, buying the draw is not the only way to equip the new attachment, it is also available for free. Players unlock it by completing the mission. We have posted a dedicated article, find a quick guide on the new 30 Round OTM Mag attachment along with other details. Follow this link to visit the post (How to Unlock Guide).
In the Ammunition slot, now you can use the new 30 Round OTM Mag. Both, 25 Round OTM and 30 Round OTM Mags are identical, in terms of damage profile. But, the new attachment increases Limb Damage and the only downside is the decrease in the movement speed.
Well, the decrement isn't a major one, only two points on the movements speed are reduced. Which is almost negligible. That's why you can use the new 30 Round OTM Mag if it feels OKAY!
---
Note: The post will be updated continuously to provide you with the best loadout possible. Stay tuned!
---
Check out the weapon-stats of the base variant for comparison.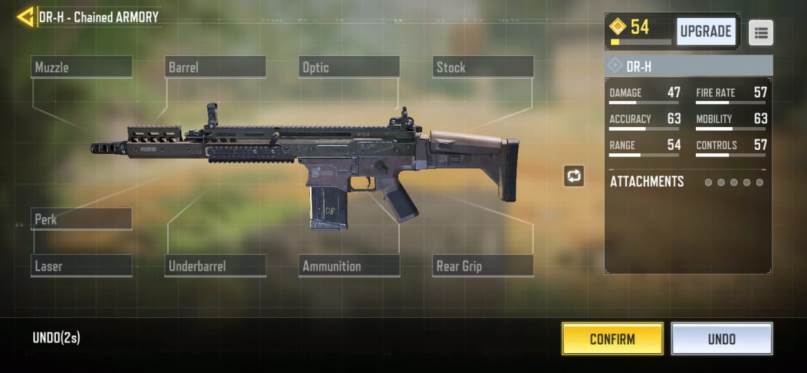 How to use 'No Recoil' DR-H build –
As mentioned, this won't be suitable for close ranges, as ADS is a little bit slower. So, players should consider playing with this build at a safe range. Also, this will be effective in Domination, Hardpoint, and even Team Deathmatch in bigger maps like Shooting Range. A high-paced short-range fight should be avoided.
(Update)
We have posted a gameplay video on our Youtube Channel. The loadout is the same as mentioned above. You can check out the gameplay video to check out the performance of the DR-H Gunsmith Build.
If you are looking for a Fast ADS DR-h build, you can check out our recent post.
Well, that's pretty much it. Stay tuned; we will be sharing more "purpose-oriented" weapon build on our website.
Follow us on Twitter & join our Telegram channel for more post-updates.
---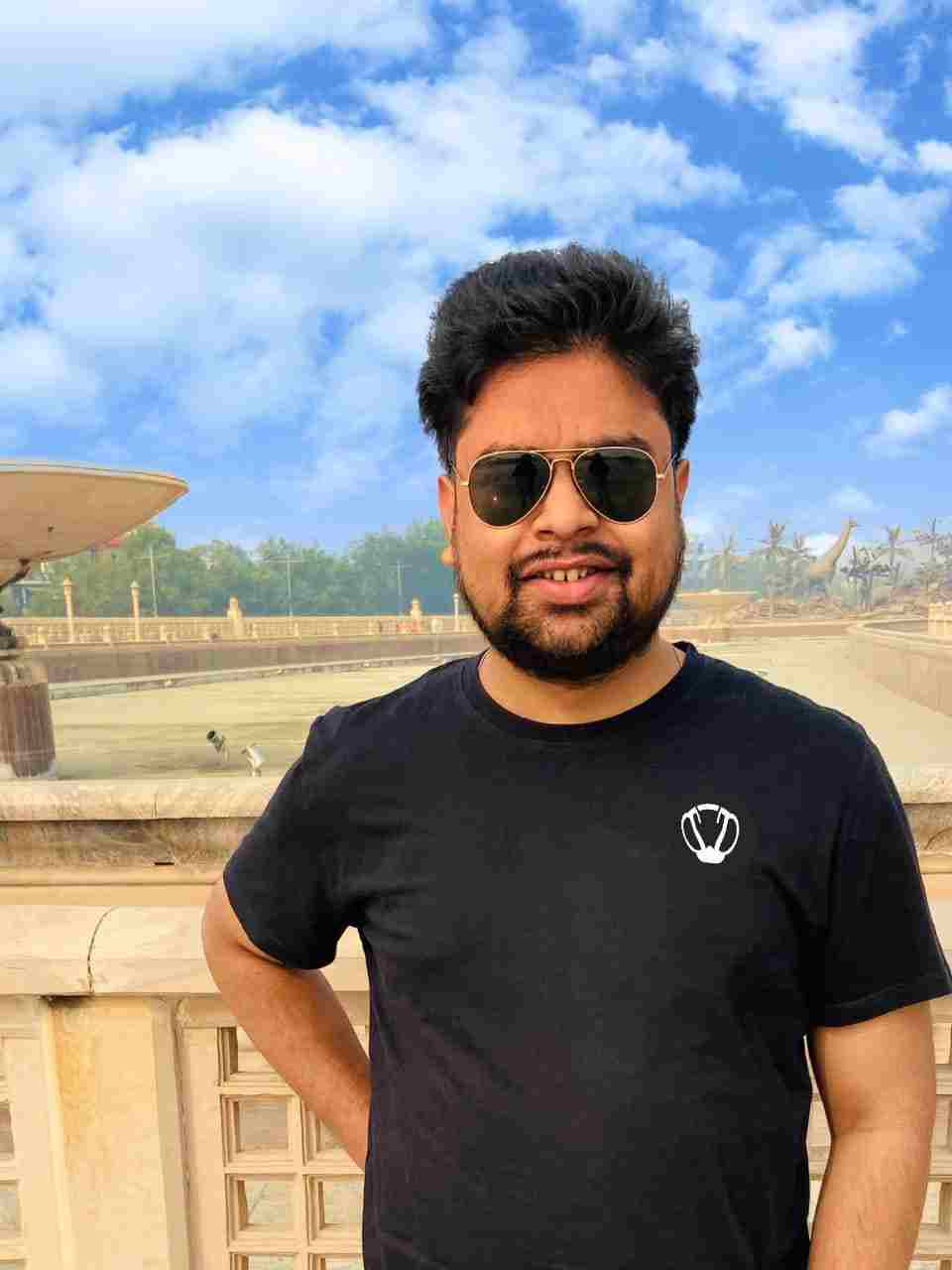 Vivek has been a fan of the COD franchise since forever. Perfection is his forte and the same can be seen in his work. He loves to invest his time in creating awesome content on YouTube and discovering the latest games.