Last updated on October 31st, 2020 at 08:15 pm
Season 11 of Call of Duty is live and running. As we speak millions of players worldwide are grinding more than ever to unlock the plethora of rewards which the Season 11 Anniversary Update has got for them. Season 11 has new characters, weapons, maps, modes, perks and much more to offer.
Ever since its release Call of Duty has become very popular. Players have been constantly playing to hone their skills and upgrade the weapon of their preference to the max. However, since the release of the Gunsmith Feature, it has become very confusing and overwhelming, to say the least. It has become very tedious for players to choose the best 5 attachments for their weapon of choice from over 50 attachments.
---
---
That is where we come in. We have dedicated quite a lot of time to try out various attachments to come up with some of the most optimized weapon builds. In our recent posts, we have mentioned the best purpose-oriented weapon build like Long-range 'No-recoil' KN-44, High Mobility RUS, 'No-recoil' DR-H, and a lot more. Make sure to check all loadouts here
iFerg Locus Gunsmith Loadout –
When it comes to Call of Duty Mobile, we all look up to Ferg. Ferg is one of the best, professional Call of Duty players. He is famous for challenging himself all the time. He takes almost impossible tasks and makes them look easy. In most of his videos, you can see him getting a nuke in ranked matches by using pretty much any weapon, irrespective of the mode, map size or the difficulty of the opponents.
He has been playing FPS games since such a long time that he now can turn and adjust any weapon according to him. This gives him control over the weapon and over the match. Years of FPS gaming has helped him achieve mad skills and super-fast reflexes.
---
ALSO READ: Top 5 Best Weapons in Call of Duty Mobile Season 11
---
Therefore, we believe you shouldn't blindly copy any weapon builds. We emphasize on the fact that players should try all weapons and settle for the one which suits them and their playing style the best. Also, as mentioned in our earlier posts, you should focus on a 'purpose-oriented' weapon build. Having said that, let's look at Ferg's Locus loadout.
iFerg Locus Attachments
Muzzle –(No changes)
• Barrel –YKM Lightweight Short
• Optic – (No changes)
• Stock – OWC Skeleton Stock
• Perk – (No changes)
• Laser – OWC Laser – Tactical)
• Ammunition – OWC Stopping Power Reload
• Rear Grip – Stippled Grip Tape
Check out the weapon-stats of the base weapon for comparison: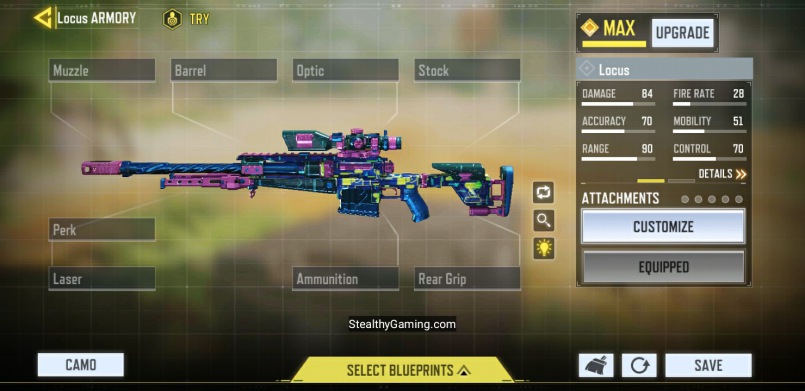 In his videos, iFerg uses both ADS and hip fire. His is Six Finger Claw set makes him react insanely fast to the enemies. The above build focuses more on increasing mobility to allow a player quick scope easily and move on to the next target.
We'd like you to take into consideration your playing style and draw inspiration from Ferg's loadouts and create the best suitable loadout according to your needs.
Subscribe to our Youtube Channel. Follow us on Twitter & join our Telegram channel for more post-updates.
---
Check out GUNSMITH LOADOUTS here –
Abhigyan identifies himself as a tech geek, gaming cognoscenti, and also a connoisseur of music. Unidentified and mysterious phenomena never fail to gather his undivided attention. When not reading about bizarre and perplexing entities across the Universe, he can often be found cheering for his favorite teams in Football.