Call of Duty Mobile Season 2 debuted a few weeks ago and has already been taking significant advances further towards making it to the top of the mobile gaming industry. The new season is full of content and a new event has been announced.
The game, in a short period of time, has taken career-high strides towards excellence as the composition of the game has been distinctive and adored by the fans and Call of Duty community.
Regardless, just like previous seasons, COD Mobile did not launch all the updates in one go but rather decided to do so over a period of a couple of weeks. Today we will be talking about one such event which is all set to be released in the near future.
What is 'Pursuit' event in COD Mobile:
COD Mobile has been known for its events always.  The very famous Knights Divided, On the Brink Events in the previous seasons, were very lucrative. Call of Duty Mobile actually gives a ton of cosmetic rewards and numerous other unlockable materials through these events.
As most of you would have seen already, a new event is underway. The Season 2 exclusive event – 'Pursuit' is to be released in T – minus 4D 13H (4 days 13 hours).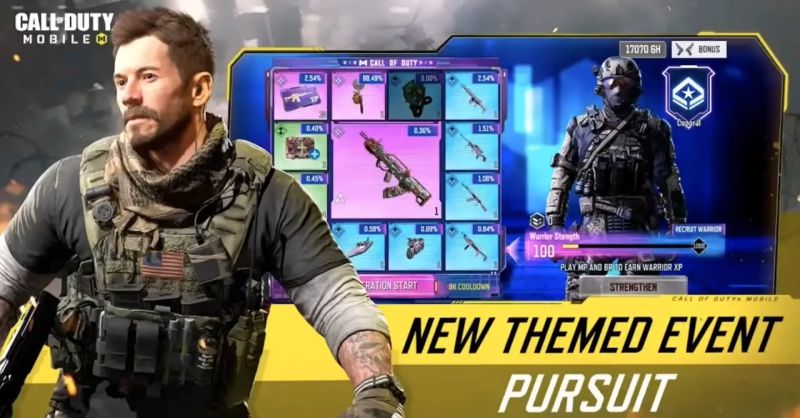 Just from the appearance of the event thumbnail, people could see a Type-25 skin inside it. On heightened examination, we could even make out that the weapon skin in the image is a new Type –25 Sanguine Epic Skin.   So, at the very least, the New 'Pursuit' Event will give players a free Type-25 Epic skin.
However, judging by previous experiences we have also seen that these events also give away a decent character skin every time. So, this time also, COD Mobile has decided to keep the tradition going and decided to give a character away in the Pursuit Event. Players will be getting an Epic Character skin. It is the Special Ops 1 – Pitch Black Skin.
Season 2's Pursuit event will be a bit different from the other events in the past couple of seasons. Instead of making players choose factions and compete against each other, in the Pursuit event, players will be experiencing a New Themed Event.
Players can earn the relevant points by killing enemies in both multiplayer and Battle Royale modes. They can then use the gained points to spin in the Pursuit event and get their hands on the brand-new epic weapon and character skins.
We can say is that it is going to be a fun-filled and definitely satisfactory event with really good rewards. The Countdown has already begun. So, gear up for another exciting grind in COD Mobile.
Subscribe to our Youtube Channel. Follow us on Twitter & like our Facebook page for more post-updates
---
Check out GUNSMITH LOADOUTS here –
Abhigyan identifies himself as a tech geek, gaming cognoscenti, and also a connoisseur of music. Unidentified and mysterious phenomena never fail to gather his undivided attention. When not reading about bizarre and perplexing entities across the Universe, he can often be found cheering for his favorite teams in Football.