(October 28) – Call of Duty Mobile is now celebrating its first Anniversary. With the release of Season 11 Anniversary Update, players got a ton of rewards and unlockable content. The update got along with its new characters, weapons, perks, maps, modes, etc. The amount of content released along with the update is overwhelming, to say the least.
Season 11 also featured an exciting Battle Pass with a powerful new weapon – Fennec. Even before the release of the Update, players had already started hyping up upon hearing about the rumors of a powerful new SMG which was to be released in Season 11.
---
MUST WATCH Guide –
How to Unlock Fennec AKIMBO Perk in COD Mobile
---
The Fennec is an extremely powerful SMG that found its way into the Call of Duty Mobile weapons arsenal via the Season 11 Battle Pass. It is available for free once you reach tier 21 in the Battle Pass.
The Fennec has an extremely high fire rate. To give you a perspective of just how high it is, Fennec's fire rate is even higher than the QQ9 and the MSMC. The high fire rate and mobility of the weapon make it a devastating weapon in close range.
---
FENNEC AKIMBO GUIDE-
---
However, due to the incredibly high fire rate, the gun has very low recoil control. In fact, the recoil control is so poor that it is almost impossible to use this gun in long-range. But this weapon wasn't made for long-range combat. The Fennec is an absolute beast when it comes to 1v1 close range fights. The gunsmith attachments for this weapon make it even more versatile and efficient.
Fennec Akimbo Perk –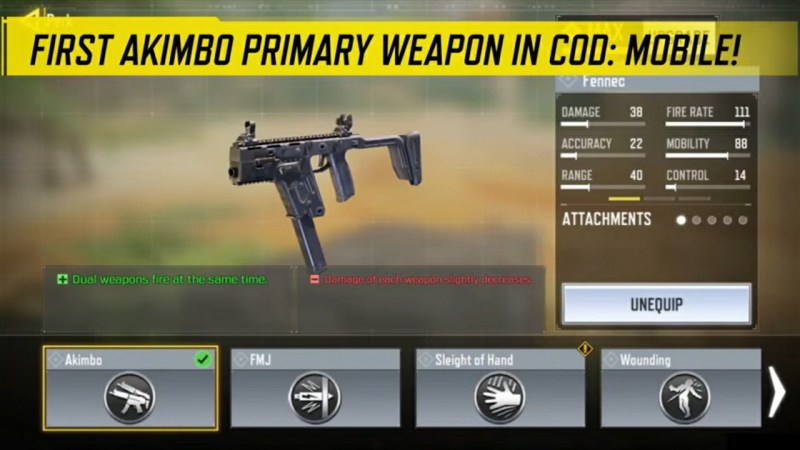 The Fennec alone will be boasting this new perk. This perk will be available for no other weapon in the Call of Duty Mobile arsenal. The Akimbo perk will allow players to hold 2 Fennecs together simultaneously. However, with this perk equipped, the players won't be able to ADS. They can only use hip fire while using the akimbo perk.
The akimbo perk will definitely be a good enhancement to the high fire rate of the Fennec. It would allow faster kills and evasion. Like we always say, no gun can be perfect, the fennec along with the akimbo isn't too. Using the Akimbo perk will decrease the damage of the weapon. Also, since players won't be able to ADS, this will decrease accuracy and increase bullet spread.
---
MUST WATCH:
---
COD Mobile Fennec Akimbo Release Date
We know, the hype for the new akimbo perk is real. Ever since Call of Duty Mobile teased us with the akimbo gameplay players have been dying to get their hands on the new perk.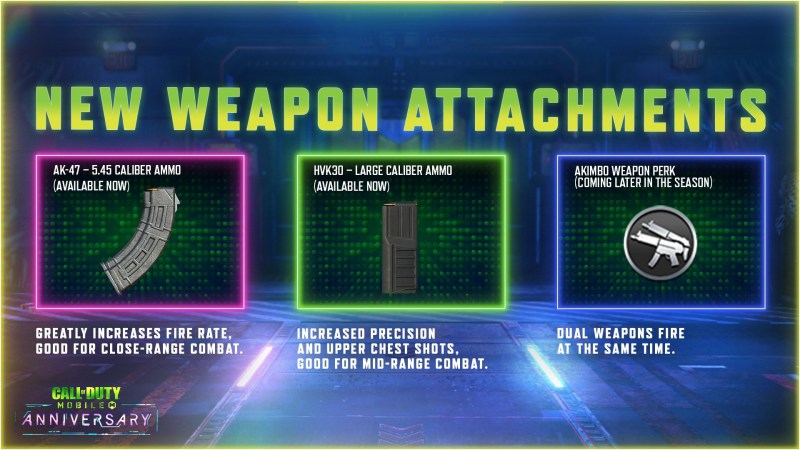 In one of the images released by Call of Duty Mobile, it can be observed that the akimbo perk might be available to the players later in Season 11. However, we have no confirmation of the same. But judging by how Call of Duty usually releases new content, we have reason to believe it will be launched late in Season 11 as we have already seen a full-fledged trailer of the perk. If not, the perk will highly likely be launched in Season 12.
(Update – November 4)
It is official now. The all-new Akimbo perk for Fennec will be rolling out on November  6.
On 6th November, a new Lucky Draw for the new Fennec mystic blueprint is scheduled. And the new print will release with Akimbo perk equipped.
On the same day, players will be able to unlock the Akimbo perk by completing the mission. Well, we are not aware of the task, but it will be easy and grindable.
We have seen a similar type of approach in releasing the new weapon attachment. Recently, AK-47 and HVK's new ammunition attachment released.
---
MUST WATCH –
---
Until then we are sure Season 11's truckload of content is enough to keep you guys busy.
Subscribe to our Youtube Channel. Follow us on Twitter & join our Telegram channel for more post-updates.
---
Check out GUNSMITH LOADOUTS here –
Abhigyan identifies himself as a tech geek, gaming cognoscenti, and also a connoisseur of music. Unidentified and mysterious phenomena never fail to gather his undivided attention. When not reading about bizarre and perplexing entities across the Universe, he can often be found cheering for his favorite teams in Football.