Season 12 of Call of Duty Mobile has been an explosive season so far. It brought along with it a ton of goodies like new characters, weapons, maps, modes, and much more. Also, the Battle pass of Season 12 Going Dark has to be one of the best Battle passes the game has ever witnessed in over a year.
Just like in the previous seasons, Call of Duty Mobile didn't release all the updates in one go. Rather, to keep the players entertained, they decided to do so over a period of a couple of weeks.
Call of Duty Mobile is back again with their Seasonal Events updates. The events are shuffled each season and the seasonal events typically involve new weapons and utilities which are integrated into COD Mobile.
---
Must Read: COD Mobile .50 GS Akimbo Gunsmith Loadout
---
Small Arms is one of COD Mobile's latest seasonal events and one of the missions to complete the entire series is to earn the Backstabber Medal thrice. Our discussion today will be based on that. So, without any further ado, let's get into it.
---
 How to get Backstabber Medal in COD Mobile?
The Small Arms Seasonal Event of Call of Duty Mobile consists of a series of missions/tasks. Upon completion of those tasks, the players can unlock and get their hands on the all-new .50GS Pistol.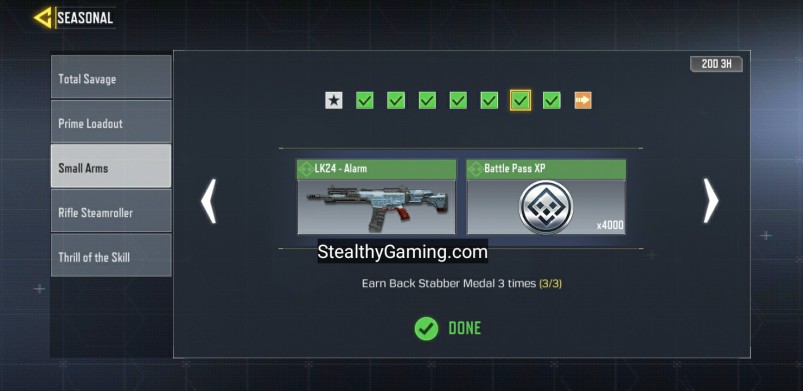 One of the missions in the set is to earn the Backstabber Medal thrice. Players are struggling to complete a simple task like this. Don't worry we got your back. Those who have the knowledge of how the medals are awarded can easily complete the task but if you are unaware of it, here is how you can complete the mission.
The Backstabber medal is awarded when a player kills an enemy from behind. The medal is also earned only if you stab or slash the enemy's back, which means that a melee weapon is absolutely necessary to complete the task.
One of the most efficient modes to complete this mission would be Hardpoint in Shipment 1944 Map. That is because, after a few seconds into the game, the spawn becomes erratic. Players can hold a melee weapon and sneak up behind an unsuspecting enemy and kill him from the back.
---
---
You are more than welcome to choose to do the mission in whatever way you like. But this task needs to be completed by hook or by crook if one wishes to get their hands on the all-new .50 GS Pistol.
So, get grinding to get those medals and get yourself a brand-new weapon – The .50GS Pistol.
---
Subscribe to our Youtube Channel. Follow us on Twitter & join our Telegram channel for more post-updates.
---
Check out GUNSMITH LOADOUTS here –
Abhigyan identifies himself as a tech geek, gaming cognoscenti, and also a connoisseur of music. Unidentified and mysterious phenomena never fail to gather his undivided attention. When not reading about bizarre and perplexing entities across the Universe, he can often be found cheering for his favorite teams in Football.