In the race of forging the best weapon build in Call of Duty Mobile, we have been helping our viewers since the release of Gunsmith update. Well, it looks like our different approach for creating the weapon guide is making sense to a lot of CODM players. Today, we will be mentioning the details of another weapon-build along with the "how to use" guide.
Well, if you are new to StealhtyGaming, let us introduce our approach for the weapon loadout guide. As mentioned earlier in our posts, we have researched the new Gunsmith feature extensively, here's what we found.
---
---
First of all, a specific weapon build may not be a good option for every other player. Customizations should be made to support the playing style of an individual. Secondly, adding more attachments doesn't make a weapon OP. As you might have observed, each attachment has its pros and cons. You might end up decreasing the overall competency of the weapon, worse than the base weapon.
Last but not least, every weapon-build should be made while keeping a specific purpose in mind. For instance, if you are expecting KN-44's competency on long-range, then look for those attachments which support Damage Range, Recoil control, and Bullet spread accuracy.
In our earlier posts, we have tried customizing several weapons to support a specific feature. Make sure to check out No-Recoil KN-44 loadout, Fast ADS Kilo loadout, Cordite Fast ADS build, and more.
---

---
Our approach for a weapon-build has been simple. We focused on increasing the effectiveness in a particular field. Also, this should be kept in mind that when you raise a weapon's competency in a specific area, you have to sacrifice other features too. And this is why our weapon build supports a particular game style only.
Call of Duty Mobile RUS-79U Loadout Guide –
Today, we will try to customize the most popular SMG in Call of Duty Mobile. RUS-79U has been popular since the release, and it's still worthy. The loadout that we tried here focuses on increasing ADS speed, movements speed, and overall mobility.
RUS-79U, with the attachments, as mentioned below, can be used as a close to short-range weapon. Well, this loadout sacrifices range a bit, so, using this loadout at long range won't be the right choice. Also, the damage points of RUS-79U has been decreased with the new update, that's why we have approached for a close to short-range RUS build.
Best RUS-79U Attachments –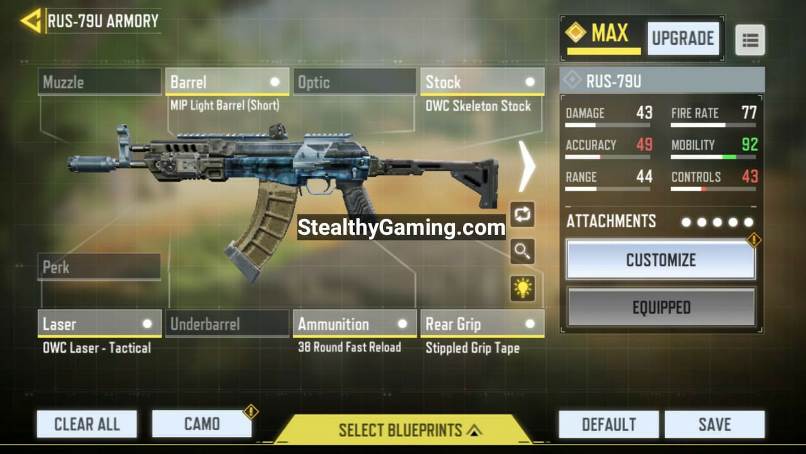 Muzzle – (No Changes)
Barrel – OWC Ranger
Optic – (No Changes)
Stock – OWC Skeleton Stock
Rear Grip – Stippled Grip Tape
Ammunition – 38 Round Fast Reload
Underbarrel – (No Changes)
Laser – OWC Laser – Tactical
Perk – (No Changes)
---
Note: The post will be updated continuously to provide you with the best loadout possible. Stay tuned!
---
Check out the weapon-stats of the base variant for comparison.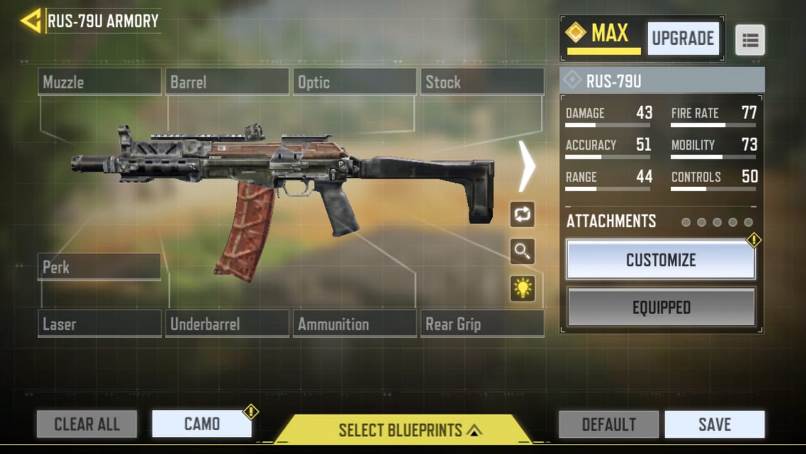 How to use 'High Mobility' RUS-79U build –
This weapon loadout will be best for close to short ranges as ADS speed and mobility have been increased. This will be best for Search and Destroy mode in short maps like – Summit, Standoff, etc.
However, you can easily count on this weapon for multiple modes Domination, Hardpoint, and even Team Deathmatch in short maps. A high-paced short-range fight will be easy to win.
Well, that's pretty much it. Stay tuned; we will be sharing more "purpose-oriented" weapon build on our website.
Follow us on Twitter & join our Telegram channel for more post-updates.
---
Check out GUNSMITH LOADOUTS here –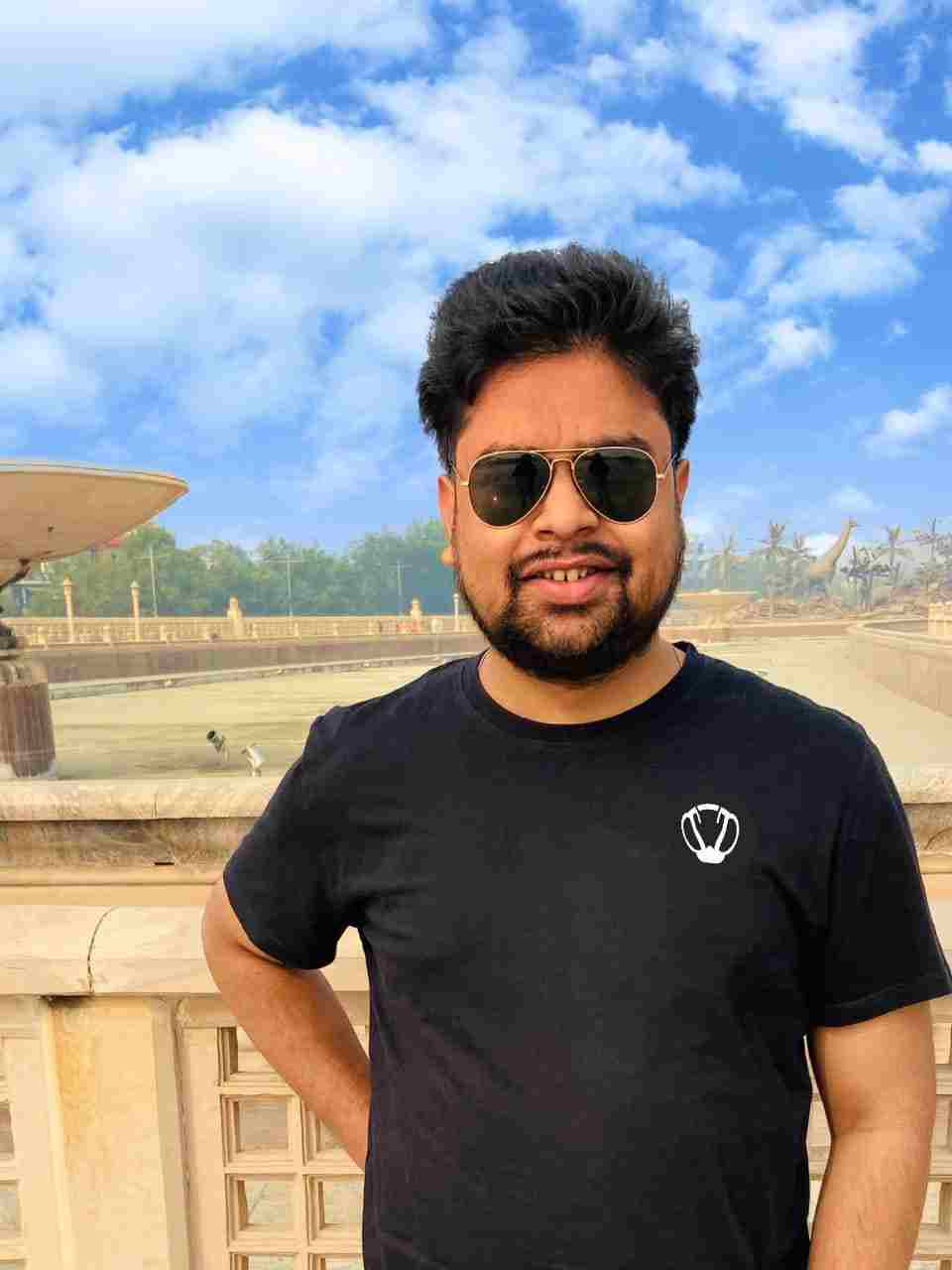 Vivek has been a fan of the COD franchise since forever. Perfection is his forte and the same can be seen in his work. He loves to invest his time in creating awesome content on YouTube and discovering the latest games.