Last updated on July 26th, 2021 at 03:19 pm
Roblox is a rapidly expanding gaming platform that serves both players and developers. Roblox Studios offers a wide range of personalization and capabilities to creators, opening up a world of opportunities. Designers like experimenting with new concepts, and it seems that gamers like this kind of experimentation as well.
Every day, programmers create a wide variety of genres and new titles, with just a small fraction of them being popular due to their original idea. Players and developers have a very close connection with the Roblox community. Gamers enthusiastically support new games, which benefits both the creators and the designers.
Roblox is a free 3D online multiplayer game that is played on a range of products. Players construct an Avatar (a digital representation of themselves) and engage with several other users via a range of mini-games. Several of the activities were created by other Roblox users.
Whilst enjoying any of the games, players could speak with each other, and you might just add people to your 'Friend' list. Currently, the game is accessible on Xbox One, Windows 10, Apple devices, and Android smartphones.
How to make clothes in Roblox (Mobile/ PC)
Making clothing is among the numerous activities you may do with the program and for your character. And if you'd like to know how to accomplish it, we've got you covered!
Well, if you've previously installed Roblox Studio, here's how to outfit your avatar in the clothing you make.
Making clothing is crucial on Roblox for a plethora of purposes. You may sell items in the catalog, that could come in useful and also make your avatar appear attractive.
You'll be creating clothes from the beginning, like many things on Roblox. Simply choose it to wear from there once it is complete, and you're done! Follow the given steps to create clothes for yourself in Roblox.
The first piece of advice for getting started with clothing design is to use the blue link to obtain the basic template straight from the interface. There would be less danger of having the incorrect sizes or hues for your garments this way. Even while the basic template is the simplest method to learn how to build garments on Roblox, it has one drawback: it is quite restrictive.
If you'd like to commence with anything distinct than the conventional template and make hoodies or other stylish items, you could always search the internet for a plethora of easily accessible templates in a variety of designs. Most image editing software, such as Pixlr, BeFunky, Paint.net, or Glimp, could be used.
When your favorite image editing tool is ready, launch the template and fill in the blanks with any colors or text you like inside the established template spaces for the torso, right arm, left arm, and so on.
The fundamental template shows you which rectangle would show on which portion of your character. Creating your own clothing design is therefore not complicated. You may add some stripes, shading, logos, writing, and other aesthetic enhancements.
If you're using the basic template, don't hesitate to delete the original text designating the distinct portions of each clothing item. This is due to the fact that anything inside the rectangles will show on your completed garment. You wouldn't want the words "UP," "FRONT," "L," "D," and so on to appear accidentally on your garments
---
How to make Hat on Roblox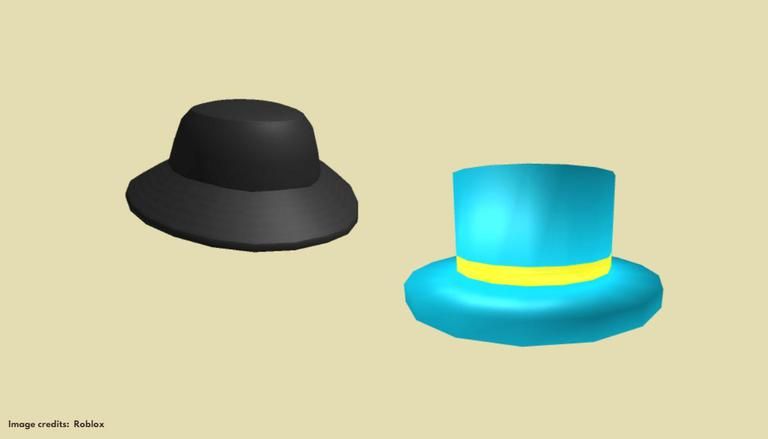 At first, the steps to creating a hat might seem quite lengthy and challenging, however, they are simple once you get the gist of it. Give below are the steps to creating a Hat in Roblox. Follow them to the T to assure yourselves a fully personalized hat
Step 1: Use the search box to find any Roblox headgear in the inventory.
Step 2: Choose the hat and head to Roblox Studio.
Step 3: Choose a game and press the edit button.
Step 4: The Roblox Studio page will be shown.
Step 5: Select Models from the Toolbox and enter whatever hat you like.
Step 6: Next, underneath the 'Explorer' tab, choose Mesh.
Step 7: Scroll down to the 'Texture ID' section and copy the 'Asset ID'.
Step 8: Return to Roblox and just change the catalog ID with this one
Step 9: Right-click on the texture and choose 'Save Image As.'
Step 10: Copy the image and then go to getpaint.net and download the free tool.
Step 11: Launch the program and choose the texture you saved to your desktop.
Step 12: Adjust the texture and color scheme as needed.
Step 13: Save the texture once again and close the tool.
Step 14: Return to Roblox and choose 'Develop.'
Step 15: Select the 'Decals' tab from the 'My Creation' menu (third option).
Step 16: Tap on 'Choose File' underneath 'Create a Decal'
And pick the Texture that you saved to your desktop. Now press the 'Upload' button.
Step 17: The uploaded file will appear as a link under 'Decals.'
Select it by clicking on it. For your Decal, a new asset ID will be produced.
Step 18: Return to the Roblox Studio and copy the ID.
Simply change the Mesh ID with the new one you copied above, and your hat would be prepared. The modifications will not be visible until the Decal is accepted.
Follow the steps mentioned above to create a personalized hat for your character on Roblox and enjoy.
---
How to make Pants on Roblox
Pants are also a huge part of your persona in Roblox. So, in this part, we will be telling you how you can create a pair of decent Pants for your Avatar on Roblox. Follow the given steps to make Pants on Roblox.
Pants, as opposed to t-shirts, extend all the way around a character's body, providing you additional designing options.  To begin, download the clothes templates below and sketch your own artwork on top.
Step: 1 Save all the templates to your desktop.
Right-click on the pictures and choose Save Image As…
Observe how the elements within every template are "folded up" and curled across a Roblox protagonist's torso, limbs, and legs. The dimensions for every template component are as follows:
Large square 128 × 128 pixels (front and back of the torso)
Tall rectangle 64 × 128 pixels (Sides of the torso R, L, sides of arms/legs L, B, R, F)
Wide rectangle 128 × 64 pixels (Top and bottom of the torso)
Small square 64 × 64 pixels
---
Step 2: Open a template in any preferred image editor
Users could have various photo-editing software alternatives based on their tastes and operating system:
Microsoft Paint is installed by default on Windows computers. You may also download alternative apps, such as Paint.NET, free software that is also accessible for Mac users.
If you have a Mac, you may either download Pinta for free or pay for a program like Photoshop or Lightroom.
---
Step 3: Change the template.
This phase may differ based on your pant choices; for example, if you want to add a logo on your pant, you may use the photo-editing software's pen tool to paint upon the relevant part of the template.
---
Step 4: Create your outfit and then post it to Roblox.
It should be noted that 8-bit alpha channels could be used for transparent zones.
---
How to make Jeans on Roblox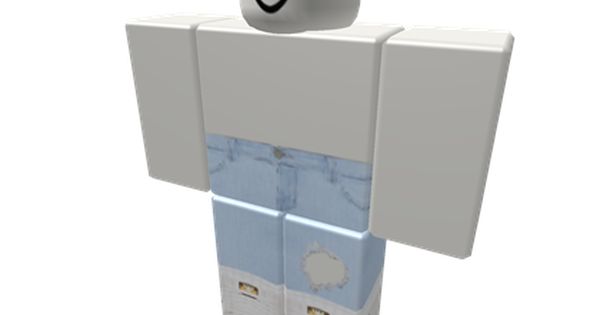 Step 1: Make sure you are on the Develop page of Roblox.com
Step 2: Click on Download it here link
To get the default template and save the image onto your device.
Step 3: Once you are done with that, go to the pixlr.com
And click on the pixlr E tab.
Step 4: Click on Open image
And find the image you just saved from the Roblox page.
Step 5: Now, open a new tab and search for images of Jeans.
Once you found your preferred pair of jeans click on Save image as.
Step 6: Go back to Pixlr, go to Layer and click on Image as Layer
And then find the image of jeans you just saved.
Step 7: Once the image of jeans appears, click on the Wand icon on the left
And hit the backspace key on your keyboard. Keep doing this till the weight is all gone.
Step 8: Once that is finished, click on the Select button
And only select a portion of the jeans and click on edit and copy it.
Step 9: After that tap anywhere on the screen,
Then go to arrange, click the jeans and completely delete that.
Step 10: Now, paste the copied portion of the jeans.
Step 11: Then go to edit and then choose free-transform
And then edit it to fit in the front area of the template. Once you are done with the Front portion, keep repeating the same process all around the body.
This way you will be done with your pair of jeans for your character in Roblox.
---
How to Retexture Roblox Items on Mobile
Retexturing item is a crucial feature of Roblox which almost all players require and use.
Step 1: For the purpose of Retexturing items on Roblox on Mobile, players/users will have to download an app called – Adobe Photoshop Express.
Step 2: Type in Roblox.com. Once the website opens, click on the 3 little dots on the top right and choose Desktop Site of the Roblox page on your mobile.
Step 3: Search for whatever item you wish for in the Search bar. After you have found your desired models, click on that particular model and press on the image, and click on Download Image.
Step 4: The image will get downloaded onto your mobile device.
Step 5: Once the required image gets downloaded, open it and tap on the share button. Then choose Photoshop Express.
Step 6: Once the image opens up in Photoshop Express, find and click on Split tone and paint your model as per your preference. Use the app more to choose the textures, colors, and other effects on it as per your desire.
Step 7: Once you are done with the editing click on Save to the gallery and save your changes on the model onto your mobile device.
Step 8: Whenever you are done with all the editing and retexturing, publish it to Roblox by creating a new Decal.
Making clothes on Roblox is a simple method to show off your imagination, discover how and when to utilize digital painting applications, and make some Robux. If you are really fortunate, your outfit will become fashionable in the catalog, and you'll be able to earn hundreds of Robux. Making clothes, on the other hand, might be difficult at first, particularly if you don't understand how the shirt/pants template works or how to submit apparel.
In this article, we have mentioned detailed steps as to how players can go about creating various kinds of clothing on Roblox like t-shirts, shirts, pants, and jeans. So, make sure to follow the steps mentioned above to get yourselves a nice pair of trousers, shirts, and other clothing for your avatar.
Follow us on Twitter & like our Facebook page for more post-updates
---
Check out more Roblox Games –
Abhigyan identifies himself as a tech geek, gaming cognoscenti, and also a connoisseur of music. Unidentified and mysterious phenomena never fail to gather his undivided attention. When not reading about bizarre and perplexing entities across the Universe, he can often be found cheering for his favorite teams in Football.