COD Mobile has become one of the fastest-growing games on the mobile platform ever since its release back in October 2019. The console-like graphics, fast-paced gameplay have appealed to players all across the globe.
Are you a prolific COD player? Love to play face-off challenges? Yet, sadly, the mobile devices betray you at clutch moments. This tends to happen since your flexibility is curbed and the mobile device constraints the mobility of your fingers.
But the new controllers fix all the issues within a heartbeat. It enables users to play even better, aim better, maneuver around the map better. We have checked the COD mobile controllers personally and given you some nice ones, suggested by our expert panel. So, without much ado' let's jump right into it.
Best controller for COD Mobile
Gaming on smartphones has certainly gotten better in recent years as the main parts of our devices grow ever stronger. The Nintendo Switch is a testimony to just how much power we can get out of a handheld device, and our iOS and Android phones are no slouches when it comes to offering vast libraries of enjoyable games.
But, clicking around ludicrously on the screen without any tangible or tactile control mechanisms can make for a miserable experience, that would be easily remedied with a controller.
Mobile Controllers were designed to make your gameplay experience on your smartphones extra entertaining, enthralling, and rigorous. A portable controller for playing games helps to control the gameplay with its flexible and easy to maintain buttons and joystick.   They end up making the gameplay simpler and more convenient.
1.
Megadream Mobile Gaming Controller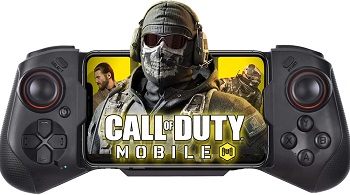 This COD mobile controller supports both iOS and Android devices. This particular mobile controller comprises 12 motion control buttons along with a dedicated button to toggle the in-game Map.
Buttons are designed to suit the gameplay habits with multiple gestures. The dedicated map trigger button allows players to quickly glance at the in-game mini-map to pin-point enemies effectively. Megadream COD mobile controller works on devices of brands like Samsung, Sony, HTC, and Huawei, Apple etc.
Pros:
Better control
Easy to use
Flexible fit to accommodate different types of phones
Economical
Decent battery
Cons:
---
2. GAMESIR G6 ONE-HANDED WIRELESS GAME CONTROLLER
GameSir G6 introduces you a COD mobile controller with an outstanding innovative design. It is a combination of controller and touch screen controls. The interface is configured by 10 controls and 1 ultra-thin 3D joystick, so you can refine motion control, leap, target and fire with extreme fluidity.
Supported on iOS phones as well, it comes with G-Touch technology that defines built-in Nordic 52832 chip with 3mAh ultra-low power consumption. G6 has a 5.0 wireless Bluetooth which provides for hassle-free connection with your mobile devices.
Pros:
Ten control buttons
3-D joystick
Optimal placement of buttons and joystick
Good battery life
Cons:
Not supported on Android devices.
---
3. STEEL SERIES STRATUS XL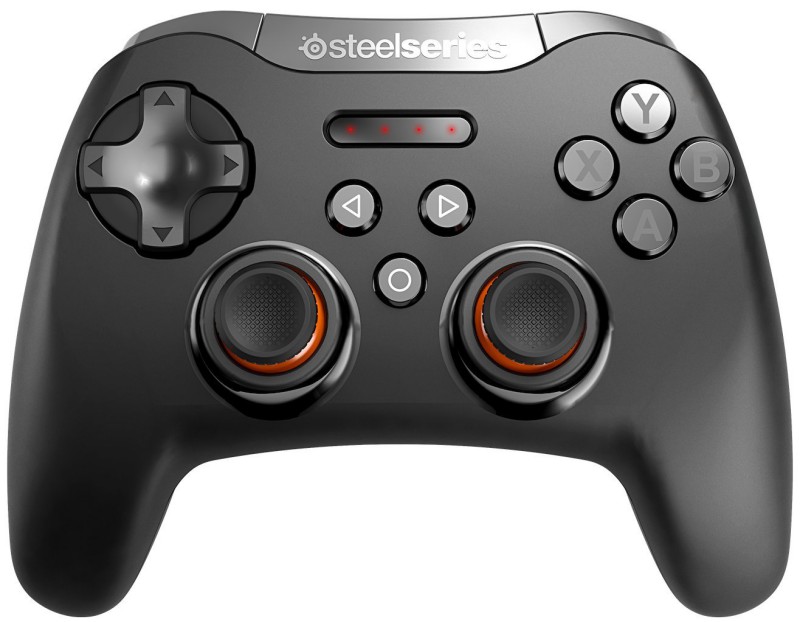 The Steel Series Stratus XL is considered as the gold standard in Bluetooth game controllers by several individuals. It looks and feels a great deal like an Xbox controller, which might or might not be a positive thing relying on your perspective. The weight of the controller means that it doesn't feel like a cheap piece of plastic.
The Stratus XL has a button layout that will be accustomed to by PlayStation clients. The two joysticks are on the bottom with a d-pad on the left, A, B, X, Y buttons on the right, and two triggers on the rear. The three buttons in the center can control Android actions (Home, Back, etc).
Pros:
Actual Console-like controls and layout
Responsive
Decent Battery Life
Cons:
Uses AA batteries
A bit more on the expensive side
---
4. Popman MOBILE CONTROLLER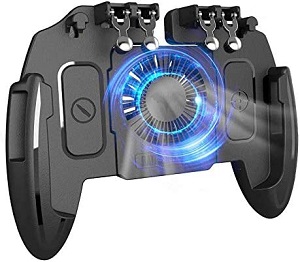 The main advantage of this COD mobile controller is that you can move, aim, fire, and turn seamlessly by clicking the buttons with your index fingers. This mobile controller frees your thumb from the trouble of making any additional controlling.
This controller comes with a smart cooling fan and a built-in 4000 mAh battery capacity that not only helps to reduce the temperature but charges the mobile as well.
Pros:
Pretty Decent battery life
In-built cooling fan
Comfortable key movement because of joysticks
Cheap price
Cons:
Tight grip might damage phone edges for bigger phones
---
5. SteelSeries Stratus Duo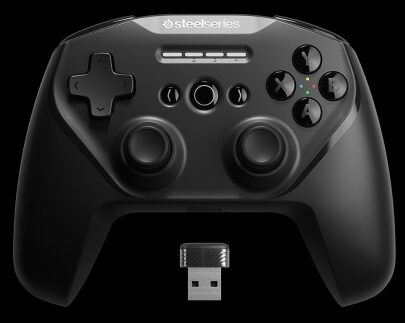 It is a truly wireless controller and is compatible with Android, Windows, and VR headsets. It gives you a fantastic gaming experience. It is supplied with a battery that lasts up to 20 hours, making it ideal for night-long gaming sessions and streams.
The SteelSeries Stratus game controller features a ton of top-notch technology. This includes twin joysticks, a four-way directional pad, triggers, shoulder buttons, four action buttons, as well as 3 front-facing buttons.
This game controller has the polish and builds of a PlayStation or Xbox controller like its XL counterpart. This is a controller that you can count on even when there is no power because it does not have a rechargeable battery
Its 2.4Ghz connection ensures you zero lag, which never lets you lose your gunfights in the game.
Pros:
Works on Android and PC
Affordable and ergonomic option
20 hours of non-stop competitive play
Cons:
No Bluetooth adapter included in the box
No built-in stand for mobile devices.
---
6. TESSO COD MOBILE GAME CONTROLLER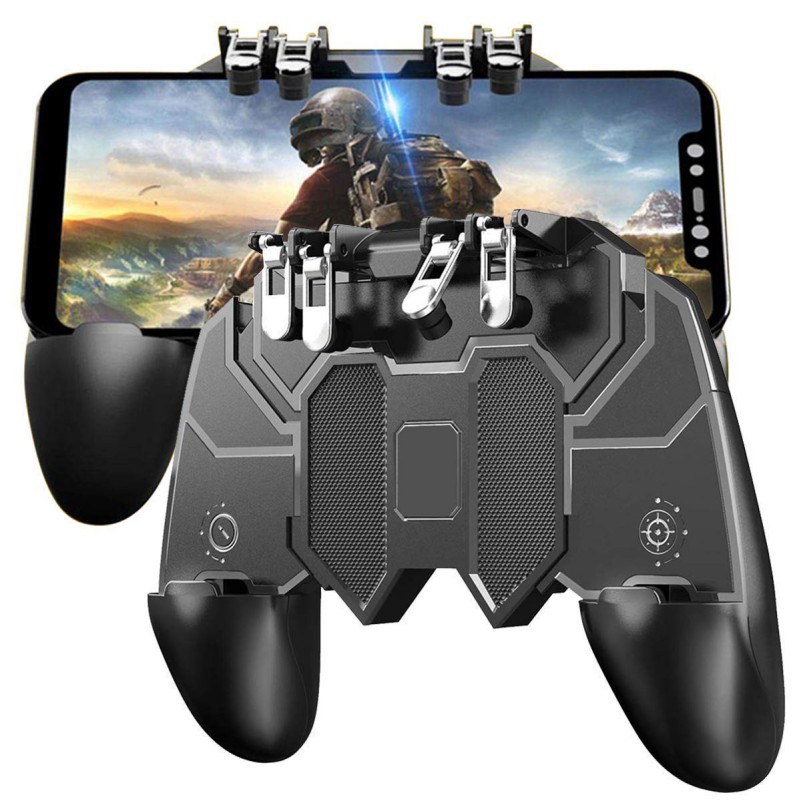 This COD mobile controller is going to invigorate your COD addiction more, undoubtedly. Coming to the control panel, users will get six fingers to trigger points, for simultaneously firing, targeting, and functioning. The fire and aiming knobs arrive with 180-degree reversals seeking to make your installation easier.
This controller is compatible with all the major mobile phones be it android or iOS. You would also find the mobile body, as well as the controller, are firmly fixed through three points of contact and attached with a rubber pad to prevent the phone from sliding or getting damaged.
Pros:
Good trigger feedback and ergonomics
Better gameplay
Good build quality
Cons:
---
7. COSMIC BYTE C 1070T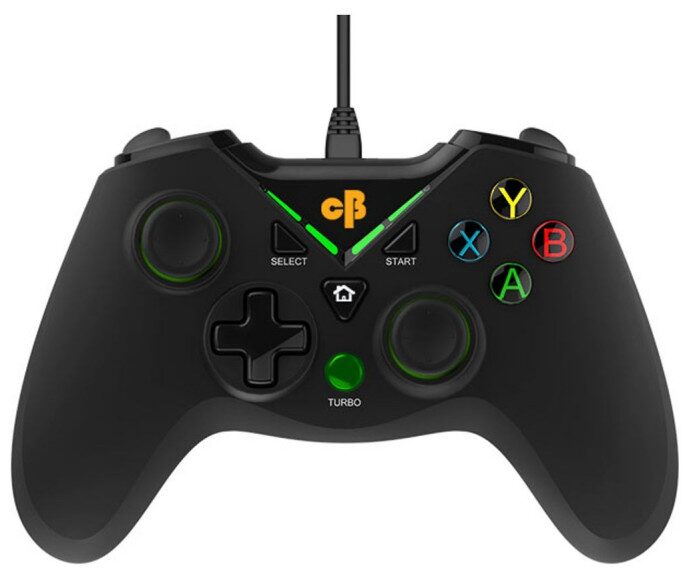 This COD mobile controller is adaptable for your PC, as well as Android phones. Users will find an embedded Dual Mode including X- input and Direct- input for better game interoperability. Attributes like analog sticks and ultra-precise D cross is much more of an additional benefit to putting on.
People will get double triggers containing 12 numeric buttons and a special "rapid-fire" with turbo mode. It also supports LED indicators.
Pros:
Multiple device compatibility
Easy to use
Good haptic feedback
Cons:
The network gets disconnected frequently
---
8. GameSir G4 Pro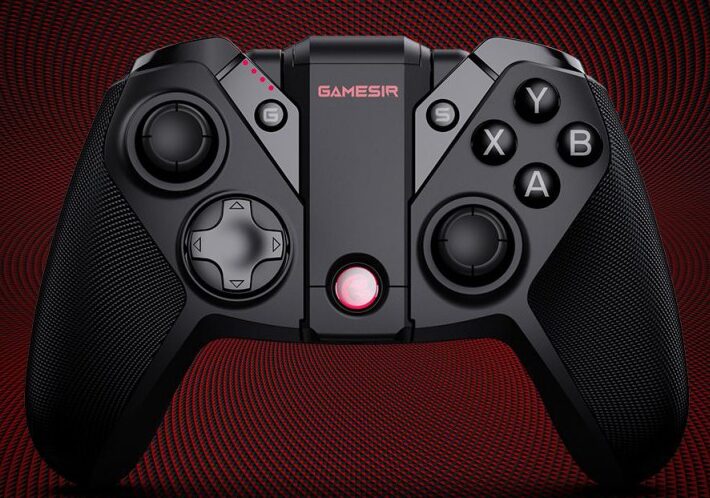 The GameSir G4 Pro can be used with a USB cable or Bluetooth link on phones and tablets very well. It features your conventional assortment of buttons, and also two 360° joysticks, and a D-pad button for peak effectiveness.
The GameSir G4 Pro also boasts a rechargeable 800mAh battery that can last up to 12 hours under normal circumstances. While concerns about their connectivity have been received, the manufacturer seems to have fixed these problems, and the GameSir G4 Pro controller is functioning as it should. A delightful option that will take your game to next level.
The Soft Rubber grip has a non-slip and comfortable texture, which provides gamers with the ability to feel comfortable and reduces grip fatigue.
Pros:
Dual vibration feedback motors
Turbo function for a competitive edge
Bluetooth connectivity for multi-platform support
Cons:
Doesn't support Bluetooth Connection
---
9. DELAM CONTROLLER
The DELAM is a cheap choice with several next-level features if you're looking for an Android game controller for your smartphone. This model boasts a built-in 4000mAh power bank for charging on the go. Never again likely to lose power in the heat of combat!
It also comes with a cooling fan that maintains your precious Android in peak operating conditions, regardless of how intensively it performs. Combine it with a 4-finger ergo grip and button keys, and get on your way to another royal triumph!
Pros:
Built-in 4000mAh power bank
Cooling fan for top performance
Ergo grip for phones 4.7″-6.5″ long
Cons:
---
10. RAZER RAIJU
The Razer Raiju boasts an efficient, ergonomic modular design that's constructed for long and comfy gaming sessions. On the right side, it includes a joystick and 4 action buttons, while on the left side, it has another joystick and a directional pad. You'll find 2 shoulder and trigger buttons on the top.
Though the controller is pretty pricey, it provides ridiculous features that you can't find on lower-end models. Which includes a multi-function button layout, an adjustable phone mount, and Razer Mecha parts. The Razer Raiju Software is also highly adaptable, enabling users to change game modes and levels of sensitivity easily
Pros:
Raiju mobile app let user customize the controller
A convenient front-facing phone mount
Hair Trigger Mode & Sensitivity Clutch Levels
Cons:
Very expensive
Reports of minor issues with the analog sticks
---
It is fun to play games on smartphones, as you can play your favorite games anywhere. Smartphones have progressed a lot in the gaming world. Playing shooting and other such high-profile games don't require a PC or a laptop anymore. Mobile devices are nowadays giving console-like graphics with really good frame rates.
On the contrary, playing games on mobile phones may have been a little irritating for 2 purposes. The first one is that the displays on your mobile phones have limited room, and secondly, you cannot use the controls on the touch screen effectively.
If you're hooked to COD Mobile, you can consider mobile controllers since they dramatically boost your gameplay and enhance your skills.  During the game, you can navigate your triggers flexibly, which was a constraint previously on COD mobile.
Mobile controllers are designed according to your necessities and enhance your COD offensive ability. Since COD is one of the largest smartphone games at the moment, you must also develop your skills accordingly. So, we suggest you opt for these controllers to enjoy the game even more.
---
FAQs
1.Which controller is best for cod mobile?
– Best controller for COD Mobile would be the PS4 controller or Xbox controller. If you don't own one, you can buy any third party controller.
2. Is Cod mobile better with controller?
If you have been playing games on a controller, you can definitely play better with the controller. However, controllers are not allowed in tournaments.
3.What controller works with cod mobile?
Any good quality controller work with COD Mobile. You can even connect your PlayStation or Xbox controller to play COD Mobile.
4.Can I play COD mobile with wired controller?
Yes, you can play COD Mobile with a third-party wired controller.
5.Can you play COD Mobile with a ps4 controller?
Yes, you can play COD Mobile with a PS4 controller. You just need to connect it with your smartphone.
6.Is Xbox 360 controller supported on CoD: Mobile?
Yes, Xbox 360 controller is supported on COD Mobile. You just need to connect it with your iPad or smartphone.
7.Which controller is best for Call of Duty Mobile?
The best controller will be PS4 or Xbox controller. But you can go with the third-party controller too.
---
Subscribe to our Youtube Channel. Follow us on Twitter & join our Telegram channel for more post-updates.
---
Abhigyan identifies himself as a tech geek, gaming cognoscenti, and also a connoisseur of music. Unidentified and mysterious phenomena never fail to gather his undivided attention. When not reading about bizarre and perplexing entities across the Universe, he can often be found cheering for his favorite teams in Football.