Hey ya! Find the updated content at the end of this post!
---
November 27: The 12th Season of Call of Duty Mobile has been an absolute joy to play so far. Season 12 got the players a ton of goodies like new characters, weapons, maps, modes, and much more. Also, the brand-new Knights Divided event has led players from around the globe to grind to the best of their abilities to contribute the maximum points and help their respective factions win.
Also, we know how confusing it can become sometimes to choose the 5 best possible attachments from an option of over 50 attachments. For that reason, we have mentioned the best purpose-oriented weapon build like Long-range 'No-recoil' KN-44, High Mobility RUS, 'No-recoil' DR-H, and a lot more. Make sure to check all loadouts here
COD Mobile New Nuketown Map:
Time and again Call of Duty Mobile has impressed the players with new weapons, characters, maps, modes, and much more. They have been pretty consistent with the quality of the content they give and also with their updates.
This season we saw a new map – Hackney Yard and also a very appealing new mode- Night Mode. So, it is evident that COD Mobile doesn't disappoint. We have some news regarding a new update related to a map. So, let's get into it.
Most of the fans of COD Mobile and other COD titles like the Black Ops series sure must have heard of the Nuketown map. Some might even agree with us, that the Nuketown is one of the fan-favorite maps. For those of you who haven't yet played a match in this map, we are sure you guys will love it.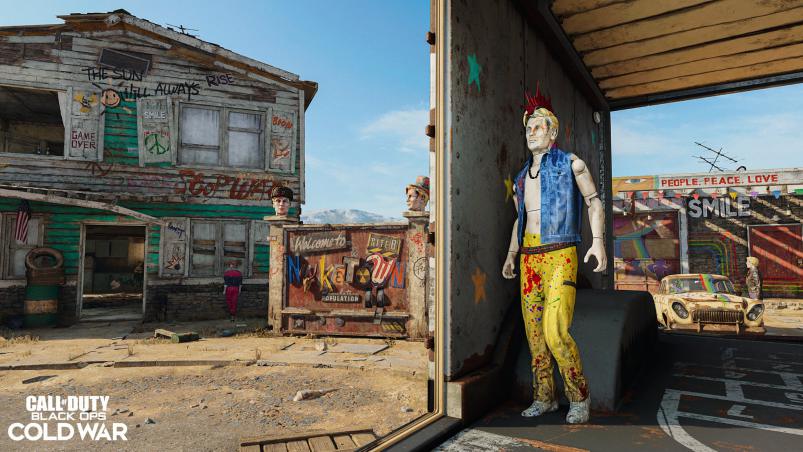 Owing to its insane popularity and barrage of requests from the COD fans, Activision decided to include the Nuketown '84 Map in Black Ops Cold War. However, the Nuketown '84 in Black Ops Cold War isn't the ordinary Nuketown as we remember it. It is a completely remastered map.
Well, guess what? Activision noticed that Nuketown is also quite a popular map in COD Mobile. Also, the fact that the new, remastered version of the Nuketown map appealed to a lot of players in the Black Ops Cold War.
So, we have unconfirmed reports, that Activision may be planning to announce a remastered version of the good old Nuketown map in COD Mobile. We are yet to confirm the exact date of its release. However, COD Mobile did tease us with the possibility of the Nuketown Remastered version coming soon to COD Mobile.
We might probably be seeing the 1984 version of the Nuketown Map which was released in Black Ops Cold War off late.
We would advise you guys to hold on to your seats as COD Mobile is sure on a spree to surprise us. They are sparing no expense to make COD Mobile better than ever.
---
(Update – November 28)
Alright, ladies and gentlemen, we are back with some exciting updates regarding the COD Mobile Remastered Nuketown map.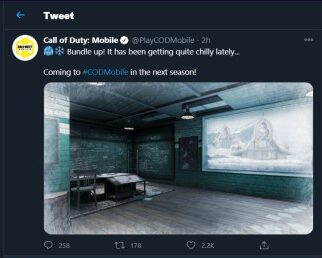 As you guys can see from the tweet posted by Call of Duty: Mobile Official, they have teased us with a wintry theme for the Nuketown Remastered version. So, for the Call of Duty Mobile version, we will be seeing a new Nuketown map which will be based around Snow and winter. This idea for the remastered Nuketown map was adopted from the Black Ops 4 version of Nuketown.
This remastered winter Nuketown map is expected to be released in the next season i.e Season 13. As of now, we haven't yet received any information regarding the exact date of its release. Just by the looks of it, the map looks really interesting and we can't wait to get our snowboots on to try out this all-new Winter themed Nuketown.
---
(Update – December 13)
It is indeed a beautiful Sunday morning for all the COD Mobile fans out there. A few hours ago, a new test server for Call of Duty Mobile Season 13 has gone live. And it looks, we will be getting a ton of new content this Christmas. Well, we have mentioned the upcoming content in our recent post. Visit the LINK for more details on Season 13 update.
Also, Activision has made it clear that the new season will be featuring the remastered version of the popular multiplayer map – Nuketown.
According to the official details, the new map will be called Nuketown Russia. More details to follow. Stay tuned!
---
(Update – December 28)
The remastered version of COD Mobile's Nuketown has finally arrived today. The new playlist for Nuketown Russia for this winter season is now available for various. And fans are really appreciating the developer's move of bringing this new snowy map to the Multiplayer Ranked playlist.
So, what are you waiting for? Drop in the new Nuketown!
---
Subscribe to our Youtube Channel. Follow us on Twitter & join our Telegram channel for more post-updates.
Abhigyan identifies himself as a tech geek, gaming cognoscenti, and also a connoisseur of music. Unidentified and mysterious phenomena never fail to gather his undivided attention. When not reading about bizarre and perplexing entities across the Universe, he can often be found cheering for his favorite teams in Football.