Heya! Find the updated content at the end of this post!
---
Season 1 New Order of Call of Duty Mobile really appealed to the players with the unlockable content, freebies, and all the seasonal events. It was an absolute rollercoaster of a Season.
However, Season 1 is almost at an end and it is the dawn of a new beginning as Season 2 walks into the scene. That's right, Season 2 of COD Mobile is lurking in the corner, and players all across the world are gearing up to embrace it and get ready for another grind in the upcoming season.
Activision, in an effort to make Season 2 of COD Mobile bug and glitch-free decided to make Test Servers for Season 2. In those test servers, our team came across various new content which is all scheduled to be released in the next season. One of them is the brand-new BR Class – Spotter. Let's talk about it more.
How to get Spotter class in COD Mobile Battle Royale:
Season 2 of COD Mobile will be bringing in some serious updates for the Battle Royale mode of the game. One of those new features is going to include the implementation of a brand-new class in BR of COD Mobile. This latest class is nothing but the Spotter class
The Spotter class is going to be quite similar to the Cluster Strike scorestreak in the Multiplayer mode of COD Mobile.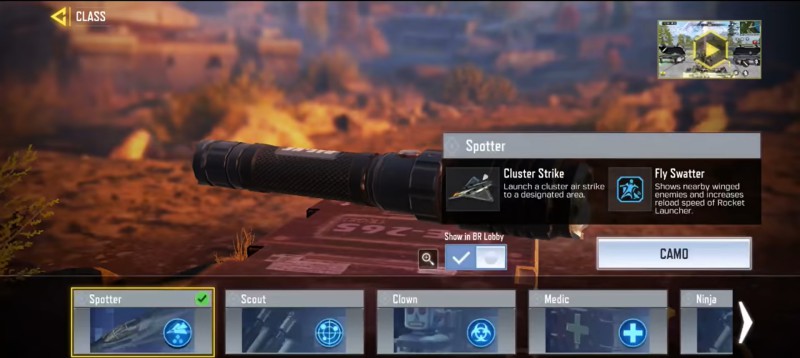 The Spotter class the Cluster Strike's BR counterpart. According to what our team has collected till now, it is known that the spotter class, upon signaling, will strike cluster missiles on the targeted area.
Also, another perk of the Spotter Class is the Fly Swatter. It basically means, the nearby winged enemies get marked, and the reload speed of the rocket launchers will be increased.
This feature of pointing a laser at the target which gets destroyed seconds later by hellfire must be familiar to those players who have player COD Warzone as this has been adopted from the same game.
Judging from how things have been done in the previous seasons, we speculate that in the current season, the Spotter class will be available to the players via seasonal events. So, to get their hands on this new BR class, players will have to grind a lot and complete a set of missions.
Now that you guys are aware of the upcoming Spotter Class, make sure to gear up and get ready for another grind as you will surely want to get this class. It is surely going to be bang in the Battle Royale mode, literally.
---
(Update – May 15)
Ladies and gents, the all-new Battle Royale class is finally here. And you can unlock it right away. Just visit the new Featured event in COD Mobile, called 'Target Locked.' The Featured event can be found in the Events tab only, the same tab where you can find Seasonal Events.
The new event has some very basic tasks to complete and we believe all of them can be done in under 30 minutes at very ease.
So, what are you waiting for, drop in now!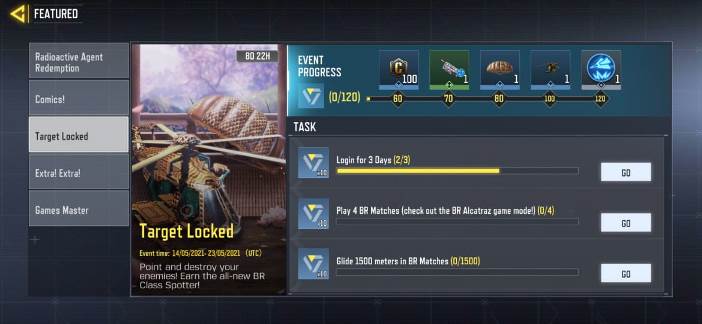 Subscribe to our Youtube Channel. Follow us on Twitter & like our Facebook page for more post-updates
---
Check out GUNSMITH LOADOUTS here –
Abhigyan identifies himself as a tech geek, gaming cognoscenti, and also a connoisseur of music. Unidentified and mysterious phenomena never fail to gather his undivided attention. When not reading about bizarre and perplexing entities across the Universe, he can often be found cheering for his favorite teams in Football.