Last updated on January 2nd, 2023 at 05:38 pm
Roblox, a multiplayer sandbox game that has been around for almost 15 years and is now one of the most popular browser-based games accessible, is still growing in popularity. A smartphone version is now available as well.
We don't need much of a reason to return to a galaxy far, far away — May 4, the KOTOR remake, and a new episode of Book of Boba Fett – but Something Star Wars-related occurs, and we're all off swinging our lightsabers and politely requesting that others abstain from giving us the odds.
There are many different games to pick from, as is typical with Star Wars material, and the quality varies greatly. Thankfully, Star Wars has arguably produced more fantastic licensed games than any other film franchise, thanks in large part to sheer numbers. And there'll be lots more to come!
We've separated the original trilogy wheat from the sequel-grade chaff to bring you the definitive list of the best Star Wars games.
From the deep, philosophical wrangling of Knights of the Old Republic to the breathless adrenaline rush of producing in Episode I: Racer, we've cut the original trilogy wheat from the sequel-grade chaff to bring you the definitive list of the Top 7 Roblox star wars games.
---
Top 7 Roblox Star Wars games
1. Star Wars Galaxy Roleplay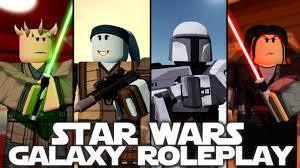 Galaxy of Star Wars Roleplay is a Star Wars roleplaying game set in the galaxy far, far away. Live out your Star Wars adventures in the Clone Wars, Galactic Civil War, First Order-Resistance War, and the Old Republic eras across the galaxy.
Become a Jedi, a Sith, a Mandalorian, a smuggler, a soldier, a pilot, a bounty hunter, and many other professions. Create tales, reenact your favorite scenes, and make new friends.
---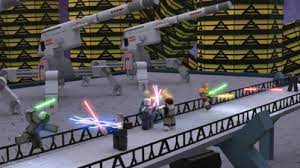 Battlefront I (2015) and Battlefront 2's HvV game modes inspired this Star Wars game. In Star Wars: Heroes vs Villains, Obi-Wan Kenobi (Old Ben Kenobi) is a Hero character.
During the last years of the Republic Era, Obi-Wan Kenobi, also known as Ben Kenobi, was a human male Jedi Master who served on the Jedi High Council. During the Clone Wars, Kenobi served as a Jedi General in the Grand Army of the Republic, which battled the Separatist Droid Army.
The Great Jedi Purge, on the other hand, pushed Kenobi into exile. Kenobi served as a tutor to two members of the Skywalker family, Anakin Skywalker and Luke Skywalker, who both served as his Padawans in the ways of the Force.
During the Galactic Republic's last years, Mace Windu was a respected Jedi Master and a member of the Jedi High Council. During his tenure in the Jedi Order, he was chosen commander of the Jedi and served as a Jedi General in the Grand Army of the Republic during the Clone Wars.
In the corrupt, waning days of the Republic, he was the greatest defender of the Jedi Order, promoting its old traditions despite the rising influence of the evil side of the Force.
---
3. Star Wars: The Clone Wars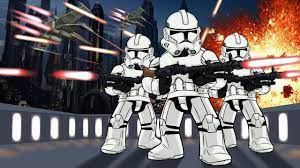 Star Wars: Clone Wars Roleplay is an acronym for Star Wars: Clone Wars Roleplay. The game is based on the Star Wars Roblox community and was released on December 26th, 2018. Sky CW is the owner, while Sam Sandburg is the community's main leader.
The community's discord server has over 4,500 individuals and 54 public channels (as of 1/27/2020). It is one of the best among the Top 7 Roblox star wars games.
Moderator, Admin, Senior Admin, and Gamemaster are the staff levels, from lowest to greatest authority. Moderators are your typical staff member, with basic permissions and such.
Moderators have more advanced perms, while Admins have around eight places. Senior Admins, also known as Staff Overseers and Council Members, are one of the most popular levels.
---
4. Star Wars: Lightsaber Battles II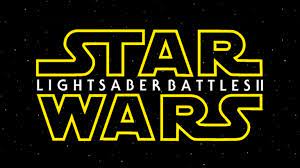 Master the Force or become a great lightsaber duelist. As you go through the game, you'll get access to eight distinct Force abilities. To adjust the direction of your attack/block, move your mouse.
Lightsaber combat wasn't invented overnight, and it owes a lot to its precursor. While the lightsaber fighting in Jedi Outcast was fantastic, one major criticism was that players had to wait a long time to get their hands on one, as they don't get one until the sixth level.
In the prologue, which finishes with a confrontation against a few Stormtroopers and a Dark Jedi, Jedi Academy, on the other hand, gives one right away. On paper, Jedi Academy's lightsaber fighting may appear to be moving too quickly, but that's the beauty of it.
---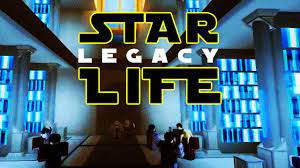 Here's a quick guide to Star Life. Choose a side first. There are three types of Mandalorians: light, dark, and Mandalorian (gamepass, you need Robux to buy it). After that, you'll spawn on your faction's spawn spot on their home planet.
The next step is to look for a quest-giving NPC ( he has a red circle around him). Then you return to the spacecraft and hit the Leave Planet button. Go to the jungle world (barsuem) or the desert planet (Zantar) to battle the opposite side for credits, stars, kills, and victories.
You have three matches to win, and if you win them all, your team "dominates the world". When a planet is dominated, it can only be entered by the side that controls it. Other teams will have to wait three minutes before they can enter.
After a while, return to your planet and inspect your stores. Always remember to update your equipment, and for Force Sensitive characters, gain more Force moves and stronger forms.
---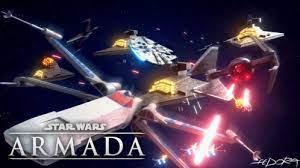 Star Wars: Armada is a two-player competitive space combat game. Players take on the roles of Rebel and Imperial admirals in each round, commanding their fleets and myriad weaponry into battle.
The winning admiral will send his opponent's fleet's flaming remnants hobbling into hyperspace, begging pardon for their defeat.
Players are advised to play the learning scenario in Star Wars: Armada's first game. This scenario is for novice players who want to rapidly set up and play a game using only the most basic components and rules.
Before they can begin the learning scenario, participants must first master the basic guidelines. Set up the game by following the "Learning Scenario Setup" instructions to play the learning scenario.
Players will be ready to design their own fleets and include the new game elements detailed in "Expanded Rules" after they have a better knowledge of the gaming principles in Star Wars: Armada.
The phrase "ship" refers to a completely completed ship that includes a plastic ship model, pegs or fins, a base, and a ship token. A completely formed fighter squadron, complete with plastic fighters, tree and support pegs, base, activation slider, and squadron disc, is referred to as a "squadron."
---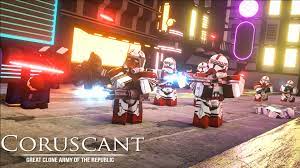 Grand Army of the Republic's Coruscant is a roleplaying border game themed on the Star Wars planet Coruscant.
When you first start the game, you will be an immigrant (just a normal player). You may move around and explore the game, but you cannot enter restricted sections. All higher ranks must be obeyed and commands must be followed.
To enter the city, you must wait in line until you reach the booth, where a member of the GAR will ask you questions (Grand Army of the Republic)
That's it with our today's article on Top 7 Roblox star wars games. Do try all the sections and tell us your favorite. Till then, stay safe and follow us for more upcoming coverage.
Follow us on Twitter & like our Facebook page for more post-updates.
---
Check out more Roblox Games –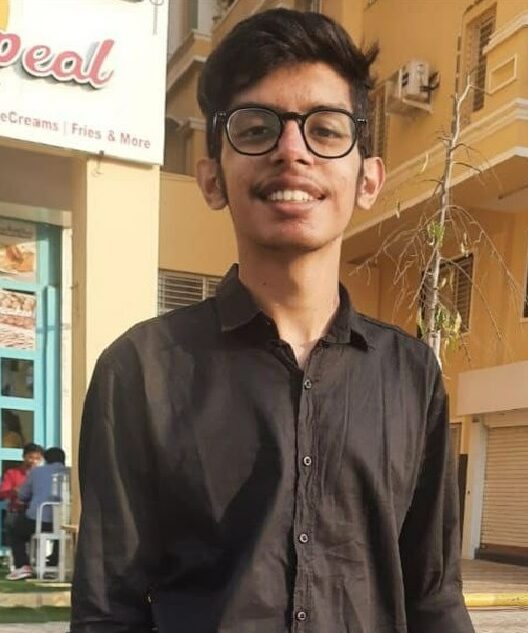 Jatin is an aspiring dentist with a keen interest in video games who likes to spend his time playing an array of different games. Other than that, he is a die-hard basketball fan who often embraces R&B music.