Call to Duty Mobile has become one of the most popular games on the mobile platform since its release back in October 2019. In addition, the majority of players took COD Mobile after the banning of the PUBG Mobile in India. This also has made COD Mobile one of the highest downloaded and F.P.S mobile playing games.
Call of Duty Mobile has always done everything it takes to implement mainstream COD content such as the Modern Warfare and Black Ops Series. Most of these additions were related to many players. As a result, COD Mobile had a punch of nostalgia to hit the players.
However, with the compulsory introduction of new characters, weapons, maps, modes, and more each new season, COD Mobile has always been quite consistent with its updates. This all makes COD Mobile a fun and happy game to play.
---
Also Read: How to download COD Mobile Test Server
---
How to unlock DRH 30 round OTM in COD Mobile:
The DR-H is an Assault Rifle of COD Mobile. It has got extremely high damage, moderate fire rate, and good accuracy. What makes it the preferred choice over other weapons of the same class is its high stability and the OTM Mag attachment.
The OTM mag attachment bumps up the damage of the weapon which results in faster elimination of enemies. This increase in the damage of the DR-H by the OTM attachment is what is making this weapon invincible in ranked matches.
---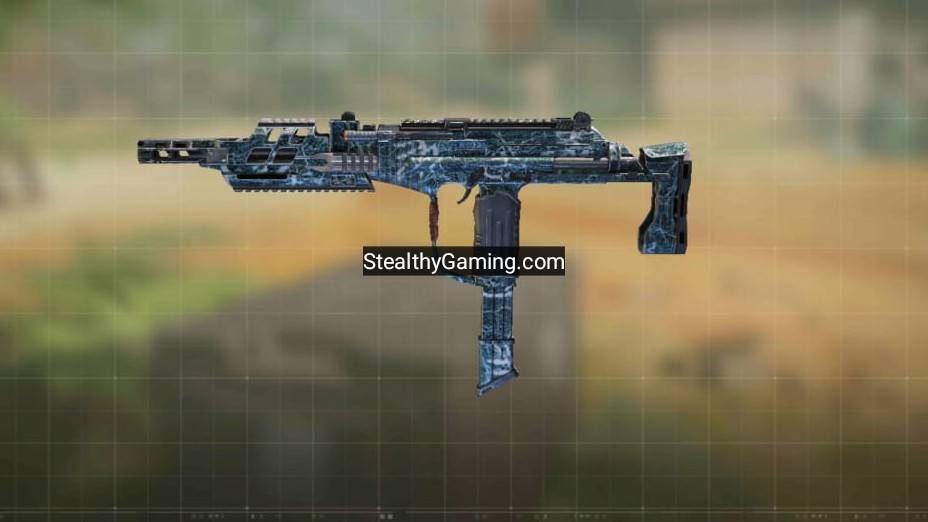 Must Read: COD Mobile MSMC Gunsmith Loadout
---
However, since no weapon is perfect, the only flaw we could find here was the low magazine capacity. Yes, even though the OTM round increases the damage, the magazine can only hold 25 bullets in it, which is pretty low we'd reckon.
So, Call of Duty Mobile has now introduced yet another new attachment. This time it is an attachment for the DR-H. Guess what? COD Mobile heard our wishes and they have released a 30 Round OTM Mag for the DR-H.
The all-new 30 round OTM Magazine increases the damage by the same amount as its 25-round counterpart. However, the increase in the magazine is what is going to create a lot of difference. The only downside of the new attachment is the decrement of the Movement Speed by 2 points. Which is almost negligible, you won't be able to find out the difference in the movement speed at all.
---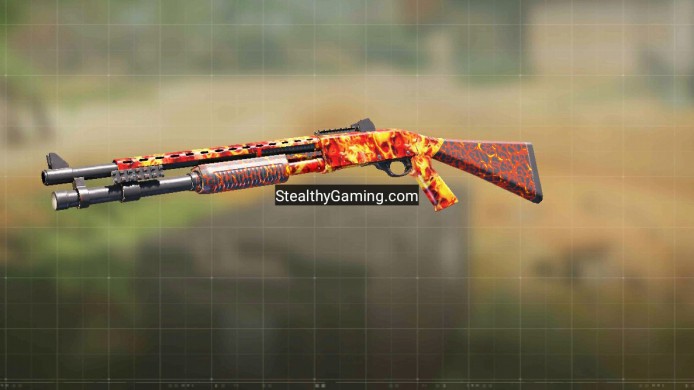 Must Read: COD Mobile "High Mobility" BY15 Gunsmith Loadout
---
Just like how the previous weapon attachments have been released, the 30 Round OTM Mag can also be obtained in the same way. The 30 Round OTM Mag is available for free in the DR-H gunsmith. Since nothing good ever comes for free, players need to grind and complete a specific mission to unlock it.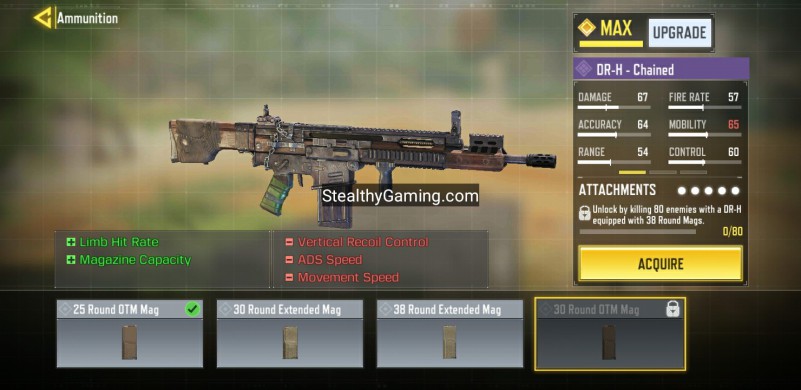 To get their hands on the all-new 30 Round OTM Mag, players need to Kill 80 enemies with the DR-H equipped with the 38 Round Mag.
Taking out 80 enemies might sound intimidating at first however, it's pretty doable. We would advise players to play multiplayer modes like Hardpoint and Domination as they last for a longer duration allowing them to get more kills.
Also, smaller maps like Shipment, Rust, Nuketown will prove more beneficial as you waste less time walking from the respawn area to the place where the players are fighting.
So, what are you waiting for? Slap on the 38 Round Extended Mag and get killing enemies. Trust us, this is an attachment you would regret missing out on.
Subscribe to our Youtube Channel. Follow us on Twitter & join our Telegram channel for more post-updates.
---
Abhigyan identifies himself as a tech geek, gaming cognoscenti, and also a connoisseur of music. Unidentified and mysterious phenomena never fail to gather his undivided attention. When not reading about bizarre and perplexing entities across the Universe, he can often be found cheering for his favorite teams in Football.