Last updated on February 2nd, 2021 at 09:51 pm
Call of Duty Mobile introduced the all-new weapon customization system a few months back. Well, at the very beginning, it left some CODM players startled and perplexed, but gradually, Gunsmith started to make sense. We have been putting efforts into researching and analyzing different loadouts for the weapon. We have been posting different 'purpose-oriented' loadouts and so far, have received a great response from our readers.
We are back again to continue our Gunsmith loadout series. Well, if you have read our previous Gunsmith posts, welcome again. If you are new here, allow us to introduce you to our different approach for forging a Gunsmith loadout.
---

---
First of all, we do not believe in the term – 'Best Loadout.' According to us, it's totally futile. As a particular loadout that suits a specific type of game style or purpose may not be accepted universally. For instance, if your 'best loadout' doesn't have fast ADS capabilities, how will you be able to get more of it in smaller maps.
That's why we have been building 'purpose-oriented' Gunsmith loadout for a particular weapon. Earlier in this series, we have mentioned the loadouts like "No Recoil' KN-44, 'No Recoil' HG-40, 'Fast ADS' Kilo, and a lot more. Make sure to check all loadouts here.'
---

---
We, also, tried building the 'No Recoil' DR-H Gunsmith build. The loadout basically focuses on increasing Vertical, and Lateral Recoil Control along with increasing bullet spread accuracy and range. If you haven't check out our 'No Recoil' DR-H build, check it here.
COD Mobile DRH Loadout Guide –
Well, today, we will be mentioning our 'Fast ADS' DR-H loadout. For this, we started researching from scratch, as along with Mobility, other parameters like Damage Range, Bullet Spread Accuracy were to be kept in mind.
This particular Gunsmith Loadout for DR-H focuses on increasing ADS Speed, overall mobility, and reducing aim-shake for medium range.
DR-H with the combination attachments, as mentioned below, can be easily used for close, medium, and long ranges. However, the competency of the build emerges best in close to short ranges. The attachments have significantly increased the ADS speed and movement speed, but controlling recoil at longer ranges will be a bit harder.
We have also mentioned the guide for how to use the Fast ADS build below, make sure to check it out.
---
---
Best DRH Attachments –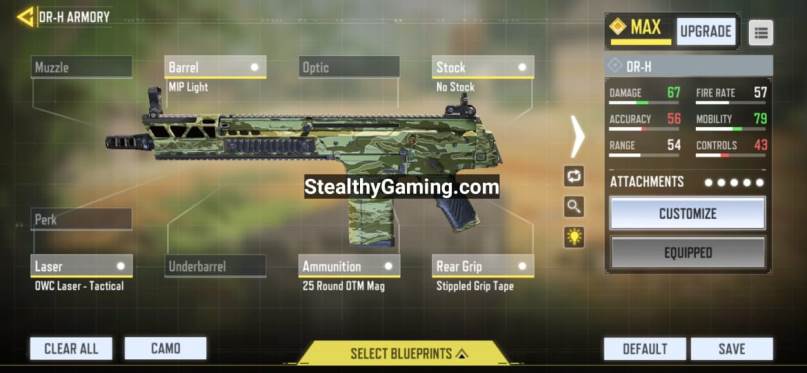 Muzzle – (No Changes)
Barrel – MIP Light
Optic – (No Changes)
Stock – No Stock
Rear Grip – Stippled Grip Tape
Ammunition – 25 Round OTM Mag / 30 Round OTM Mag (How to Unlock Guide )
Underbarrel – (No Changes)
Laser – OWC Laser – Tactical
Perk – (No Changes)
---
(Update – December 4) – Today, a new attachment for DR-H has arrived in the game through the new Draw. Well, the attachment comes free with the new DR-H skin variant. And, it is also available for free, but users need to complete a task to unlock it. We have posted a dedicated article, mentioning a quick guide on the new 30 Round OTM Mag attachment. Follow this link to visit the post (How to Unlock Guide).
In the Ammunition slot, now you get one more option. You can either use 25 Round OTM Mag or the new 30 Round OTM Mag. Both of the Mags are identical, in terms of damage profile and decrement in ADS speed. But, the new attachment increases Limb Damage and the only downside is the decrease in the movement speed.
Well, the decrement isn't a major one, only two points on the movements speed are reduced. Which is almost negligible. That's why we recommend using this new attachment.
---
Note: The post will be updated continuously to provide you with the best loadout possible. Stay tuned!
---
Check out the weapon-stats of the base variant for comparison.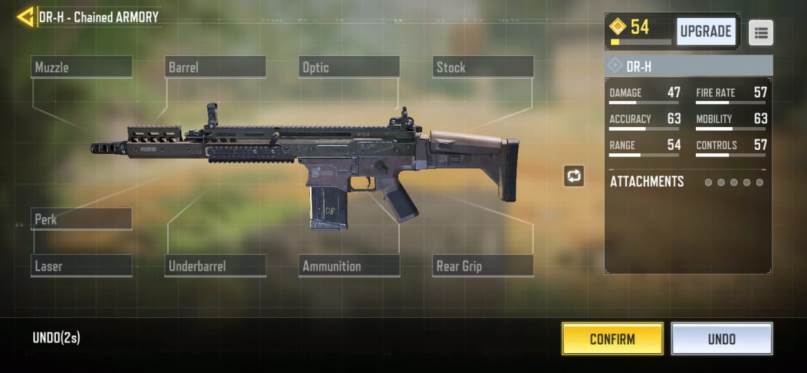 ---
How to use 'Fast ADS' DR-H build –
As mentioned earlier, this build focuses on high mobility output. Thus factors like recoil control and accuracy are sacrificed a bit. Therefore, this build will be best suitable for close to short-range fights. High movements speed and ADS speed increase the weapon competency in smaller maps like Summit, Nuketown, etc.
You can rely on this weapon for aggressive game style in game-modes like Domination, Hardpoint, and even Team Deathmatch. And again, long-range fights must be avoided; however, the weapon doesn't lose its competency completely in long ranges.
Aim shakes, and recoil will be hard to control. But if you can cope up, OTM mag bumps up the damage in DR-H's DNA, with which, the loadout gives above-average competition even at long-ranges.
(Update)
We have posted a gameplay video on our Youtube Channel. The loadout is the same as mentioned above. You can check out the gameplay video to check out the performance of the DR-H Gunsmith Build.
Well, that's pretty much it. Stay tuned; we will be sharing more "purpose-oriented" weapon build on our website.
Follow us on Twitter & join our Telegram channel for more post-updates.
---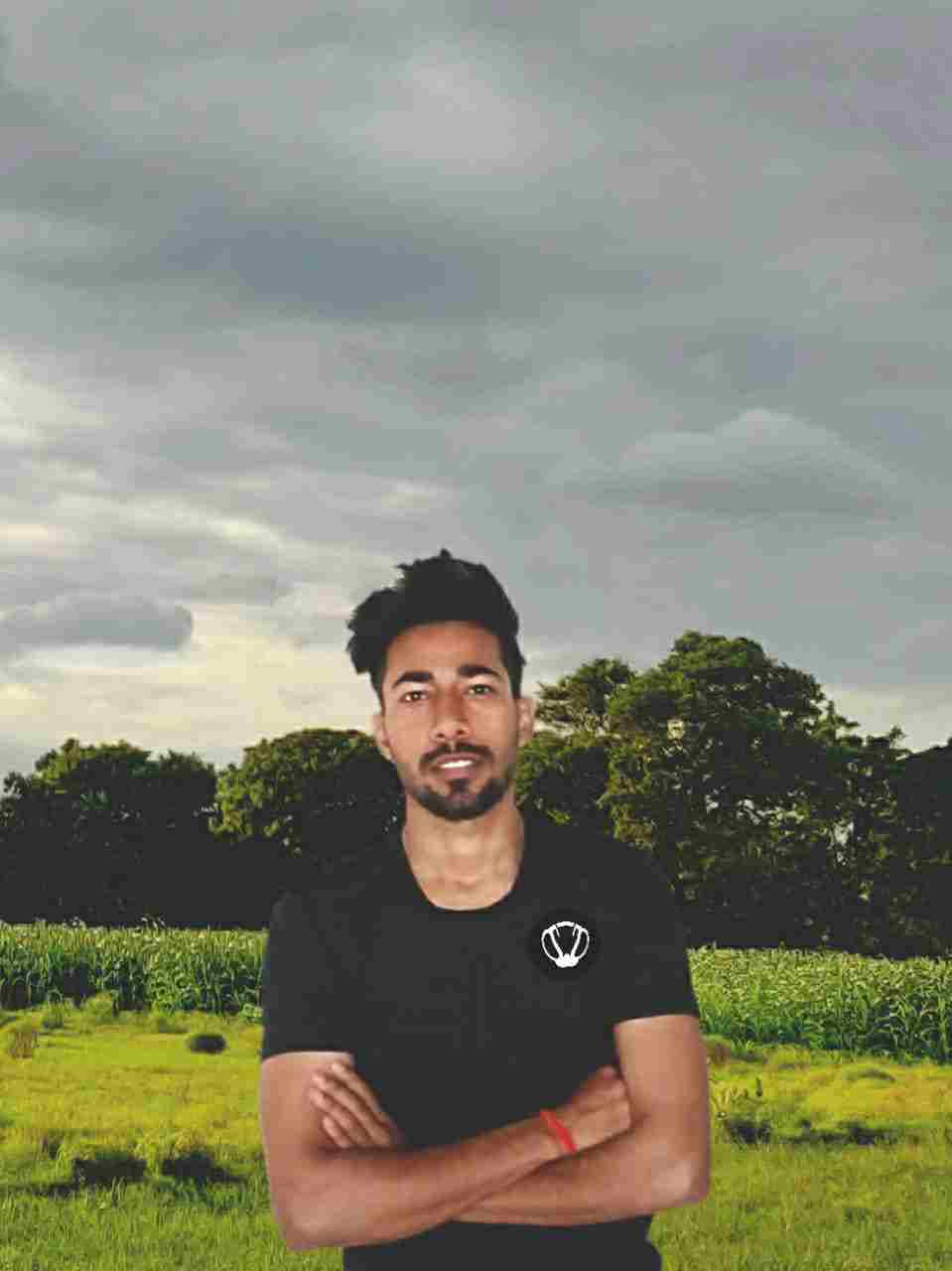 A gaming aficionado. Sometimes he can be seen fabricating a poem or feeding on a good sci-fi novel.