Combat Warriors is a Roblox player-versus-player fighting game that features both melee and ranged combat. It has a huge following and intriguing gameplay, both of which are whipped up in the typical grinding manner used in so many of Roblox's most well-known titles. The game was designed using Bloody Flow and Criminality as its primary sources of inspiration, and it has a great deal of gore in comparison to other Roblox games.
It's a game of combat, where the goal is to kill all other players. Combating with other players will reward you with XP and Credits. To gain experience and buy weapons, you will need those currencies. In addition to that, there is the currency known as Aether, which can be used to buy cosmetics.
As with the other premium currencies, Aether (A$) may be used to buy skins, kill effects, and enchants for usage inside the game. An enchantment is a decorative upgrade that may be placed on a weapon or utility. They may be rolled from cases using Aether, which can be purchased from the item store.
---
How to get Aether in Combat Warriors: Roblox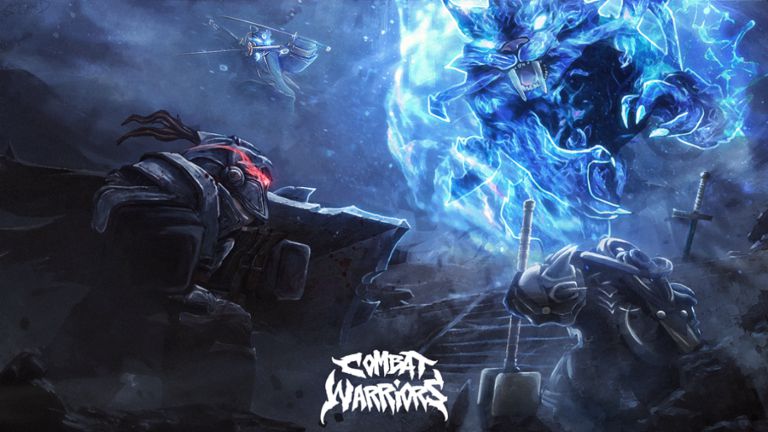 As with every game with a monetary system, Aether is just a means of exchanging one kind of currency for another, in this case, the ability to purchase cases enchants, cosmetics, etc. In this game, the aether is a kind of secondary currency.
You just have to go to the in-game Store Menu and make your purchase there. However, there are also other alternative methods to get aether. Given below is a list of all the possible ways to get aether in Combat Warriors.
Method 1: Leveling up
As a rule of thumb, going up a new level in a game is the norm. As you move on to a new level, you will be awarded a greater quantity of Aether than before. In short, the more you level up in Combat Warriors, the more aether you will get.
---
Method 2: Finishing your daily quests
Carrying out the daily quests provided to you is another method of earning aether. In finishing up the Daily Quests as a means to get the aether money, it is essential that it be made very clear that, throughout the course of a single task, you are permitted to acquire aether and other resources that might favor you.
You may walk away from a single mission with seven distinct quantities of Aether in your possession. The following aether quantities are available: 25, 50, 75, 100, 125, 150, and 300.
---
Method 3: Daily Rewards
It is possible that the incentives you get each day may change depending on the day you log in, and because you will accumulate more credits and aether as the days go, you should make it a habit to keep checking in each day in the hope of gaining more of both of these currencies.
---
Method 4: Using the Daily Spins
The Daily Spins mechanism was introduced in Update 0.7.0. If you are at least in Level 10, logging in daily will win you one spin. Even if you don't win any Aether, you might still win other prizes like Credits or Nuclear Warheads by spinning the wheel.
---
Method 5: Using the Codes
Codes may also be used to get Aether in Combat Warriors. Credits ($) may also be sometimes awarded when they are redeemed. In most cases, the codes may be acquired through dedicated Discord servers, or, if not, from the creators' official social media channels.
---
Method 6: Buying GamePasses
Buying GamePasses is another way to get aether. For example, logging into the game after buying the VANGUARD GamePass will get you 650 Aether, in addition to 2000 Credits and 4000 XP. In the same way, the GOLD gamepass grants 1500 Aether, 4000 Credits, and 8000 XP. However, it must be noted that this can only be used once.
---
Method 7: Subscribing to be a Premium user
To put it simply, Premium users win! Ten minutes of activity in the Premium AFK Place earns players 10 Aether, 50 Credits, 100 XP, and one spin on the Daily Wheel.
---
Method 8: Using the Social Rewards option
Social rewards may net you a respectable sum of aether (A$) and experience points (XP), in addition to the usual benefits. The only thing you need to do is provide the account id of your socials and your A$ and XP will be transferred over to you.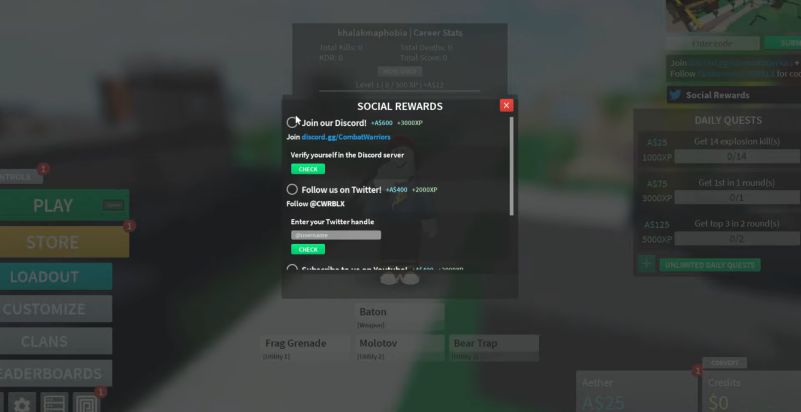 Social Rewards is a tab on the right side of the homepage. If you click on that tab, you'll find that it connects you to three separate social media platforms: Discord, Twitter, and YouTube. The only way to get your hands on any Aether is to join or follow the official Combat Warriors social media sites.
You may get 600 Aether and 3000 XP for joining their Discord server, 400 Aether and 2000 XP for subscribing to their YouTube channel, and 400 Aether and 2,000 XP for following them on Twitter.
---
Method 9: Converting your Credit to Aether
If you have accumulated a large number of Credits and feel the need for additional Aethers, you may exchange them for Aethers. You will earn one Aether for every fifty Credits that you give.
Right above the 'Credits' section, you'll see the 'Convert' button, and a 'CONVERT CREDITS' dialogue box will pop up if you click on it. In this dialog box you may specify the number of Credits you want to exchange for Aethers in the 'What you'll give' option, and the resulting amount of aethers will be shown below in the 'What you'll receive' section. After selecting Confirm, your Credits will immediately be changed into Aethers.
---
We have tried to cover all the possible ways you can get Aethers in the extremely popular Roblox game, Combat Warriors, in this article and we hope you found these approaches to be useful.
---
Follow us on Twitter & join our Telegram channel for more post-updates.
---
Abhigyan identifies himself as a tech geek, gaming cognoscenti, and also a connoisseur of music. Unidentified and mysterious phenomena never fail to gather his undivided attention. When not reading about bizarre and perplexing entities across the Universe, he can often be found cheering for his favorite teams in Football.