Last updated on October 31st, 2020 at 08:20 pm
Call of Duty Mobile is celebrating its first Anniversary. The Season 11 update has brought along with it a ton of merchandise, rewards, unlockable content and much more. Season 11 was perhaps the biggest update after the introduction of the gunsmith feature. Players got a new Battle Royale Map – Alcatraz, new weapons, character skins, multiplayer modes, club, etc.
People have been really taken aback by the never-ending barrage of updates which Call of Duty Mobile has got for them this Season. Most of the weapons, skins and perks can be unlocked only after completing a set of missions/tasks. In a nutshell, this season players are specifically required to grind a lot if they wish to have all the unlockable content in their arsenal.
---
TRENDING: Top 5 Best Weapons in Call of Duty Mobile Season 11
---
Call of Duty Mobile Rename Card:
There are a lot of cards in Call of Duty each having its own purpose. For example, we have the Weapon XP card which is used to upgrade the weapons. We have Double Weapon XP cards which allow players to generate double the amount of XP they used to generate for their weapons. This way they can easily upgrade their weapons to the max level faster.
Similarly, Call of Duty Mobile also provides its users with a Rename card. As the name suggests, the rename card gives the players the chance to change their name in Call of Duty Mobile. There are numerous reasons as to why a player can want to change their name. They simply found a better name and wish to go for it, or they don't like their present name, or perhaps they want to use special characters in their name to make it unique.
---

---
How to change name in Call of Duty Mobile for free:
For those of you who are wondering what use can such a card have in Call of Duty Mobile, we would like to let you know that choosing an appropriate name for the game is the first step a player has to do before he can start playing.
The name is crucial because it will become a name by which other players can identify him in-game. It will most likely be the name which his/her names might end up calling him by. It can be his signature and also, it will form a very important part of his gaming identity.
For the very same purpose call of duty Mobile has allowed players an option to change their name. The players can use the Rename card to change their in-game name by following the given steps.
Steps to change name in COD Mobile using rename card: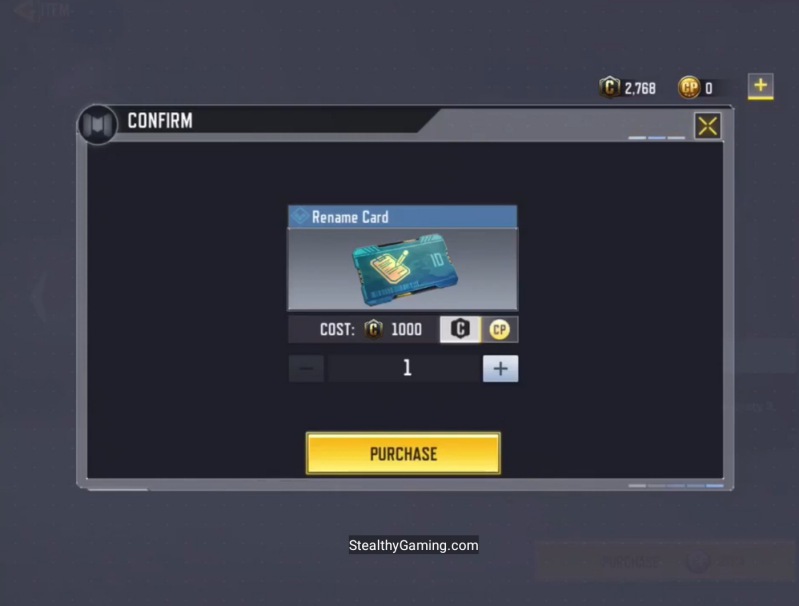 Go to the Call of Duty Mobile "STORE"
Select the Cards tab
Click on Rename Card

Now, after clicking on Rename click on Purchase. (Don't worry we won't let your CP be wasted)
Another window pops up. Here, instead of choosing the CP tab, click on C.
Purchase a gift card by giving 1000C (The credits can be earned for free by completing various missions in the game and grinding in various modes)

After having bought a rename card head over to loadout.
Click on the inventory tab.
Choose Rename Card
Click on Use
Type in your desired name.
Click Change
After purchasing you can also go to your profile and click on the edit icon near your name. Then, type in your name and click on change.
The players do need to keep in mind that they can change their name once in three days. So, it is advised to choose your name wisely.
Now you are good to go. You now have your desired gaming ID and can now be addressed by that ID. Feel free to let your friends know about your new Gaming Name.
Subscribe to our Youtube Channel. Follow us on Twitter & join our Telegram channel for more post-updates.
---
Check out GUNSMITH LOADOUTS here –
Abhigyan identifies himself as a tech geek, gaming cognoscenti, and also a connoisseur of music. Unidentified and mysterious phenomena never fail to gather his undivided attention. When not reading about bizarre and perplexing entities across the Universe, he can often be found cheering for his favorite teams in Football.