We have always emphasized the fact that there is no "Perfect weapon" or "Perfect loadout". It is simply not possible for one particular weapon to build to be suitable for players of all types in modes of all type in Call of Duty Mobile. For example, if you are the kind of player who is comfortable at attacking the opponents from a long-range then you would have no use for a close-range gun. Similarly, if you are an aggressive player who likes to engage in close range 1v1 combats more, then you won't find a long-range, slow firing weapon of any use.
That is why our team has been actively researching creating some of the most efficient loadouts for different kinds of players across different game modes.  Earlier in this series, we have mentioned the loadouts like "No Recoil' KN-44, 'Fast ADS' DR-H, 'Fast ADS' HG-40, and a lot more. Make sure to check all loadouts here.
---

---
COD Mobile ICR Loadout Guide –
Since we will be building a fast mobility loadout, we will be primarily focusing on increasing the ADS Speeds and Mobility of the weapon. Increasing mobility will give players a big advantage in close range combat.
The set of attachments that we have used in the ICR-1 fast mobility build are all mainly aimed to boost the ADS Speeds and overall mobility of the gun. Like we have said before, there is no such thing as the "perfect weapon", we were able to get the increased mobility by compromising on factors like recoil control.
Best ICR Attachments –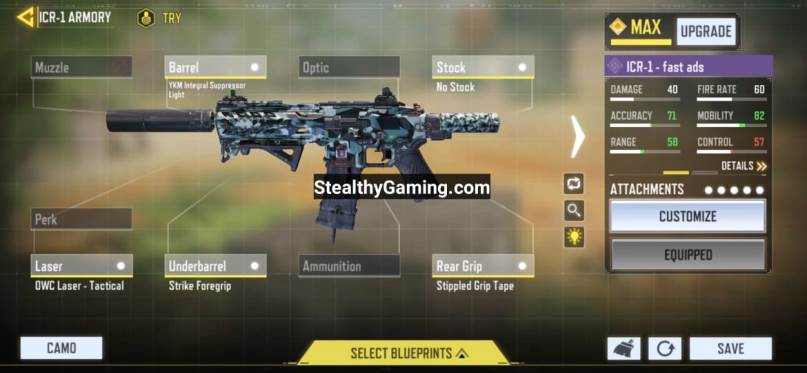 Muzzle –(No Changes)
Barrel –YKM Integral Suppressor Light
Optic –(No Changes)
Stock – No Stock
Rear Grip –Stippled Grip Tape
Ammunition– (No Changes)
Underbarrel –Strike Foregrip
Laser –OWC Laser – Tactical
Perk –(No Changes)
---
Note: The post will be updated continuously to provide you with the best loadout possible. Stay tuned!
---
Check out the weapon-stats of the base variant for comparison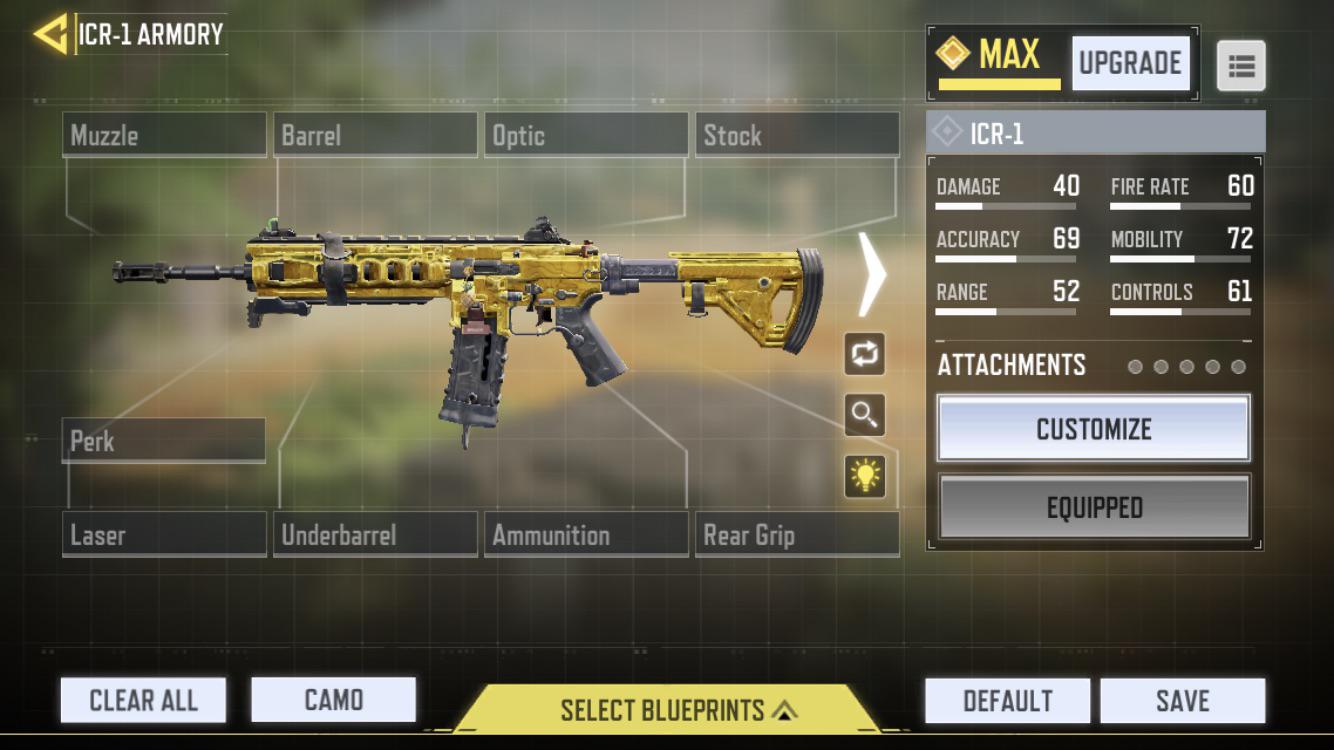 ---
How to use the ICR Fast Mobility loadout:
The ICR-1 is probably one of the most efficient Assault Rifles in the game right now. The high stability and damage of the gun make it a really good choice in all modes and maps. The above build provides higher mobility and ADS Speeds to the weapon, however, at the cost of recoil control.
The ICR-1 was always good for mid to long-range combat. But this fast mobility loadout makes it suitable for close-range fights too. The weapon is best for small to mid-sized maps like the Summit, Crash, Terminal, Nuketown, etc. This weapon can be relied on in every game mode be it Search and Destroy, Domination. Hardpoint, etc.
That's pretty much it. Enjoy and grab a couple of MVPs with this fast mobility ICR build. Happy hunting!
Subscribe to our Youtube Channel. Follow us on Twitter & join our Telegram channel for more post-updates.
---
Check out GUNSMITH LOADOUTS here –
Abhigyan identifies himself as a tech geek, gaming cognoscenti, and also a connoisseur of music. Unidentified and mysterious phenomena never fail to gather his undivided attention. When not reading about bizarre and perplexing entities across the Universe, he can often be found cheering for his favorite teams in Football.