COD Mobile is one of the mainstream games in the battle royale genre on the mobile platform, which revolves around survival as the last man on the battlefield. Several players drop together onto an island and fight it out to be the champions.
This game provides both BR and multiplayer modes and provides unique features such as rewards, titles, and medals that reflect the prestige and expertise of a player.
COD Mobile includes 86 medals, 27 of which can be earned in Battle Royale mode. Players can gain it by carrying out a certain task or several tasks. The Road Rage Medal is one of those medals and today we will be talking about how players can earn themselves the Road Rage Medal.
---
Trending: What is Epic Weapon in COD Mobile Battle Royale?
---
How to get Road Rage medal in COD Mobile?
The Road Rage medal is an achievement that can only be earned in Battle Royale matches of COD Mobile. To get the Road Rage medal, players have to eliminate 4 or more enemies with a vehicle. Kill in the Warfare Mode will not be counted.
The Road Rage medal might seem tricky to earn considering that it is difficult to run over four enemies in Battle Royale with a vehicle. However, it is certainly doable.
COD Mobile has yet again updated the Seasonal Events section. The "Take the Wheel" event of Seasonal events consists of a series of tasks. Completing those tasks will fetch the players, certain cosmetic reward.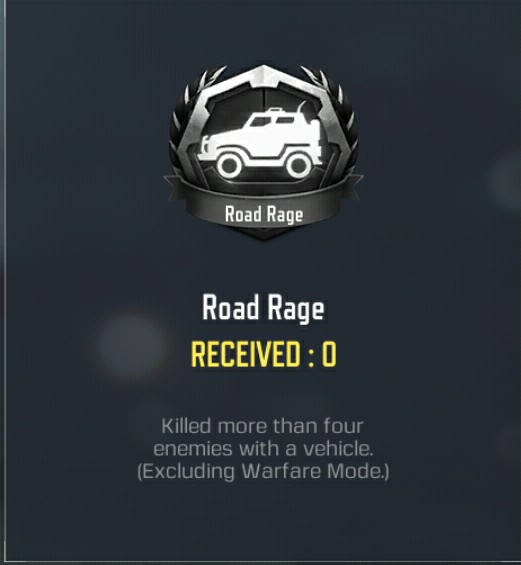 One of those missions includes Earning the Road Rage Medal once in Battle Royale. We know it sounds tedious to complete the requisite task. However, we do have a simpler way for you.
---
Must Read: What is Flinch Stability in COD Mobile
---
Instead of scouting the map for vehicles and enemies to run over, you can simply do the following:
Choose the Clown Class in BR
Try to land in Black Market
Go to the Cars vending machine and get yourself a vehicle
Go to an open road and set off the zombies of clown class.
As the zombies appear run them over with your vehicle and kill them
This way you can easily earn the Road Rage medal in Battle Royale by investing the least time and effort.
---
Trending: COD Mobile Full Reload Animation arriving in Season 13
---
COD Mobile is on fire with the Seasonal Events. So make sure you complete all the missions to unlock each and every reward.
---
Subscribe to our Youtube Channel. Follow us on Twitter & join our Telegram channel for more post-updates.
---
Abhigyan identifies himself as a tech geek, gaming cognoscenti, and also a connoisseur of music. Unidentified and mysterious phenomena never fail to gather his undivided attention. When not reading about bizarre and perplexing entities across the Universe, he can often be found cheering for his favorite teams in Football.