Heya! This post has been updated. Check out the updated content at the end of this post.
---
Ladies and Gentlemen, Season 4 of Call of Duty Mobile is right around the corner. Taking into consideration a previous couple of seasons, the players seem to be really hyped about the upcoming season in Call of Duty Mobile.
Season 3 of COD Mobile had a more tranquil, soothing theme, in contrast to the usual chaos and violence. That being said, it definitely did not lack in packing a punch. We got 2 new weapons as promised along with new characters, maps, modes, and much more.
Season 4 of COD Mobile also looks quite promising based on the leaks and rumors. In this article, we will be talking about a particular scorestreak which is all set to be launched in the next season.
How to unlock Hawk X3 in COD Mobile
Scorestreaks are paramount in Call of Duty Mobile. It is Activision's method of making sure you get rewarded for scoring a lot of kills whilst playing matches. Get a ton of kills and you will activate scorestreaks which you can then use to wreak havoc upon your enemies whilst in matches.
These scorestreaks upon activations usually activate a special ability or damage inflicting instrument which ends up giving your character a tactical edge over other players in the multiplayer match.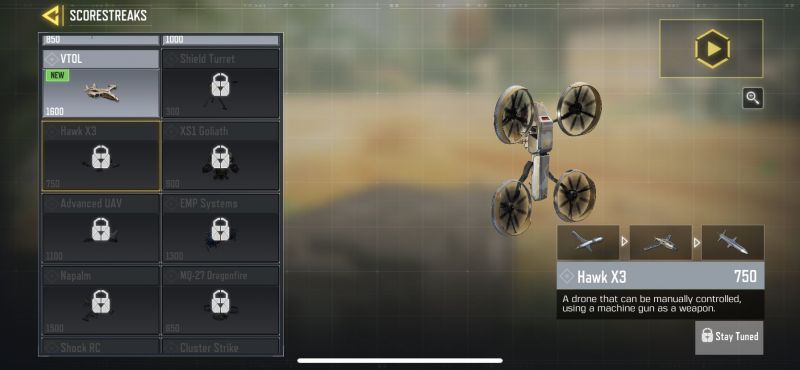 The brand-new scorestreak that players will be getting in the 4th Season of COD Mobile is the Hawk X3 Drone. This new scorestreak allows players to summon a Hawk X3 drone. Just like every other scorestreak in the game, this scorestreak also requires players to manifest a particular number of points to activate it in matches.
The new scorestreak can be unlocked after achieving 750 points. Unlike the Hunter Killer scorestreak, this new feature allows the player to control a drone that has a built-in machinegun that they can fire at will to take down targets.
Now, if were to speculate by considering how scorestreaks have been launched in previous seasons of Call of Duty then, we would say that the scorestreak is highly likely to be launched via Seasonal Events.
Players need to complete a certain set of events under the Seasonal Events section in order after which they can get their hands on the brand-new Hawk X3 Scorestreak.
---
(Update – May 27)
The all-new update for Call of Duty Mobile Season 4 has gone live now. The new update, as always, brings new weapons, scorestreaks, skins, and a lot more. And with the update comes the new Hawk X3 scorestreak.
The best part is, the Hawk X3 is available for free. You just need to reach tier 14 in the Battle Pass and you will find it unlocked.
COD Mobile also allows the players the opportunity to get the scorestreaks again if they miss out on the opportunity to get it during a single season. Players can simply amass credits and then buy the Scorestreak from the Credit store.
We would ask you guys to get prepared to start grinding as soon as Season 4 gets launched to get your hands on the new goodies which the season has to offer.
Subscribe to our Youtube Channel. Follow us on Twitter & like our Facebook page for more post-updates
---
Check out GUNSMITH LOADOUTS here –
Abhigyan identifies himself as a tech geek, gaming cognoscenti, and also a connoisseur of music. Unidentified and mysterious phenomena never fail to gather his undivided attention. When not reading about bizarre and perplexing entities across the Universe, he can often be found cheering for his favorite teams in Football.