Season 3 of Call of Duty Mobile has been absolutely mind-blowing till now. Players from all across the globe have really liked the tranquil and peaceful theme which the current season of COD Mobile has to offer.
The Battle Pass has also been one of the best Battle Passes which we have ever seen till now. All in all, it seems that every time we think the Devs have run out of ideas, they go above and beyond and bring us something revolutionary with each season.
Talking about new updates, in this article we will be covering a new feature that has been included in COD Mobile. So, let's get started without further ado.
How to unlock K9 Unit in COD Mobile
We all know that even a fully equipped loadout isn't complete without an Operator skill. Operator skills are a type of special weapon which gets charged up during multiplayer matches in time.
Upon activation, these operator skills prove to be devastating and often unstoppable for the brief duration for which it has been activated. There are a lot of Operator skills which Activision has offered the players to choose from.
Recently a new Operator skill by the name K9 unit will be introduced to the Season 4 Test Servers of COD Mobile. That's right! You guys better gear yourselves as Season 4 of Call of Duty Mobile isn't far away. The K9 Unit has been adopted from Black Ops 2 in case you guys were wondering.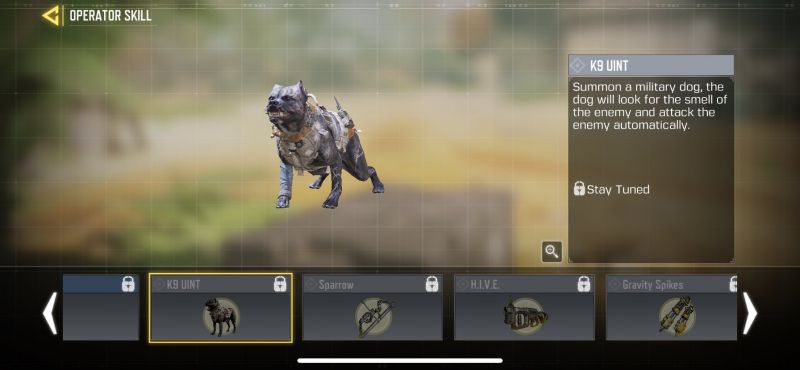 The K9 Unit operator skill upon activation summons a Military dog. The dog will come charging and will look for the smell of the enemy and attack the enemy automatically. Sounds quite vicious if you ask us. However, the exact damage numbers for the K9 Unit attacks have not been revealed just yet.
Judging by how Activision has facilitated the release of new Operator Skills in the previous seasons in COD Mobile, our team believes that the all-new K9 Unit operator skill will be released via the Free Battle Pass in Season 4 of COD Mobile.
The Operator Skill is usually unlocked by reaching Tier 14 of the Free battle pass. So, we strongly believe that the K9 Operator skill will be unlocked by getting to Tier 14 of the Season 4 Battle Pass.
We advise players to get ready for another grind-run in Season 4 of COD Mobile if they wish to get their hands on the K9 operator skills as soon as possible.
---
(Update – June 3)
A lot of you guys are asking about the K9 Unit Operator Skill. And if it is available in the game with the new Seasonal Update. Well, the answer is NO.
And if you are asking 'how to get dogs in COD Mobile Battle Royale' then you should know that it is nothing but the Clown BR Class in Battle Royale. You have to select the CLOWN class in COD Mobile BR. And you will be able to get dogs in COD Mobile.
K9 Unit Operator Skill is still to be released in COD Mobile MP.
---
Subscribe to our Youtube Channel. Follow us on Twitter & like our Facebook page for more post-updates
---
Check out GUNSMITH LOADOUTS here –
Abhigyan identifies himself as a tech geek, gaming cognoscenti, and also a connoisseur of music. Unidentified and mysterious phenomena never fail to gather his undivided attention. When not reading about bizarre and perplexing entities across the Universe, he can often be found cheering for his favorite teams in Football.