Heya! Find the Updated Content at the end of this post!
---
(November 11) – Players from all across the world are getting ready to say their goodbyes to Season 11. They are all geared up to welcome Season 12. The hype for season 12 just keeps increasing. With the benchmark set by Call of Duty Mobile Season 11, players really have high expectations from Season 12.
Season 12 of Call of Duty Mobile is set to get us brand new content. Players can expect new maps, modes (Night Mode), characters, and much more. Season 12 already sounds exciting from the looks of it.
Ever since the release of the gunsmith update and the never-ending addition of weapons to the arsenal, players often find it confusing and tedious to choose the best weapon and the best attachments.
---
MUST-READ: COD Mobile AGR 556 High Mobility Loadout
---
To save you from doing all the extra work of figuring out the best attachments and builds for our weapons, we have mentioned the best purpose-oriented weapon build like Long-range 'No-recoil' KN-44, High Mobility RUS, 'No-recoil' DR-H, and a lot more. Make sure to check all loadouts here.
How to unlock Kilo Thermite Reload attachment in COD Mobile
It was no doubt that Season 12 will bring along with it, new weapons and new attachments. Today we will be talking about one such attachment. The Kilo Thermite reload attachment.
The thermite reloads Attachment can only be equipped with the Kilo Bolt Action Rifle as of now. It continuously burns over targets over time and causes extra damage to enemy scorestreaks. This new attachment can cause some serious damage.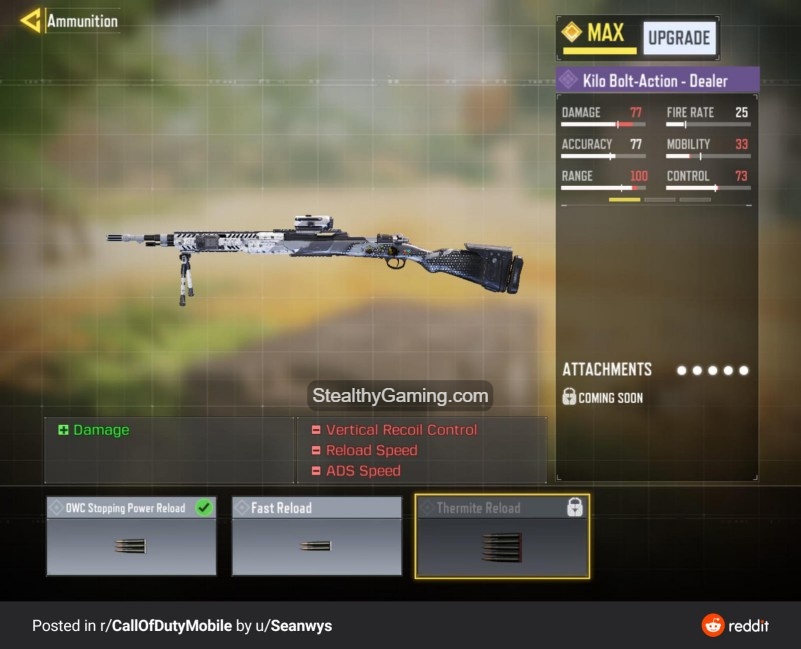 The Kilo Thermite Reload Attachment can prove to be quite useful for people with poor aim. If they can't get headshots, they can aim for the body, the rest of the damage will be done by blazing thermite.
The Thermite reload attachment enhances the damage of the normal Kilo; However, it would result in the decrease of Vertical Recoil Control, Reload Speed, and ADS Speeds. Since no weapon can be perfect, we believe the weapon is quite well balanced.
The Kilo Thermite Reload attachment will be free for all. Just like some of the previous perks and attachments, like the HVK-30's Large Caliber Ammo, where players had to complete the mission of getting 50 headshots with the weapon itself, the Kilo Thermite Reload Perk will also be available to the players upon completing some missions. Note: The Thermite Reload Attachment isn't available yet. We will update this post as soon as possible.
---
(Update – December 13)
Well, the new attachment for Kilo will be rolling out in the same fashion as 'Large Caliber Ammo' for the HVK assault rifle, or the 30 OTM rounds for DR-H. For both of the weapons, the new attachment was introduced with a new draw. Thermite Reload attachment for Kilo will be introduced in the same way.
According to a tweet by the Call of Duty Mobile leaker account – (@CODM_murdablast), a new crate, featuring the legendary variant of marksman rifle – Kilo and operator FTL will be rolling out on Monday. And ladies and gents, the probabilities of the developers, releasing a new attachment on Monday is really high.
Sit tight soldier!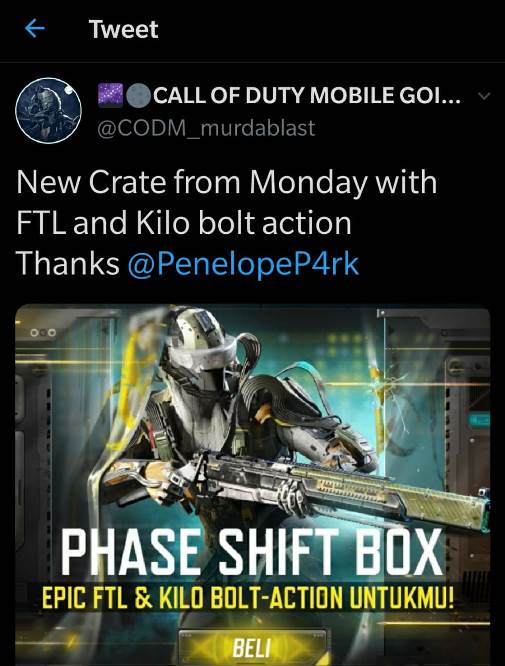 ---
(Update – December 14)
It's here. Ladies and Gents, the new attachment for Kilo has arrived. Well, the news might have failed to excite most of the players, but we have a lot of expectations from it.
Well, you can easily unlock this new attachment. You need to get 50 kills while crouching with the Kilo bolt rifle with any set of attachments. You can start grinding it right away on any map.
Also, if you must get it unlocked right away, we recommend buying the new crate, which also features a legendary skin for the Kilo as well as a bad-a$$ operator.
GUIDE VIDEO –
---
Subscribe to our Youtube Channel. Follow us on Twitter & join our Telegram channel for more post-updates.
---
Check out GUNSMITH LOADOUTS here –
Abhigyan identifies himself as a tech geek, gaming cognoscenti, and also a connoisseur of music. Unidentified and mysterious phenomena never fail to gather his undivided attention. When not reading about bizarre and perplexing entities across the Universe, he can often be found cheering for his favorite teams in Football.