Last updated on April 29th, 2021 at 09:22 am
Heya! Check out the updated content at the end of this post.
---
Call of Duty Mobile is presently in its 2nd Season ever since its debut back in October 2019. For each season up to now, players were left amazed and awestruck. So, it is fair to say that COD Mobile is truly worthy of taking the designation of one of the Best FPS games on the Mobile Platform.
Season 1 New Order of Call of Duty Mobile has attempted to keep the streak going. This season has managed to bring for us a good number of freebies via the Battle Pass and Seasonal events. Well, COD Mobile launches new weapons, perks, and attachments every season.
Likewise, in the Season 2 Test Servers, we also saw 2 new weapons and 2 new perks that are all set to move out in the Season 2 update. Today we will be discussing one of those perks in the upcoming season of Call of Duty Mobile.
---
Also Read: How to get Bull Charge in COD Mobile
---
How to get Overclock perk in COD Mobile:
Season 2 Test Servers have already been out for quite some time now. It is safe to assume that the official version of the update is also right around the corner, In this new update, we will be seeing a brand-new perk being introduced to the game.
It is the Overclock Perk. It is a Red Perk that is scheduled to be launched in Season 2 of Call of Duty Mobile. Equipping the Overlock perk in your loadout will give your character the ability to significantly increase the charging speed of your Operator Skills.
That means you can now access the Annihilator, Gravity spikes, or your favorite operator skills faster and more frequently than before.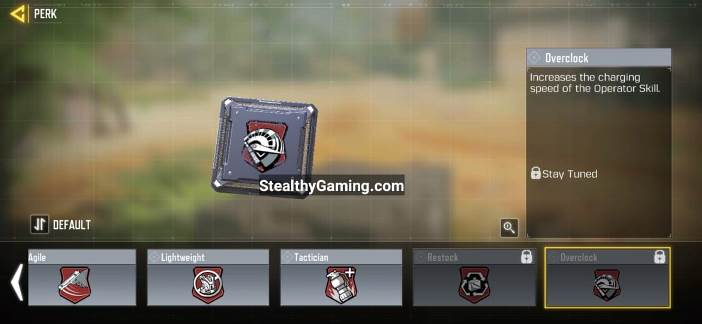 Judging by how perks have been released into the game in previous seasons, we can say that, the Overclock perk will most likely be launched via the Seasonal events of Season 3 of COD Mobile. Players should expect a bit of a grind to complete a set of missions to get their hands on the Red Overclock Perk in the next season.
The Overclock perk is quite an interesting perk as it is probably the first perk that focuses on boosting the loading speed of the Operator skills. It can come in quite handy especially during clutch moments as operator skills are quite overpowered and can on more than one occasion be used to take out multiple enemies.
Season 3 has a lot of new and exciting things in store for us.
---
(Update – April 29)
Well, the all-new perk has arrived in COD Mobile now. And as we have mentioned earlier, the new perk has arrived with the new seasonal event in the game.
You can check out the seasonal event tab now, the new event has gone live. You just need to complete a total of 4 tasks to unlock the new – Overclock perk in the game.
So, what are you waiting for? Drop in the game right now and grind for the new perk.
Subscribe to our Youtube Channel. Follow us on Twitter & like our Facebook page for more post-updates
---
Check out GUNSMITH LOADOUTS here –
Abhigyan identifies himself as a tech geek, gaming cognoscenti, and also a connoisseur of music. Unidentified and mysterious phenomena never fail to gather his undivided attention. When not reading about bizarre and perplexing entities across the Universe, he can often be found cheering for his favorite teams in Football.