Heya! Check out the Updated Content at the end of this post.
---
Call of Duty Mobile fraternity has been handed a fatal blow. Just a couple of days before the launch of Season 2 of COD Mobile, fans found out that the Battle Royale Map, Alcatraz, has been removed from the Battle Royale playlist. To make things much worse, even Blitz was locked out until March 10, leaving fans to play just the Classic Battle Royale Mode.
This came as a shock move for the fans as the developers had not mentioned anything about removing Alcatraz, to which the fans have openly expressed their displeasure on Twitter and Reddit.
Alcatraz was added as a part of COD Mobile's Season 11 Anniversary update, which debuted on October 15, 2020. Alcatraz was earlier featured in the COD franchise as a blackout map for Call of Duty Black Ops 4.
The COD Mobile version of Alcatraz was extremely popular as it featured faster-paced gameplay than its other counterparts. The map featured only 40 players that were dropped randomly and each player could only respawn five times per match, making it the perfect game mode for players looking for quick and gritty action.
---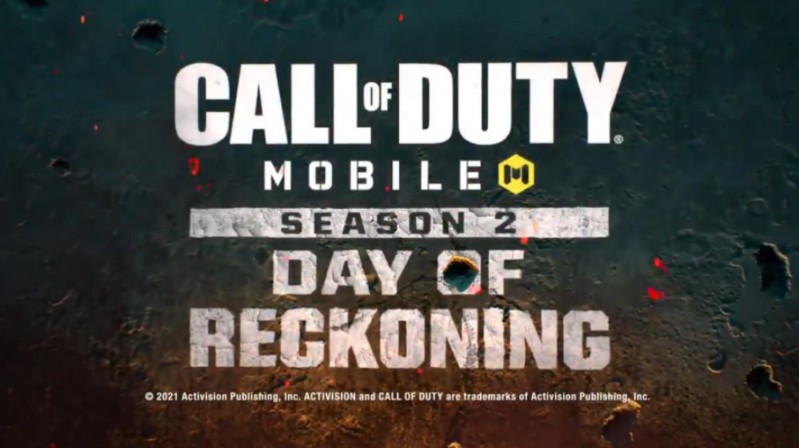 TRENDING- COD Mobile Season 2 Nerfs & Buffs
---
Season 2 of COD Mobile is reportedly bringing in a massive update for the Battle Royale mode, which is going to be called Tank Battle Mode. Although there have been positive feedbacks over this update, no one had expected that Alcatraz would be removed. Hence this begs for the question, will it ever come back? What was the reason for removing it? Activision has not mentioned why they removed Alcatraz and when it is going to be back IF it is coming back.
Is Alcatraz Coming Back to COD Mobile?
It may be a possibility that the developers removed Alcatraz to improve upon it. This is still speculation but according to resources, there may be other factors too. Today we will look at the possible reasons why the map was taken off and if it is coming back to COD Mobile or not.
The majority of the COD Mobile Fanbase loved the Alcatraz BR Mode. With a limited area as compared to other Battle Royale maps, Alcatraz forced players to be aggressive in the hunt or be hunted environment. It was an amazing map and removing it will lead to a serious backlash from the fans which Activision would surely not want.
Fans have been spamming the Official COD Mobile on Twitter for bringing back the mode, or just give them some information on why it was removed and when it will be back.
Developers need to listen to the community because taking away something that the community loves rarely ends well. Hopefully, the map was removed for making improvements and not permanently.
According to a Reddit user named "nuIIvoid," COD Mobile players can still enjoy playing the Alcatraz map if they forego the update.
We will keep our readers updated about the Alcatraz situation as and when any new developments take place.
---
(Update – March 11)
As mentioned above, the new update of COD Mobile, which also brings Season 2 content to the game, removes the popular Alcatraz map from the Battle Royale playlist. Alcatraz became a fan favorite in almost no time, as both BR, as well as MP fans, were loving the fast-paced gameplay in the comparatively smaller map.
The new update received backlash from the fans who were enjoying the Alcatraz more than that of the regular BR map.
Cut-to-now, we have some official details on the status of the return of the Alcatraz map.
COD Mobile Alcatraz Map Return Date –
According to the official details by the COD Mobile officials, the Alcatraz mode/ map was available for a limited time only. Developers never planned to release it as a permanent mode in the game. Even that, Alcatraz was available 24/7 in the BR playlist and got a lot of popularity, the developer will not release it as a permanent mode in the game.
Also, the moderator of the official COD Mobile Reddit community confirmed the news of Alcatraz coming back to COD Mobile. Alcatraz's return date is April 9. Check out the image below.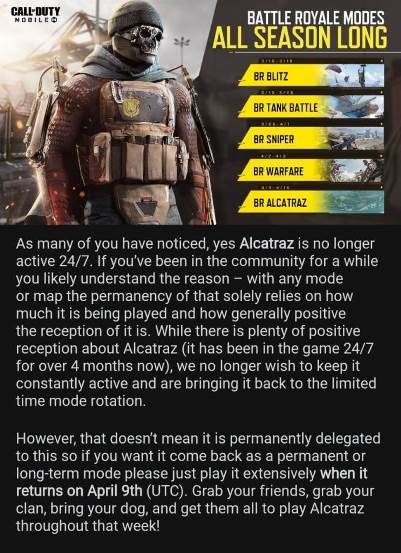 ---
(Update – June 3)
If you are when will you be able to play the Alcatraz map in COD Mobile again, there is something you know.
As it is almost clear that the developers will be bringing back the Alcatraz map in COD Mobile as a limited-time event.
Thus, we are pretty sure that COD Mobile Alcatraz Map will be arriving soon. However, there is no specific answer for COD Mobile Alcatraz map return date.
Subscribe to our Youtube Channel. Follow us on Twitter & like our Facebook page for more post-updates
---
Check out GUNSMITH LOADOUTS here –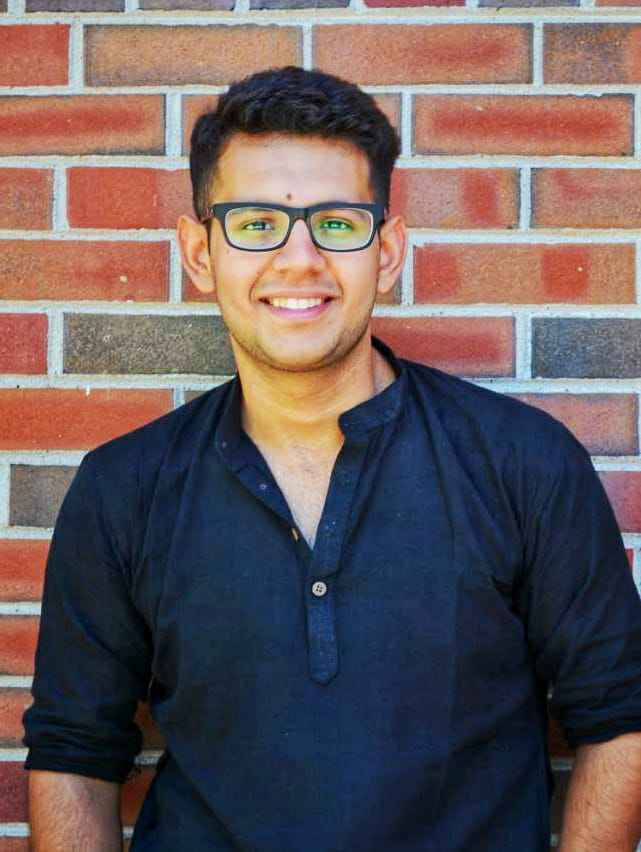 Shardul considers himself as a fitness enthusiast and animal lover, with a passion for gaming and music, especially Metal Rock and Dark Synthwave. He's a crazy football fanatic and FC Barcelona's fan. In his free time, he usually binges on Crime documentaries and Sci-fi movies.