Roblox is an online gaming application that invites players to code games and to also enjoy games which various users create. The game has over 160 million monthly active players in the United States, including a majority of people under 16 years of age.
Users could choose from a broad spectrum of video games accessible in various classifications. In addition, Roblox also provides numerous other socializing tools and services to attract new supporters.
That being said, in this article, we will be talking about a new update of one particular game in Roblox, Let's jump right in, shall we?
---
Also Read: How to get Free Pet in Adopt Me
---
Roblox Adopt Me April Update 2021:
The Adopt Me component had been incorporated into the game in October 2020. The primary aim of the game was just a role-play where players agreed to presume to be either parents who adopt a child or kids.
However, as the game progressed forward, the focus became on adopting and taking care of a number of simulated animals, which can also be shared with other players. In this post, we're taking a look at when Adopt Me updates will be coming to the game.
The game really appealed to most players from across the globe. So much so, that the players started demanding newer pets, houses, and other exciting additions. So, the Devs have gone above and beyond to bring about the next Adopt Me update.
The Adopt Me Team hasn't yet confirmed the precise end date for the Spring Festival Pet Wear. The animal supplies, however, were said to rotate during March. Meaning, we assume that perhaps the event will wrap up at the end of March, with the latest update expected to arrive in April.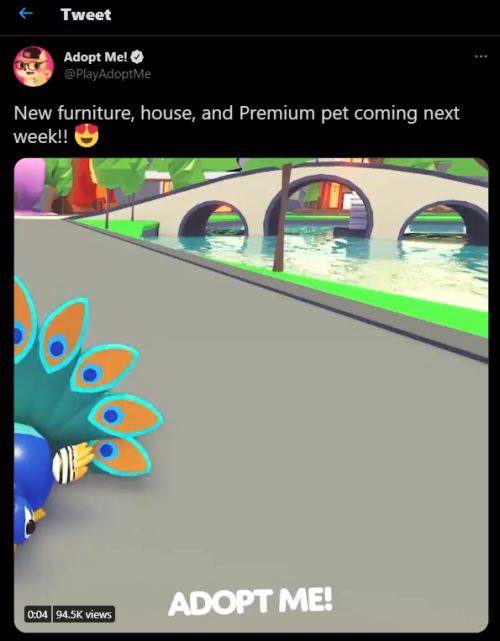 April 2021 Adopt Me update is expected to bring the following items:
Brand new, vibrant, Premium Peacock pet
New House & Furniture Set
Whereas most Adopt Me software updates do go live on Thursdays, the Peacock pet and House & Furniture updates are expected to go live this Friday, April 2. While Adopt Me used to update every Friday, they have since decided to be a bit more flexible with their release schedule.
That doesn't necessarily imply they've decreased the average rate of material they are trying to come out with, it really just implies they seem to be able to put more time into specific elements of the game. This is ultimately a decent factor for the game and the developers behind the game
---
Follow us on Twitter & like our Facebook page for more post-updates.
---
Check out more Roblox Games –
Abhigyan identifies himself as a tech geek, gaming cognoscenti, and also a connoisseur of music. Unidentified and mysterious phenomena never fail to gather his undivided attention. When not reading about bizarre and perplexing entities across the Universe, he can often be found cheering for his favorite teams in Football.