The 12th season of Call of Duty is live and running. Players are very pleased with the new characters, night modes, weapons, skins alongside Season 12. The idea of Going Dark really spoke to the players. Players from around the world are busy grinding more than ever to maximize their weapon levels and reach the Legendary Tier.
As the gunsmith feature was carried out, and as the new weapons were extended every season, players constantly felt that the choice of 5 best attachments out of more than 50 to upgrade their preferred weapons had been difficult and tedious. That is where our group comes in.
We have been actively researching on creating 'purpose-oriented' Gunsmith loadouts for a weapon. Earlier in this series, we have mentioned the loadouts like "No Recoil' KN-44, 'Fast ADS' DR-H, 'Fast ADS' HG-40, and a lot more. Make sure to check all loadouts here.
---
Read More: COD Mobile Heaven DLQ33 Gunsmith Loadout
---
COD Mobile Chopper "No Recoil" Gunsmith Loadout:
With weapons getting buffed and nerfed with every new season, it is always wise to keep all weapons upgraded to the max. Also, what's more, important is that you mold the weapon according to your gaming style.
We should also prompt you that no weapon is "Perfect". The efficiency of the gun is by and large dependent on the player. For example, a player who likes to take an interest in the relentless short proximity fight, won't find a long-range weapon accommodating and the reverse way around.
Thusly, we unequivocally underscore that players do take inspiration from our loadouts and weapon build. In any case, at the end of the day, assess various structures and weapons in isolation and settle for the weapon and assembling which suits their gaming style the most.
---
---
Chopper "No Recoil" Gunsmith Loadout:
The Chopper is an LMG of Call of Duty Mobile. It is an understatement to say that the chopper is an absolute beast of a weapon. It has pretty decent damage and a good fire rate. Also, being an LMG, it can carry enough bullets in one magazine to wipe out an entire squad.
In this gunsmith loadout, we will be discussing the best attachments which would help enhance an already good LMG. Today we will mostly be focusing on increasing the recoil control and stability of the weapon. This would help make the gun highly efficient in long-range.
Best Chopper Attachments: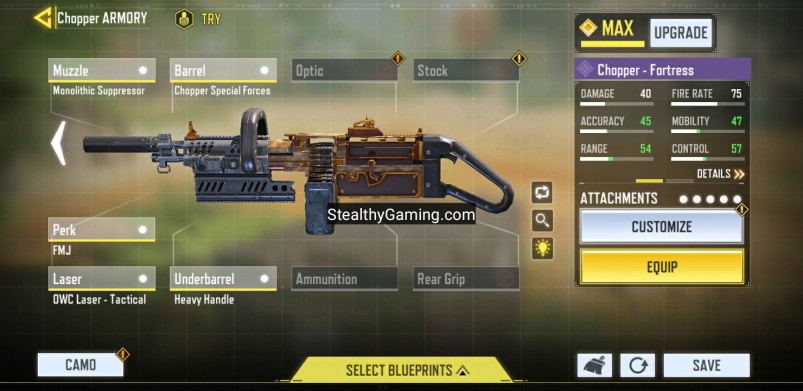 Muzzle – Monolithic Suppressor
Barrel – Chopper Special Forces
Optic – no change
Stock – no change
Perk – FMJ
Laser – OWC Laser -Tactical
Underbarrel – Heavy Handle
Ammunition – no change
Rear grip – no change
The above-mentioned loadout is primarily aimed to increase the stability of the Chopper by decreasing the recoil. This loadout could prove to be very beneficial in long-range combats. You can always hip fire for close range combats. So, all in all, this would be a really versatile loadout.
---
Check out the stats for the Base Variant of the weapon for comparison: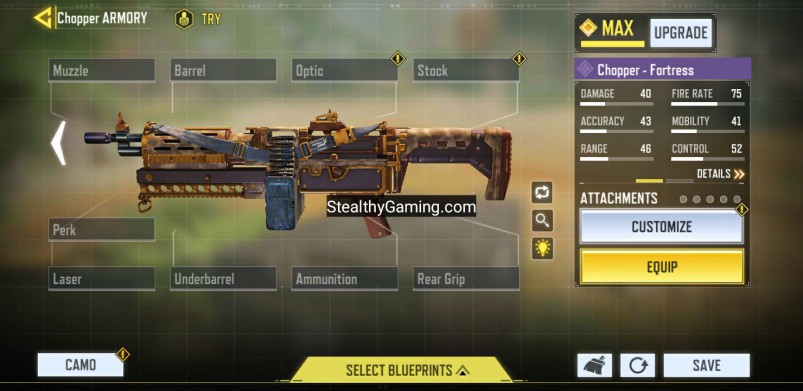 ---
How to use Chopper No recoil loadout
This new "no recoil" chopper loadout enhances the performance of an already efficient LMG. The chopper used to be very unstable and had high recoil when firing over long distances. This loadout serves to eliminate that recoil and increase the stability of the chopper.
The No recoil chopper can be used in modes like Hardpoint and Domination as it is fit for an aggressive gaming style. It is useful in maps like Firing Range, Nuketown, Crash, Summit, etc.
Wipe your enemy squads clean with this "No recoil" Chopper loadout.
Subscribe to our Youtube Channel. Follow us on Twitter & join our Telegram channel for more post-updates.
---
Abhigyan identifies himself as a tech geek, gaming cognoscenti, and also a connoisseur of music. Unidentified and mysterious phenomena never fail to gather his undivided attention. When not reading about bizarre and perplexing entities across the Universe, he can often be found cheering for his favorite teams in Football.