It has been over a year since the release of Call of Duty Mobile. The game has amassed a lot of popularity since its release. The realistic graphics, fast-paced gameplay, consistent updates, and rewards have managed to keep the players engaged and entertained.
Call of Duty mobile knows that players soon get bored with the same content. To satiate their need for new content, Call of Duty Mobile consistently keeps releasing updates and unlockable content. The updates can be new characters, weapons, skins, maps, modes, perks and much more. With Season 11, Call of Duty Mobile is celebrating its first anniversary. As a result of that players have received a truckload of gifts, rewards, and unlockable content along with this season's update.
Call of Duty Mobile Battle Pass:
Every Season Call of Duty Mobile release loads of new content. Along with it Call of Duty Mobile also releases the Battle Pass. The Battle Pass consists of 50 tiers. For every tier a player unlocks, the player receives all the rewards mentioned under that tier. To unlock tiers players, must play matches and earn XP. The faster you want to unlock the tiers and get all the rewards, the more you must grind. Playing BRs fetches more XP than Multiplayer modes.
---

MUST-READ: COD Mobile 'Low Recoil' Fennec Loadout
---
Every Season's Battle Pass brings some of the most iconic characters, skins, weapons, and perks. The Battle Pass is something which people always look forward to. It is one of the most recognised features of Call of Duty Mobile.
How to buy battle pass in Call of Duty Mobile
Like a lot of games out there, Call of Duty Mobile also has its own in-game currency. It is known as COD Points or CP. This CP is used to make most of the in-game purchases like Battle Pass, crates, lucky draws, bundles, etc.
---
 MUST-READ: Call of Duty Mobile Season 12 Update
---
Technically speaking the Battle Pass is of 2 types – Free and Premium. The free Battle Pass, however, doesn't unlock all the rewards. It gives the players a part of the entire collection of rewards. On the other hand, in the Premium Battle Pass you get all the rewards through tier 1 to 50, even the exclusive items.
That being said, the premium Battle Pass isn't free per se. The price of the Premium Battle pass according to the in-game currency is 220 CP. Now, you can't exactly purchase 220 CP from the store. You have got 2 options. You could either pay INR 79, three times to get 240 CP or you can pay INR 399, once to get 420 CP. The latter is a better offer. Going for that will get you extra 20 CP. Also, you will have a couple of extra CP in hand to try out your luck in Lucky draws, or bundles or crates.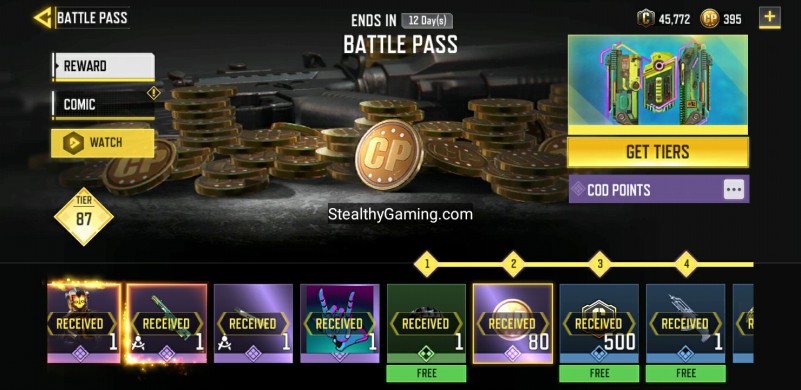 But there is a twist. Paying for the Battle Pass is more like a one-time investment. That is because the rewards from tier 1 to tier 50 also include CP. Apart from getting characters, skins, cosmetic rewards, players also receive CP in chunks as rewards from the Premium Battle Pass.
That way, by the time a player reaches tier 50, he would have received a total of 220 CP from the Battle Pass itself. So, by buying the Premium Battle pass once, a player has the chance to get 220 CP back from the Battle Pass and use it to buy the Battle Pass in the next Season. Also, reaching till tier 50 of the battle pass isn't impossible. One can easily do it within the time for which the Season lasts.
That's how you can get exclusive rewards every season by buying the Battle Pass every Season but paying for it just once.
Subscribe to our Youtube Channel. Follow us on Twitter & join our Telegram channel for more post-updates.
---
Check out GUNSMITH LOADOUTS here –
Abhigyan identifies himself as a tech geek, gaming cognoscenti, and also a connoisseur of music. Unidentified and mysterious phenomena never fail to gather his undivided attention. When not reading about bizarre and perplexing entities across the Universe, he can often be found cheering for his favorite teams in Football.