Since its launch Call to Duty Mobile has earned the title of one of the most successful FPS games on the mobile platform. Players have continuously loved the realistic visuals and unstoppable and swift gameplay and the assortment of maps. The game has been downloaded over 148 Million times to date.
The 12th season of Call of Duty is up and rolling. Players are really happy with the new characters, night modes, weapons, skins alongside Season 12. The thought of Going Dark really appealed to the players. Players from around the world are busy grinding more than ever to maximize their weapon scores and enter the Legendary Tier and also unlock the Damascus, Gold, and Platinum skins.
We have been actively researching on creating 'purpose-oriented' Gunsmith loadouts for a weapon. Earlier in this series, we have mentioned the loadouts like "No Recoil' KN-44, 'Fast ADS' DR-H, 'Fast ADS' HG-40, and a lot more. Make sure to check all loadouts here.
---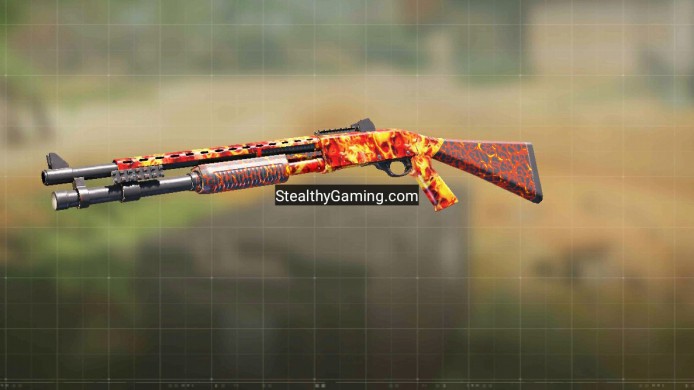 ALSO READ: COD Mobile "High Mobility" BY15 Gunsmith Loadout
---
COD Mobile UL736 Gunsmith Loadout –
We should, however, prompt you that no weapon is "Perfect". The effectiveness of the weapon depends primarily on the player. For example, a player who likes to take an interest in the relentless short proximity fight, won't find a long-range weapon accommodating and the reverse way around.
Thus, we emphasize profoundly that our loadouts and guns are influenced by players. At any event, analyze different attachments and arms at the end of the day by yourself and settle for the weapon and loadout that best suits you.
---
ALSO READ: Meaning of Gunsmith Weapon Perks in COD Mobile
---
UL736 Gunsmith Loadout –
The UL736 is a fully automatic LMG that has really high damage, good accuracy, and a very fast fire rate. The UL736 is really good to use for medium to long-range combat.
It has always been a decent weapon right from its introduction in the game. In this loadout, we will be enhancing an already decent weapon.
In this gunsmith loadout, we will be discussing some of the most efficient attachments which aimed to make the UL736 an even more versatile and efficient weapon.
---
Best UL736 Attachments: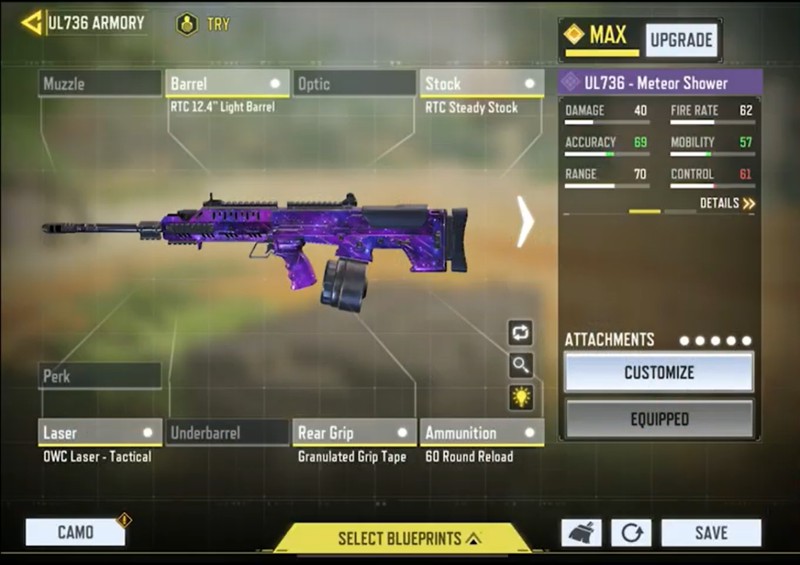 Muzzle – no change
Barrel – RTC 12.4" Light Barrel
Optic – no change
Stock – RTC Steady Stock
Perk – no change
Laser – OWC Laser -Tactical
Ammunition – 60 Round Reload
Rear grip – Granulated Grip Tape
The above-mentioned gunsmith loadout is mainly aimed at increasing the accuracy of the weapon and giving it a tad bit of mobility. This loadout increases the recoil stability of the weapon thereby making it quite steady while engaging medium to long-range targets.
---
Check out the stats for the Base Variant of the weapon for comparison:
---
How to use UL736 Low recoil loadout
This new "Low recoil" UL736 loadout enhances the performance of an already efficient LMG. The UL736 used to be very unstable and had high recoil when firing over long distances. This loadout serves to eliminate that recoil and increase the stability of the UL736.
Because of its high magazine capacity, it is very useful in modes like Hardpoint and Domination. Players with an aggressive style of gaming will really find this loadout appealing. It will do well in maps like Crash, Summit, Firing-Range, and even in Crossfire.
Shred your enemies with one of the oldest SMGs in the game. The UL736 Low recoil loadout is a must-try loadout.
---
Subscribe to our Youtube Channel. Follow us on Twitter & join our Telegram channel for more post-updates.
---
Abhigyan identifies himself as a tech geek, gaming cognoscenti, and also a connoisseur of music. Unidentified and mysterious phenomena never fail to gather his undivided attention. When not reading about bizarre and perplexing entities across the Universe, he can often be found cheering for his favorite teams in Football.