Last updated on January 2nd, 2023 at 05:53 pm
Apart from the intense and realistic multiplayer modes,  Call of Duty Mobile is also a battle royale game that really is all about enduring till the finish by eradicating all the opponents. Participants ought to learn both combat and weapon abilities to emerge victoriously.
The game provides multiplayer modes with some bonus features like achievements, titles, and medals. These define a player's competence and level of expertise.
Call of Duty: Mobile has a variety of ways of recording achievements, whether it be scorestreaks or various medals players can earn along the way. There are a total of 86 medals that the players can earn in the game. 43 of these medals can be acquired in multiplayer mode.
How to earn Marathon BR Medal in COD Mobile
The Devs of COD Mobile are back at it again. It is almost shocking to see that they haven't yet run out of ideas to implement with each patch update. Just like in the prior seasons, this season also, COD Mobile did not give away all the updates, rewards, and unlockable content in one go.
COD Mobile has received a new Seasonal event which goes by the name – Survival of the Fittest. This Seasonal Event comprises 6 sets of missions. Upon completion of those missions, players will be rewarded with cosmetic rewards, Credits, and Battle Pass XP.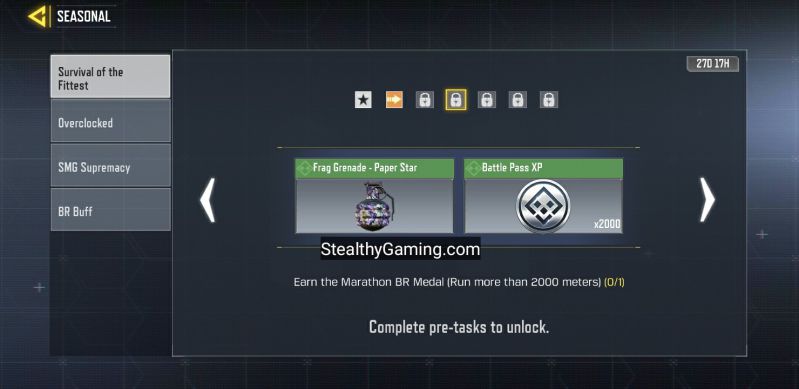 One of those missions is to Earn the Marathon BR Medal. For those of you who don't know how to earn it, fret now we have got your back. To earn the Marathon medal, players will have to play the Battle Royale mode of the game and Sprint for 2000m in the mode.
Upon completion of this mission, players will be awarded a Frag Grenade skin along with some Battle pass XP which can come in handy.
Start the classic mode of BR and try and land as close to the perimeter of the circle as possible. This is to ensure no enemies pounce upon you as soon as you land. Once you have landed safely, start sprinting.
2000m is quite a lot of distance to cover by foot, so it might take some time. By our calculations, if you focus on sprinting, then you will be done with the missions by a max of 2 BR Matches.
Mind you that you only have to do it once. So, we would suggest, to complete the mission at the earliest, make sure to travel a lot by foot whilst sprinting in one match. This way you can complete the mission in one go, if not at least cover a chunk of the distance in one match.
Well, now you know how to earn the Marathon Medal in BR of COD Mobile, go out there and start sprinting to complete the mission and unlock all the rewards which are available under the Seasonal Events section.
Subscribe to our Youtube Channel. Follow us on Twitter & like our Facebook page for more post-updates
---
Check out GUNSMITH LOADOUTS here –
Abhigyan identifies himself as a tech geek, gaming cognoscenti, and also a connoisseur of music. Unidentified and mysterious phenomena never fail to gather his undivided attention. When not reading about bizarre and perplexing entities across the Universe, he can often be found cheering for his favorite teams in Football.