Heya! Check out the Updated Content at the end of this post.
---
Season 3 of Call of Duty Mobile has walked straight in and folks are going completely bonkers all over this. Gamers have indeed begun to work to the fullest of their potential to hit Tier 50 of Season 3's Battle Pass and start opening all the rewards that come with that as well.
Consistent with previous games in the COD series, COD Mobile incentivizes its participants with medals that could be accrued after finishing multiple activities. Usually unlocking these medals rewards a small quantity of XP, but some particularly unique medals also reward rare items like Characters, skins, weapon cards, etc.
There are currently 86 medals in COD Mobile, out of which 43 can be earned solely in Multiplayer mode, and 27 can be earned only in Battle Royale mode. The Medic Medal is also one such Battle Royale exclusive medal. Getting the Medic Medal isn't hard and the rewards are also worth the effort.
---
TRENDING: How to survive for 25 minutes in Battle Royale COD Mobile
---
How to earn Medic BR Medal in COD Mobile
The Seasonal Events section of COD Mobile has been updated yet again. Activision is back again with some exciting events accompanied by a ton of goodies and unlockable content.
One such new event under the Seasonal Events tab is the Survival of the Fittest. Under this section, there are 6 different missions that the players need to complete in order to get their hands on all the rewards which the Seasonal event has to offer.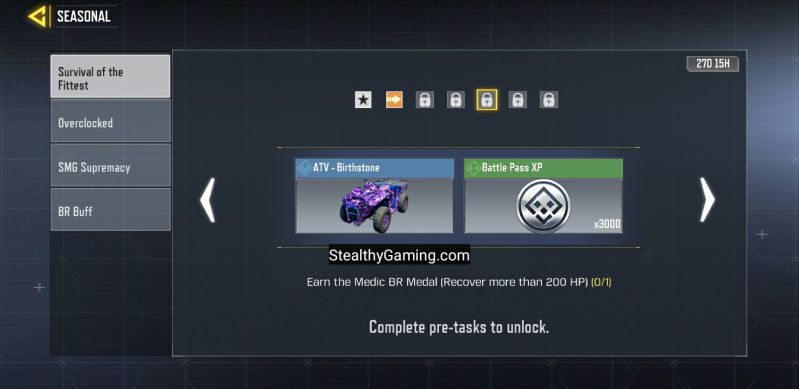 One of the missions is to earn the Medic medal in the Battle Royale mode of COD Mobile. To complete this particular mission, players need to recover more than 200HP in Battle Royale. Upon completion of this mission, players will be rewarded with a unique ATV skin along with some Battle Pass XP.
To recover more than 200 HP health, just try drowning yourself in water or by going out of the circle and coming back in just when your health is sufficiently low enough. Once you do that, use medic supplies like Bandages, First-Aid kits, or Adrenaline to recover health. Repeat this process again but be aware of enemies in the vicinity as with low health, you are more vulnerable.
---
ALSO READ: How to earn Worm Medal in BR COD Mobile
---
You will have to do it once. So, according to our estimates, this mission can be easily completed in one BR Match. So, go ahead and follow the above tips to complete the mission at the earliest.
Now you have an idea on how to earn the Medic Medal in Battle Royale mode of COD Mobile, go ahead and complete the mission and get your hands on all the rewards which the Seasonal events have to offer.
FOR YOU:
---
(Update – June 3)
Lads, the new season has again brought new sets of seasonal events for us.
And new Seasonal Event for a very fantastic weapon skin has made it to the game.
You can now own the gold-like skin of the Kilo sniper rifle. For which you will have to complete several missions. One of the missions is to earn Medic Medal in BR matches.
Well, you can check out the guide mentioned above. It will help you out in earning the Medic Medal without any issues.
If you need any kind of assistance, make sure to reach us using the email on the Contacts page.
Subscribe to our Youtube Channel. Follow us on Twitter & like our Facebook page for more post-updates
---
Check out GUNSMITH LOADOUTS here –
You May Like: 
Best Games like Valorant on Android/ iOS
Abhigyan identifies himself as a tech geek, gaming cognoscenti, and also a connoisseur of music. Unidentified and mysterious phenomena never fail to gather his undivided attention. When not reading about bizarre and perplexing entities across the Universe, he can often be found cheering for his favorite teams in Football.