Last updated on June 10th, 2021 at 01:13 pm
Call of Duty Mobile has been dominating the FPS Mobile Gaming community for the better part of the year. Players have really taken into liking the relentless, fast-paced gameplay style coupled with the console-like graphics which the game tends to provide.
COD Mobile is currently in the 4th Season ever since Activision decided to hit the reset button on the Seasonal Count. Honestly, it is quite surprising and impressive at the same time that the Devs haven't run out of ideas and have always gone above and beyond to bring a lot of fresh and innovative content to the game with each passing season.
That being said, in the current Season of Call of Duty Mobile, players have been given a lot of new content. In this article, we will be discussing the same. So, let's jump into it without much ado.
---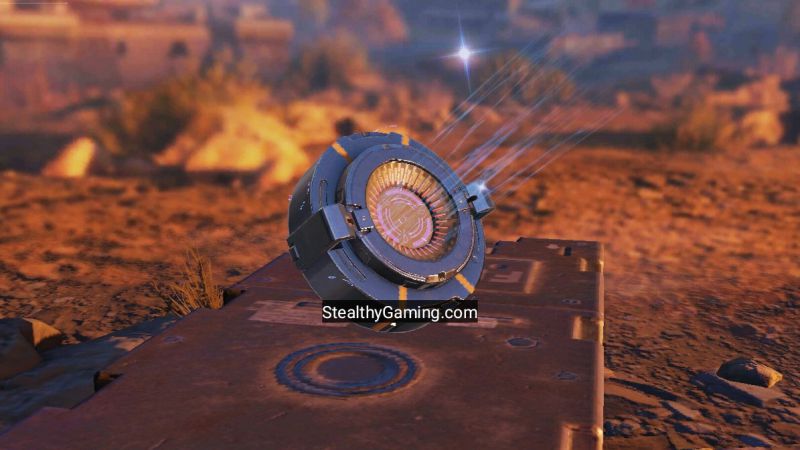 Must Read: How to unlock Rewind class in COD Mobile Battle Royale
---
How to earn Worm Medal in BR |COD Mobile
Call of Duty Mobile has always believed in the concept of rewarding players and letting them feel proud of their accomplishments irrespective of what they are. That is primarily the reason why the game has incorporated unique features like accomplishments, trophies, and medals.
These medals serve as a measurement to define a player's skills, reflexes, and other abilities in general. They also serve as milestones to keep a track of how far a player has evolved and progressed in the game. As of now, there are a total of 86 Medals including both the Multiplayer and the Battle Royale modes.
In Season 4 of Call of Duty Mobile just like all the other Seasons, Activision has introduced several new Seasonal Events with cosmetic rewards like weapon skins, Battle XP, and much more.
One particular event under the Seasonal Events section of Season 4 of Call of Duty Mobile is the Gold or Nothing Event. Now, in this event, players get a chance to get their hands on an epic Kilo Bolt Action – Constable skin.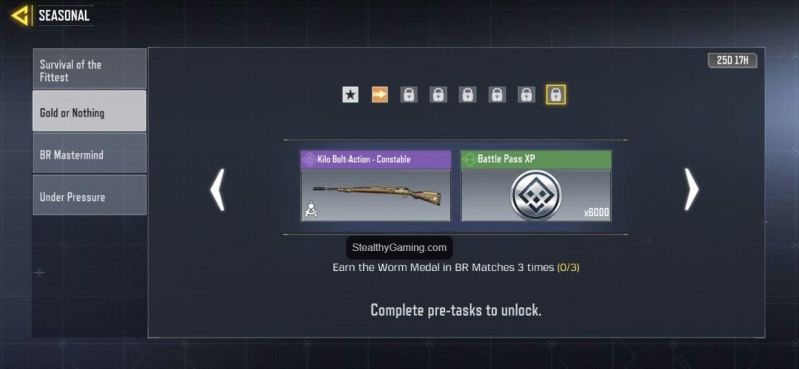 Players need to complete the required tasks and missions in the order they have been specified in to get their hands on the said epic skin. The last mission of the set is to Earn the Worm Medal in Battle Royale matches, 3 times.
To earn worm medal in COD Mobile. You just need to stay Prone for more than 180 seconds in a BR Match. However, it doesn't work in the case of Warfare Mode.
We would suggest, upon landing, find some weapons at the earliest and look for a safe vantage point. The higher it is, the better. Climb up to the preferred region and prone by tapping on the prone button. Stay in that position for 180 seconds. However, beware of enemies in the vicinity whilst doing so.
Once you do that you would have earned One Worm Medal in BR. Now, repeat the above-mentioned process till you get the medal 3 times and you will be done with the Gold or Nothing event.
At the end of this, you will have gotten your hands on a really cool Epic skin for the Kilo Marksman rifle. So, go ahead and start completing the missions right away.
Subscribe to our Youtube Channel. Follow us on Twitter & like our Facebook page for more post-updates
---
Check out GUNSMITH LOADOUTS here –
Abhigyan identifies himself as a tech geek, gaming cognoscenti, and also a connoisseur of music. Unidentified and mysterious phenomena never fail to gather his undivided attention. When not reading about bizarre and perplexing entities across the Universe, he can often be found cheering for his favorite teams in Football.