Season 12 of Call of Duty Mobile has been live for a couple of weeks now. We have to say Season 12 Going Dark, is one terrific Season. It is perhaps, the Anniversary Update in true sense. The Battle Pass of Season 12 is one of the best Battle Passes we have ever seen in the game.
Just like in the previous seasons, Call of Duty Mobile did not launch all the Season 12 updates in one go. They decided to do so in parts over a period of time. First, we say the Night Mode TDM, Hackney Yard map. Then we got an exceptionally good Battle Pass. As the season is progressing, we can find COD Mobile is introducing new Events and Rewards.
With the introduction of new weapons ever Season coupled with the gunsmith feature, it can be really troublesome and confusing for players to choose the best 5 attachments for the most efficient weapon build. Especially when they have an option of over 50 attachments.
---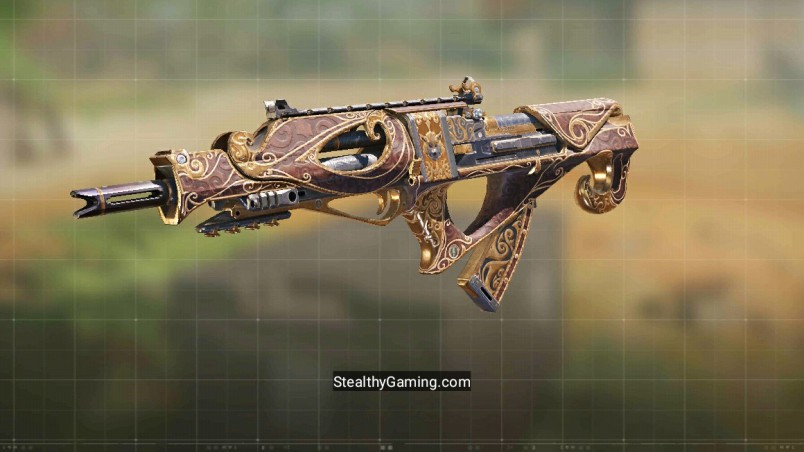 Must Read: COD Mobile BK-57 Gunsmith Loadout | 'High Mobility'
---
That is the place where our group comes in. We have been actively researching on creating 'purpose-oriented' Gunsmith loadouts for a weapon. Earlier in this series, we have mentioned the loadouts like "No Recoil' KN-44, 'Fast ADS' DR-H, 'Fast ADS' HG-40, and a lot more. Make sure to check all loadouts here.
How to play Knights Divided Event in Call of Duty Mobile:
COD Mobile has launched yet another one of its updates. We now have an all-new Featured Event under the Events section of Season 12 of Call of Duty.
It can rightfully be said that COD Mobile never disappoints with the updates. The new Knights Divided Event requires players to choose a "Faction". The players have a choice of 2 factions. They can go for either Blue or Red.
After choosing a faction, players need to complete various tasks to accumulate contributions and earn rewards. The kind of rewards a player gets is totally dependent on their choice of faction. However, the type and quantity of rewards are the same throughout both the Red and Blue teams.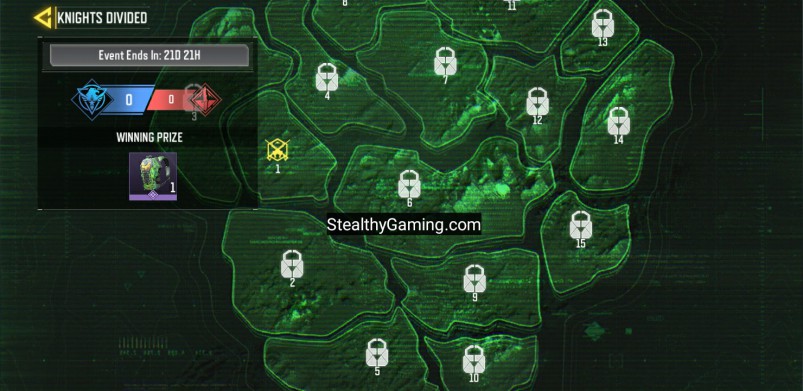 Now, the players have to conquer the territories in the Knights Divided event. Completing daily tasks will help a player assume control of that day's territory. In total there are 15 territories. The faction left with most territories will win the final reward, which can be claimed from the main page of the event.
We also have a Leaderboard system as we had in the Anniversary Event. Clicking on the Leaderboard section will give you an idea about the rewards system. As you gain more and more points, your rank in the leaderboard will be pushed up. Accordingly, your rewards will also start increasing.
Rewards:
The following is the list of rewards and their eligibility according to rank: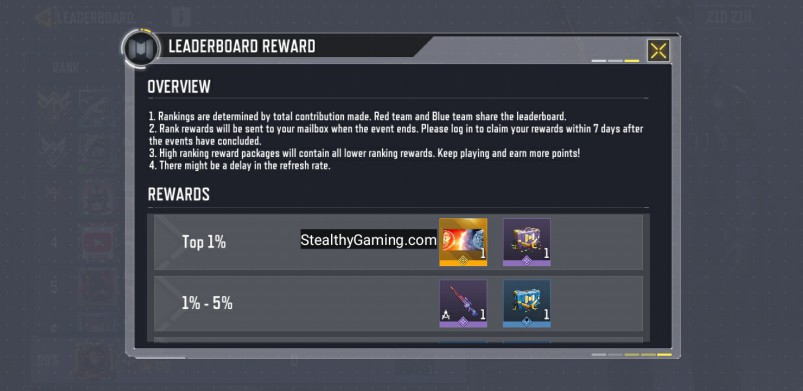 Top 1% – Legendary Calling Card and Leaderboard Reward Bundle 1
1% to 5% – Locus Schism and Leaderboard Reward Bundle 2
5% to 20% – RUS-79U Nine Round and Leaderboard Reward Bundle 3
20% to 50% – HVK-30 Nine Round and M4LMG Nine Round
50% to 100% – M4LMG Nine Round
---
Apart from this, the rewards from each of the faction are as follows: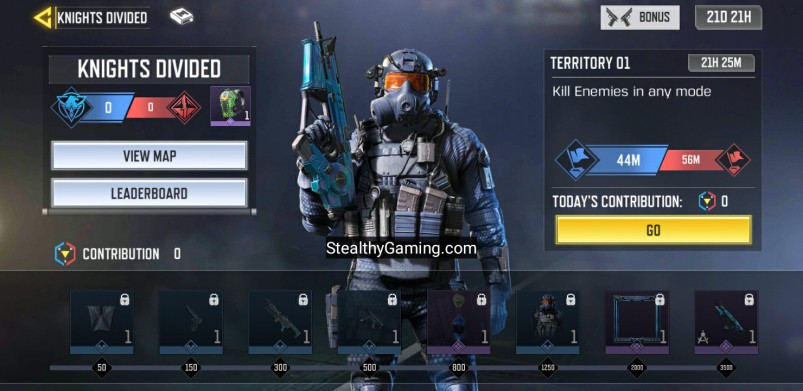 Razorback: Sapphire / Ruby
Elite PMC Character: Ultramarine / Red Curtain
Chopper: Ultramarine / Red Curtain
QQ9: Ultramarine / Red Curtain
MW11: Ultramarine / Red Curtain
Charm: UAC Helm / Five Knights Helm
Frame: UAC / Five Knights
Wingsuit: Ultramarine / Red Curtain
Winning Prize: Backpack 3 – Serpentine
It has only been a couple of hours since the event started and players have already started grinding more than ever and contributing to their factions. The Leaderboard is getting flooded with activity. The Knights Event is going to last for a period of 21 days. However, players have to cover a lot of territories and complete a ton of tasks and missions.
---
Video Representation –
What are you waiting for? Choose your side and start conquering!
Subscribe to our Youtube Channel. Follow us on Twitter & join our Telegram channel for more post-updates.
---
Check out GUNSMITH LOADOUTS here –
Abhigyan identifies himself as a tech geek, gaming cognoscenti, and also a connoisseur of music. Unidentified and mysterious phenomena never fail to gather his undivided attention. When not reading about bizarre and perplexing entities across the Universe, he can often be found cheering for his favorite teams in Football.