Apex Legends Mobile has surprisingly become one of the most downloaded FPS Battle Royale games across the smartphone industry. The behemoth of a game managed to give the conventional Battle Royale mode a fresh definition thereby attracting thousands of players from all across the world.
The new characters, futuristic weapons, and the fresh environment have really garnered the attention of most of the players out there. That being said, the game still has a lot of new things that have never been seen before in any of the mobile FPS games.
So, it is quintessential that players understand the fundamentals and know certain tips and strategies which can help them gain an edge over their opponents in any and all ways possible. In this article, we will be doing just that. So, let's get started without any delay.
---
FOR YOU: 
---
Top 5 Best Loot Zone in Apex Legends Mobile
We all know good weapons, armor, and overall skills are paramount in ensuring victory in Apex Legends Mobile, however, before a player does all that the main thing that all players need to do is land at a good zone to be able to gather the best loot and gain a tactical advantage over other enemies.
The initial few heart-pounding seconds of every battle royale encounter are unquestionably the most important. Acquiring a firearm is obviously the goal, but getting your hands on the greatest loot available may drastically shift the dynamics of combat.
In Apex Legends, a good landing spot can give the entire team a huge advantage over the enemies. The Kings Canyon is huge and full of various locations, buildings, bunkers, and even military bases.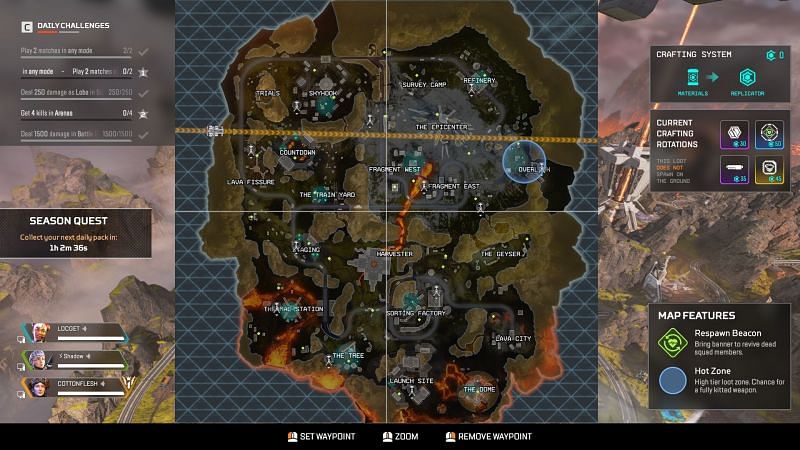 High-tier loot regions, which feature legendary weapons, shields, and equipment, are by far the most sought-after in the game. These regions also tend to have a plentiful supply of ammo, acting as a one-stop shop for the duration of the match. They are also quite competitive.
Prepare to battle for your treasure if you wish to drop in a high-tier treasure spot. Given below is the list of the top 5 landing zone in Apex Legends Mobile
The Thermal Station, situated on the map's southwestern tip, is one of the largest places in Apex Legends Mobile. It has a one-of-a-kind design, with lava encircling the whole space. This makes it extremely tough to flee confrontations.
However, if you manage to land in this place without any hassle then it will definitely be worth it for you as you will get access to high-tier loot to help you on your journey to win the game.
---
In Apex Legends Mobile, Capitol City POI is a loot-rich region. Apex Legends Mobile players have complained about social media that it has become a hot-drop spot. These structures are aimed to promote players to pursue one another. There are multiple hiding areas and crate spawning in the region at the same time. This will draw rival teams, who may camp in certain locations in preparation for an assault.
---
Skyhook is a loot-filled city segment, and players looking to arm up can discover lots of stuff dispersed among the different structures. It's a common landing spot, so be prepared to plunder the structures swiftly and brace yourself for a battle. Early clashes in this region will be favorable if the player is playing defensive characters such as Caustic or Wattson.
The city is intended to stimulate mid-range fights because every squad can locate sufficient loot in the building structures.
The Skyhook, which gamers can utilize to fly to other destinations in Apex Legends Mobile, is an intriguing aspect of this place. There are also several hiding locations where gamers may camp in order to ambush opponents.
---
The Trainyard can be found south of Capitol City. The region is densely packed with buildings that give excellent shelter from adversaries. Several players come here to plunder the Train, which has a large number of supply boxes.
This location can provide high-tier treasure. The train also makes a halt there. They also have a few carriages floating in the air that may be used for sniping. If necessary, players can quickly migrate to Countdown.
The Trainyard is especially popular with Apex Legends PC/console players since it provides good mounting places for camping snipers. A similar scenario might play out with the mobile version. While plundering in the Trainyard in Apex Legends Mobile, players should constantly be aware of their surroundings.
---
In Apex Legends Mobile, the Epicenter has become a frequent drop location. In Apex Legends Mobile, players regularly dropped with their teams at this spot to gain easy knockouts and high-tier loot. In Apex Legends, the epicenter is the exact center of the map.
When one of the teammates lands in the tower and claims the high ground, other members may easily contest opponents. There are lots of covers, and it is one of the simplest spots to battle in if a player knows the terrain inside and out. Players are advised to target crates while dropping at this location as they can expect a fight right from the start.
It also provides players with some of the best loot from all categories. So, if possible, this would be the most efficient place to land on as soon as the game starts to gain an advantage right from the get-go.
Those were some of the best places to land on the map. Landing on those spots will ensure high-quality and best-of-the-class loot for you and your squad. So, try your best and land on the above-mentioned areas to get access to high-tier loot in Apex Legends Mobile.
---
Subscribe to our Youtube Channel. Follow us on Twitter & like our Facebook page for more post-updates
---
Apex Legends Mobile Guide –
Abhigyan identifies himself as a tech geek, gaming cognoscenti, and also a connoisseur of music. Unidentified and mysterious phenomena never fail to gather his undivided attention. When not reading about bizarre and perplexing entities across the Universe, he can often be found cheering for his favorite teams in Football.