Call of Duty Mobile Season 11 is coming to an end as we speak. COD Mobile players from all across the world are gearing up for Season 12. The hype for the new season is getting really high especially after the benchmark set by Season 11. Let's be honest, Season 11 was a humongous update. It was quite overwhelming for most players, to say the least.
With all the new updates Call of Duty Mobile has been releasing the quantity of content has become really high. The weapons arsenal just keeps on increasing with the addition of new weapons and attachments with every Season.
To save you from doing all the extra work of figuring out the best attachments and builds for our weapons, we have mentioned the best purpose-oriented weapon build like Long-range 'No-recoil' KN-44, High Mobility RUS, 'No-recoil' DR-H, and a lot more. Make sure to check all loadouts here.
COD Mobile Fennec Akimbo Gunsmith Loadout
It is said that "Nothing is Perfect". The same goes for the weapons in Call of Duty Mobile. No weapon of Call of Duty Mobile is perfect. It is simply impossible for one single weapon to be suitable for all kinds of players throughout all kinds of maps and modes. The efficiency of a gun in a match mostly depends on the compatibility of the gun with the player.
---

MUST-READ: COD Mobile 'Low Recoil' Fennec Loadout
---
So, we emphasize on the fact that you all should draw inspiration from our builds and choose the weapons and attachments which best suit your gaming style. Having said that, let's dive into today's topic, where we discuss the all-new Fennec Akimbo Gunsmith Loadout.
Fennec Akimbo Loadout
The Fennec is an SMG. It has an exceptionally high rate of fire. To give you guys a perspective, Fennec's fire rate is higher than the MSMC and the QQ9. The fennec is a close-range weapon that was designed to get quick kills in close combat. It is quite difficult to use the fennec in long-range combat.
We know the hype for the Akimbo perk is real. So, our team has come up with the most efficient fennec loadout including the Akimbo perk.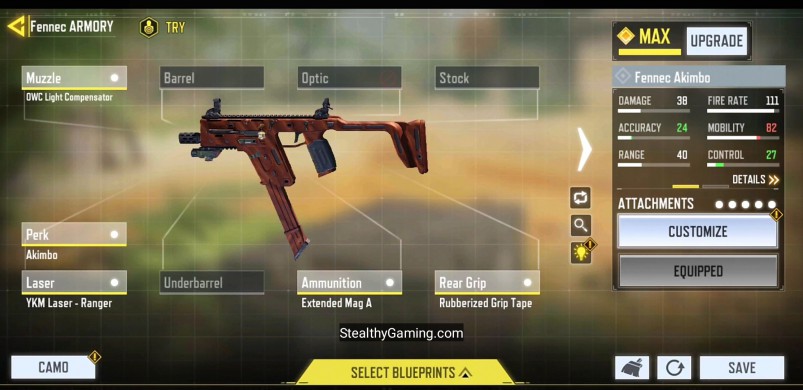 Muzzle –OWC Light Compensator
Barrel –no change
Optic – no change
Stock –no change
Perk –  AKIMBO (How to UNLOCK Akimbo Guide)
Laser – YKM Laser -Ranger
Underbarrel –no change
Ammunition – Extended Mag A
Rear grip –Rubberized Grip Tape
---
Note: The post will be updated continuously to provide you with the best loadout possible. Stay tuned!
---
Check out the stats for the Base Variant of the weapon for comparison: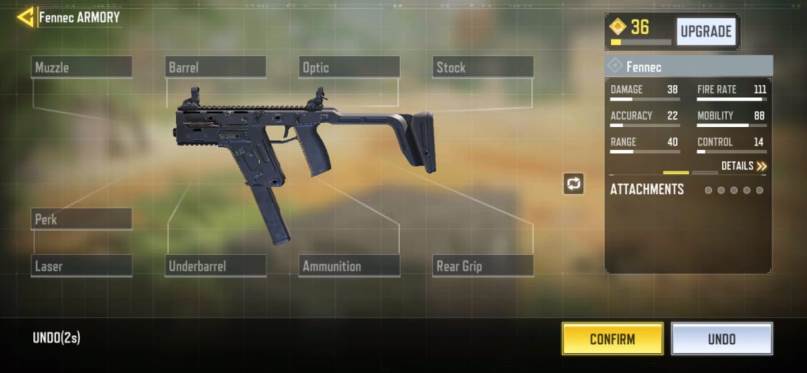 How to use Fennec Akimbo Loadout:
The Fennec is going to be the only gun to which the Akimbo perk can be equipped. Attaching the akimbo perk to the fennec will disable ADS fire completely. The players can then fire only via hip fire. This implies that this build is best suited for close-range combat. The dual-wielded fennecs will prove to be devastating in close range.
The exceptionally high fire rate of the SMG will be able to destroy enemies in close combat with ease. This loadout won't be an ideal choice for long-range combat as hip firing cross-map, is simply impossible.
The Fennec Akimbo build is especially suited for small maps like Nuketown, Crash, Rust, Summit. It will do quite well in aggressive modes like Hardpoint and Domination and TDMs.
The Akimbo perk is like steroids for the Fennec. Use this and your enemies won't stand a chance in close combat with you.
---
FENNEC AKIMBO GUIDE-
---
Subscribe to our Youtube Channel. Follow us on Twitter & join our Telegram channel for more post-updates.
---
Check out GUNSMITH LOADOUTS here –
Abhigyan identifies himself as a tech geek, gaming cognoscenti, and also a connoisseur of music. Unidentified and mysterious phenomena never fail to gather his undivided attention. When not reading about bizarre and perplexing entities across the Universe, he can often be found cheering for his favorite teams in Football.