Season 12 of Call of Duty Mobile sure has been very good so far. Players from all across the world seem really content with the rewards and unlockable content they got to get their hands on this Season. The Season 12 Battle Pass is probably one of the best battle passes we have ever seen in the game.
The new Ghost and Price characters coupled with the Black Gold weapon skins are some of the highlights of what makes the Season 12 battle pass so appealing to players. Just like in the previous Seasons, Call of Duty Mobile did not release all the updates in one go. They decided to do so over a period of a couple of weeks.
---
Watch Now: Ballistic Shield vs All Operator Skills
---
We have already seen the Dark Omens Lucky Draw where we got to see the Legendary AGR 556 – Durandal. However, we have reasons to believe that we may get to see a couple of other lucky draws. Also, the AGR 556 SMG is not going to be the only new weapon that gets added to the arsenal this season. A new weapon is yet to come.
How to unlock Desert Eagle pistol in Call of Duty Mobile (D-Eagle Wiki):
Today we will be talking about the .50 GS / Desert Eagle in COD Mobile. Yes, you guessed that right. Call of Duty Mobile is planning to introduce a new weapon into the game under a different alias, yet again.
However, before we get into that, we know how frustrating and confusing it must get while choosing the best attachments for the weapon builds of your choice. So, to help you with that we tried our hands on different CODM weapons and created the best 'purpose-oriented' loadouts. In earlier posts, we mentioned 'No-Recoil' KN-44 weapon build, 'High-Mobility' RUS-79, 'Fast-ADS' Kilo, and a lot more. You can check out all the loadouts here.
Coming back to the D-eagle. The Desert eagle or should we say, the .50 GS is one of the most overpowered pistols in any FPS games. It can easily be crowned as the king of damage in the Pistol segment. The .50 GS is a loud and deadly beast of a weapon. We cannot wait to get our hands on the new.50 GS or the D-eagle.
---
Call of Duty Mobile .50GS Weapon Stats (BASE VARIANT)
Damage: 76
Accuracy: 88
Range: 50
Fire Rate: 33
Mobility: 87
Control: 68
---
Now, we are getting as impatient as you guys are. However, no exact dates have been provided for the release of this new weapon. All we have been able to deduce from the leaks and the rumours that, we will soon be getting a lucky draw which will be featuring the .50GS Calamity skin along with the legendary Nikto – Dark Side.
---
Must Read: How to unlock AGR 556 in Call of Duty Mobile
---
The Legendary .50GS Calamity will come with the akimbo perk equipped by default. Also, the status of the .50 GS in the loadout is "Coming Soon" as of now. Judging by how Call of Duty Mobile launches new weapons in the past, we believe we can unlock the .50 GS by completing a series of events under the Seasonal events section.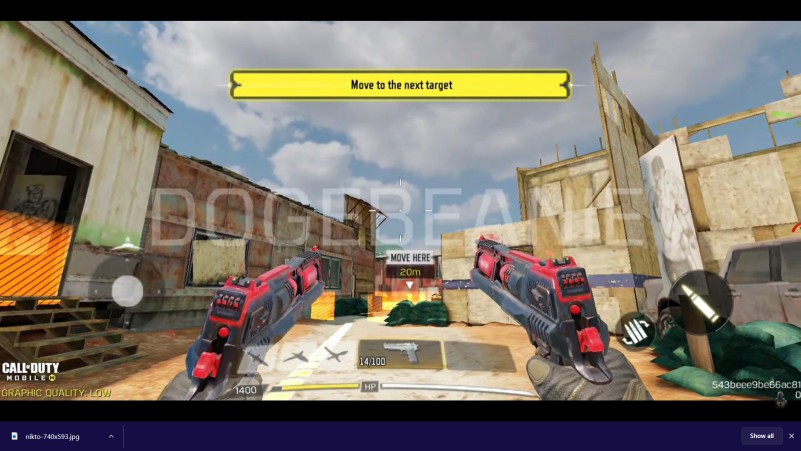 Had it been launched in the new Season; we could have expected it to be released along with the battle pass. Since that is not the case, we might have to grind and complete a series of missions under the Seasonal Events to get our hands on the all-new D-eagle in COD Mobile.
Until then keep grinding and upgrading your weapons to the max. You never know which weapon gets nerfed or buffed in the next season. Captain Price would always want you to be prepared!
---
(Update – November 26)
Finally, the brand new pistol – .50 GS, also known as, Desert Eagle has finally arrived in Call of Duty Mobile. And as we predicted earlier, the new weapon can be unlocked easily by completing the new series of tasks in the seasonal events.
Well, the tasks are really easy and can be done in around half an hour. In case you need any kind of assistance, let us know!
Guide –
---
NOTE: This post will be updated regularly with fresh news. Stay tuned.
Subscribe to our Youtube Channel. Follow us on Twitter & join our Telegram channel for more post-updates.
---
Check out GUNSMITH LOADOUTS here –
Abhigyan identifies himself as a tech geek, gaming cognoscenti, and also a connoisseur of music. Unidentified and mysterious phenomena never fail to gather his undivided attention. When not reading about bizarre and perplexing entities across the Universe, he can often be found cheering for his favorite teams in Football.